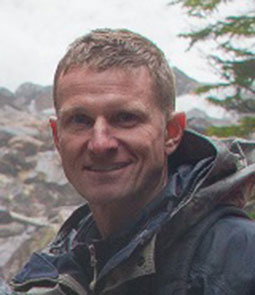 Trent Morrell
Pathway Coordinator, STEM
Primary Phone: 307.778.1312
Office: Clay Pathfinder Building, Room 210B
Trent has been a full-time faculty member at Laramie County Community College (LCCC) since 2004. As part of the Natural Sciences department, he teaches geoscience courses.
He has a B.A. in Geography/Landuse Planning from Augustana College (IL), and M.A. in Geography from Western Illinois University. Trent has taught online, earth science lab courses since coming to LCCC, and has been part of an instructional design team who trains and works with faculty in developing online, face-to-face, and hybrid courses using instructional technologies. He is particularly interested in the mobile learning environment and how current and future technologies are bringing the classroom, as well as lab and field experiences, to anyone, anywhere, at any time.
Trent is an avid runner who enjoys the outdoors and any endurance challenge. He has competed in over 10 marathons both in the U.S. and in Europe. Trent's career pursuits before teaching included landscape architecture and design, and landuse planning. He spends his summers working on freelance landscape design and installation. He currently lives in Cheyenne with his wife and three children.