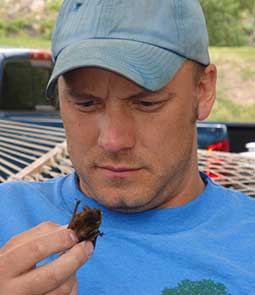 Zac Roehrs
Interim Instructor, Microbiology/Biology
Primary Phone: 307.778.1387
Office: Science Center, Room 182
Zac has been a biology instructor, laboratory manager and research mentor at Laramie County Community College since 2012.
Zac received his B.S. in fisheries and wildlife from the University of Nebraska–Lincoln, and then stayed at UNL to get a M.S. in Natural Resources Science and a M.S. in Museum Studies. He then moved to Oklahoma State University and received his Ph.D in Zoology.
A self-described "grass hugger," Zac grew up in Nebraska and has spent most of his life on the prairie. It is in the landscapes of Colorado, Nebraska, Oklahoma, and Wyoming through biking, birding, camping, hiking, and conducting research where he developed a passion for biology, and enjoys sharing this passion through education.
Although his favorite beasties are bats (Chiroptera) and shrews (Soricidae), he is interested in all organisms, and has been involved in natural history, conservation, ecological and molecular research on many organisms (rodents, carnivores, herps, insects, plants, fungi, protists). Lately he has returned to an interest in parasites and the coevolution of these organisms and their hosts.
In his free time Zac enjoys traveling, birding, hiking, camping, music and movies with his wife and 4-legged kids (dog, cat, and degu).
Selected Publications
Lanier, H.C., A.J. Kulikowski, Z.P. Roehrs, M.A. Roehrs and R.S. Seville. 2015. Succession responses of small mammals and invertebrates 26 years after the 1988 Huckleberry Mountain fire. University of Wyoming / National Park Service Research Center, Annual Report 37(8):49–57.
McAllister, C.T., R.S. Seville, and Z.P. Roehrs. 2012. A new species of Eimeria (Apicomplexa: Eimeriidae) from the northern myotis, Myotis septentrionalis (Chiroptera: Vespertilionidae), in Oklahoma. Journal of Parasitology 98(5):1003–1005.
Roehrs, Z.P., J.B. Lack, and R.A. Van Den Bussche. 2010. Tribal phylogenetic relationships within Vespertilioninae (Chiroptera: Vespertilionidae) based on mitochondrial and nuclear sequence data. Journal of Mammalogy 91(5):1073–1092.
Lack, J.B., Z.P. Roehrs, C.E. Stanley Jr., M. Ruedi, and R.A. Van Den Bussche. 2010. Molecular phylogenetics of Myotis suggests familial-level divergence for the genus Cistugo (Chiroptera). Journal of Mammalogy 91(5):976–992.
Roehrs, Z.P. and H.H. Genoways. 2004. Historical biogeography of the woodchuck (Marmota monax bunkeri) in Nebraska and northern Kansas. Western North American Naturalist 64(3):396–402.