18
JUN
Artist Demonstration/Reception for Clay Summer Watercolor Workshop Featuring Artist Rose Edin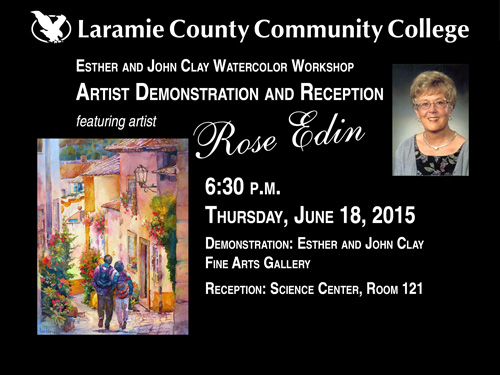 An artist demonstration and reception will be held at 6:30 p.m. on Thursday, June 18 in the Esther and John Clay Fine Arts Gallery for this LCCC Foundation event. People can call 307.432.1603 for more information about this event.
Award-winning artist Rose Edin is a signature member of the American Watercolor Society, National Watercolor Society and the Transparent Watercolor Society of America, where she holds a masters status. She has taught throughout the United States and worldwide for more than 40 years. She is the co-author of Color Harmonies: Paint Watercolors Filled with Light.
Although the workshop is currently full, the community is welcome to attend the reception and gallery exhibit.
People can learn more about the LCCC Foundation by visiting its Web page.