13
SEP
Pastel Workshop - Sept. 13-15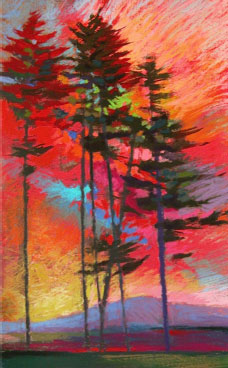 The LCCC Foundation and Edington Family Enrichment Fund present
The Power of the Pastel Landscape
Pastel Workshop by Artist Robert Carsten
Sept. 13-15, 2019, 9:30 a.m. - 4:30 p.m
Laramie County Community College, Cheyenne, WY
Join master pastelist and widely popular instructor Robert in exploring three varied ways to express our ideas and feelings in our pastel paintings. Each day begins with an introduction of characteristics and concepts, and a demonstration of techniques related to the day's theme. Lots of fun, visual exploration of ideas and painting time. At-easel/desk and group critique/appreciation. All levels welcome absolute beginner through advanced.
Day 1: The Impressionistic Sketch: Learn to convey spontaneity of response in quick-sketch paintings using a variety of techniques.
Day 2: Passionate Color in the Landscape: Learn to use color's emotive qualities to create drama in your landscapes.
Day 3: The Tonalist Landscape: Create poetic, evocative moods in your landscapes using soft edges and close values and desaturated colors.
Class Registration Fee: $350
Make Checks payable to:
LCCC Foundation
1400 E. College Dr.
Cheyenne, WY 82007
or call 307.778.1110 to pay by credit card
Registration is open May 29 - June 20, 2019, by calling 307.778.1110.
---
Robert Carsten Bio:
Award-winning artist Robert Carsten, PSA, attended the Art Students League of New York, the Rhode Island School of Design and the Accademia di Belle Arti (Italy). He is a master pastelist and signature member of the Pastel Society of America, master circle artist in the International Association of Pastel Societies, Lifetime Honorary member of the Southwest Florida Pastel Society, and Honorary Board member of Pastel Society of America. Robert is a contributing writer to Pastel Journal; The Artist's Magazine; Watercolor Artist; and PleinAir magazines. Known for broad knowledge in his field,friendly and effective teaching style, Robert instructs workshops nationally and internationally. He's juried many international, national and regional art exhibitions and his paintings have been shown in many museums and galleries garnering numerous Best in Show and first prize awards. His work has been featured in Pure Color/The Best of Pastel (editor Maureen Bloomfield) Pure Color (editor Anne Hevener), Pastel Journal, American Art Review, The Artist's Magazine, Strokes of Genius/The Best of Drawing and Finding Your Style in Pastel, Tips from Professional Artists, and other publications. Visit his website: www.robertcarsten.com