Active Minds
Active Minds is the nation's only nonprofit organization dedicated to utilizing the student voice to raise mental health awareness among college students. The organization develops and supports student-run chapters on colleges and university campuses that promote a dialogue around issues of mental health and educate the entire student body about available resources in and around the campus community.
FAQ
Is Active Minds peer support?
No, Active Minds chapters do not serve as peer support groups. Student members advertise existing professional services, and help students know when those professional resources may be needed. Meetings of Active Minds are planning meetings, allowing members the time to plan educational events on campus such as panel discussions, movie screenings, and benefit runs. The chapters do often become support networks for members, creating a place where student advocates know that others may share similar experiences.
Why Active Minds?
College students are at high risk for developing mental illness, as many illnesses first present at the college age. Pair that with the high-stress environment of college life and the fact that many young adults are on their own for the first time, and students are especially vulnerable to developing problems with their mental health.
In a 2006 study by the American College Health Association, nearly half of all college students reported having felt so depressed in the past year they couldn't function. While it is clear that students are suffering, it is not nearly as clear to students and friends that it is okay to talk about these issues, and that resources are available for those who need professional help.
While students are the main line of defense, they are often the last to be heard. Active Minds works on the level of the students to educate the entire campus about mental health, so students who are experiencing symptoms understand what they are going through, know it is not their fault, and get the help they need. Active Minds works with hundreds of students on campuses every year to build a new generation of leaders who are more in tune with their mental health and the needs of others.
How can I help?
Join our organization! Contact us or meet with us at "Changing the Conversation About Mental Health." Everyone is welcome!
Meeting Times and Location:
Active Minds is currently inactive for the 2017-2018 Academic Year.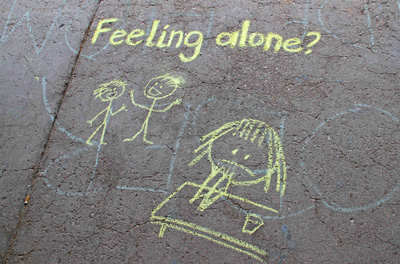 What is mental health?
Mental health is the condition of an individual's psychological and emotional well-being. Just as exercise and eating nutritiously contribute to physical health, exercising the mind and being conscious of where thoughts are focused contribute to being mentally healthy. Begin today and take care of your mental health through self-care! Take time to engage in mindfulness. Enjoy a walk. Empower yourself through affirmations.
What is mental illness?
Mental illnesses are psychological and behavioral patterns that are associated with emotional suffering or disability (i.e. impaired functioning), loss of freedom (i.e. incarceration from criminal offenses), and increased mortality. These conditions are considered to arise from a biological, behavioral, or psychological dysfunction within an individual.
What is stigma?
Stigma refers to a cluster of negative attitudes and beliefs that motivate the general public to fear, reject, avoid, and discriminate against people with mental illness. Stigma leads others to avoid living, socializing, or working with, renting to, or employing people with mental disorders.
Who do I contact for help?
LCCC Counseling & Campus Wellness

307.778.4397

For emergencies, contact 9-1-1.