07
DEC
LCCC basketball coach records 200th career win with victory over Western Nebraska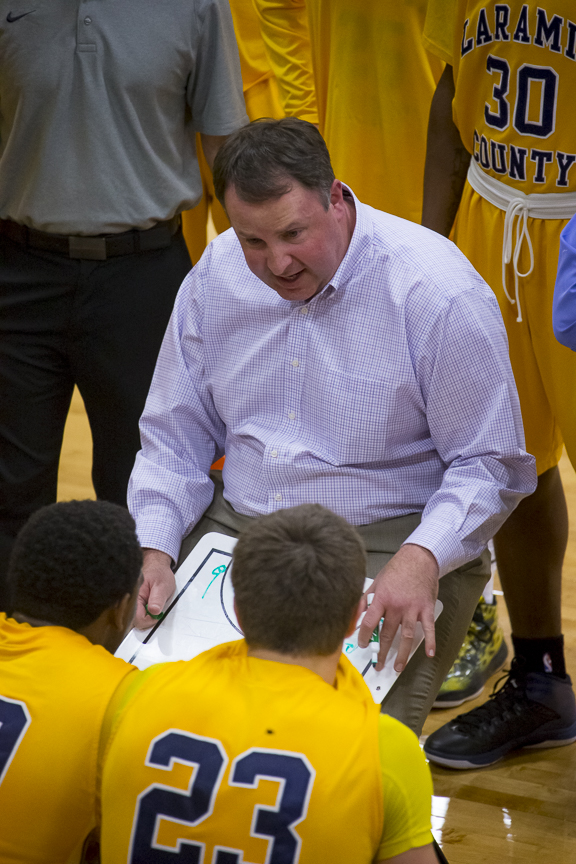 Men's Basketball Coach Jason Ficca talks to his players during a recent game.
Ficca recently earned his 200th career victory. Photo by Ty Stockton
The Laramie County Community College Golden Eagles put together one of their best performances of the season and earned head coach Jason Ficca his 200th career victory. The Eagles beat Western Nebraska Community College Saturday afternoon 96-71 in the LCCC Gymnasium.
The Golden Eagles forced several turnovers in the first 11 minutes of the game and turned them into points on the other end. The Eagles jumped out to a 19-point lead with about four minutes remaining in the first half. That was sparked by a 9-0 run from the Golden Eagles. LCCC led 47-29 at the half.
After Western Nebraska hit their first two shots of the second half, the Golden Eagles answered with an 11-0 run that included two three-point baskets. The Golden Eagles got a season-high scoring performance from sophomore Kamari Robinson, who recorded 17 points. The Golden Eagles' leading scorer, sophomore Spencer Svejcar, had 19 on the night, while freshman Alexis Dargenton had 17 points. Cougar Diante Mitchell led all scorers with 21 points.
The win takes the Golden Eagles to 11-2 on the year and 3-1 in the South-Sub Region. Up next, the Golden Eagles will host Sheridan College on Friday, Dec. 12. Tipoff is set for 7 p.m. Sheridan won the earlier meeting in Sheridan 91-73.
Golden Eagles take care of Lancers
The Laramie County Community College men's basketball team was on the road Tuesday, Dec. 2, in Torrington as they squared off with Eastern Wyoming College. This was the first meeting of the year between the two schools. The Golden Eagles used a strong first-half run to propel them to an 80-59 victory on the road over the Lancers.
As a team, the Golden Eagles knocked down seven three-point baskets, with six of those coming in the first half. The game was tight until about eight minutes remaining in the first half. The Golden Eagles were up by two after a timeout, and from then on, they were in complete control of the game. They used a 16-2 run to close out the first half and take a 38-22 lead into the break.
In the second half, the Golden Eagles were able to control the tempo of the game and get the looks they wanted on the offensive end. They had strong second-half performance from the foul line, where they went 15-17. Freshman Alexis Dargenton led the Golden Eagles with the lone double-double of the game, scoring 16 points and pulling down 12 rebounds. Sophomores Spencer Sevjcar and Darien Fernandez had 19 points and 18 points respectively. Kalil Potts led the Lancers with 20 points on the evening.