14
APR
Arp-Lummis wall dedication today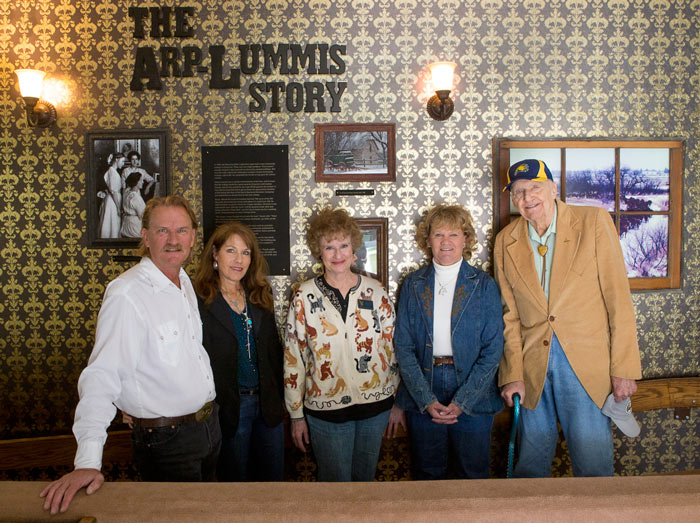 Pictured above is the Lummis family. From left: Del, Sally, Chris, Claudia
and Doran

The Laramie County Community College Foundation cordially invites you to learn about the Arp-Lummis Story: A wall dedication which celebrates the tremendous efforts of these families to bring higher education to the area, improving the lives of generations to come and to recognize the namesake building on the LCCC campus.
The dedication will be held:
Tuesday, April 14, 2015
Noon to 1 p.m.
Cookies provided
Hallway between Student Services and the Arp Building
Students and visitors can also stop by anytime to see photos of this generous family who were such an important part of our history. Here is a brief story of the LCCC history:
In 1968, the Wyoming State Legislature approved a new community college in Cheyenne. There was one major problem: There wasn't enough money to buy land and construct the needed buildings. But one man with a generous heart gave Laramie County Community College a giant gift. He compelled his family to help give the school a home.
Doran Lummis was a county commissioner at the time, and he knew that the college would be a great asset to Cheyenne and Laramie County, and he was excited to see it get off the ground. So excited, in fact, that he knew that had to get involved. He approached members of this family (the Arps of the Arp & Hammond Hardware Company) and asked them to donate land for the new college.
Doran offered the board of trustees the best 100 acres of the 240 they had; the board came back and asked if it could have 150. He didn't hesitate to ask his family for a larger donation. He knew a new road would soon split the ranch, and the ground inside what was being called the "Outer Belt" wouldn't be of much use for a working ranch. That belt today is called College Drive.
"You know, I never thought they'd take the land," Doran said. "There was a lot of pressure to put the college downtown, up north, on the Air Force base, and so forth."
Though there were challenges along the way, such as concerns about roads, trees, water and more, the community continued to step up to ensure that this college would establish, thrive and help anchor the higher education of Laramie County.
It is because of this support of Doran Lummis and the Arp family that this building has been named in their honor. This building was constructed and dedicated as part of the main LCCC campus in 1981-82.
"We wanted to leave something here," Doran said. "People ought to do that. Maybe they just planted a tree. Maybe they did other acts of kindness. Maybe they just voted. When you check out of life, you need to leave something."