26
FEB
LCCC names Keri Coats as new head coach for volleyball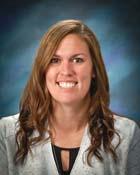 CHEYENNE, WYO. — Following a nationwide search, Laramie County Community College is proud to announce that Keri Coats will take over the reins as the Golden Eagles new volleyball head coach.
Coats has more than 10 years' experience coaching at the college, club, and high school levels. She was part of the coaching staff at the College of Southern Idaho when that team won the 2015 NJCAA national tournament.
She played volleyball at the University of Oklahoma in 2003 and 2004, and spent several years as director and coach of Club Canyon Volleyball in Twin Falls, Idaho.
"I'm really looking forward to this next step in my career. Cheyenne and LCCC will provide the perfect opportunity to put my experience and skills to the test," Coats said.
She takes over for Austin Albers, who took the Golden Eagles to the national tournament for the past two seasons. He became head coach at Colorado State University in Pueblo.
"Coach Coats has the ability and knowledge to continue the great tradition Coach Albers established," Clark Rasmussen, LCCC director of athletics and recreation, said. "She's been a part of successful programs as a player and a coach, and we look forward to her bringing that success to our community."
For complete information about volleyball and all other LCCC athletics, visit GoLCCC.com.