23
AUG
LCCC's Ludden Library named Wyoming's Outstanding Library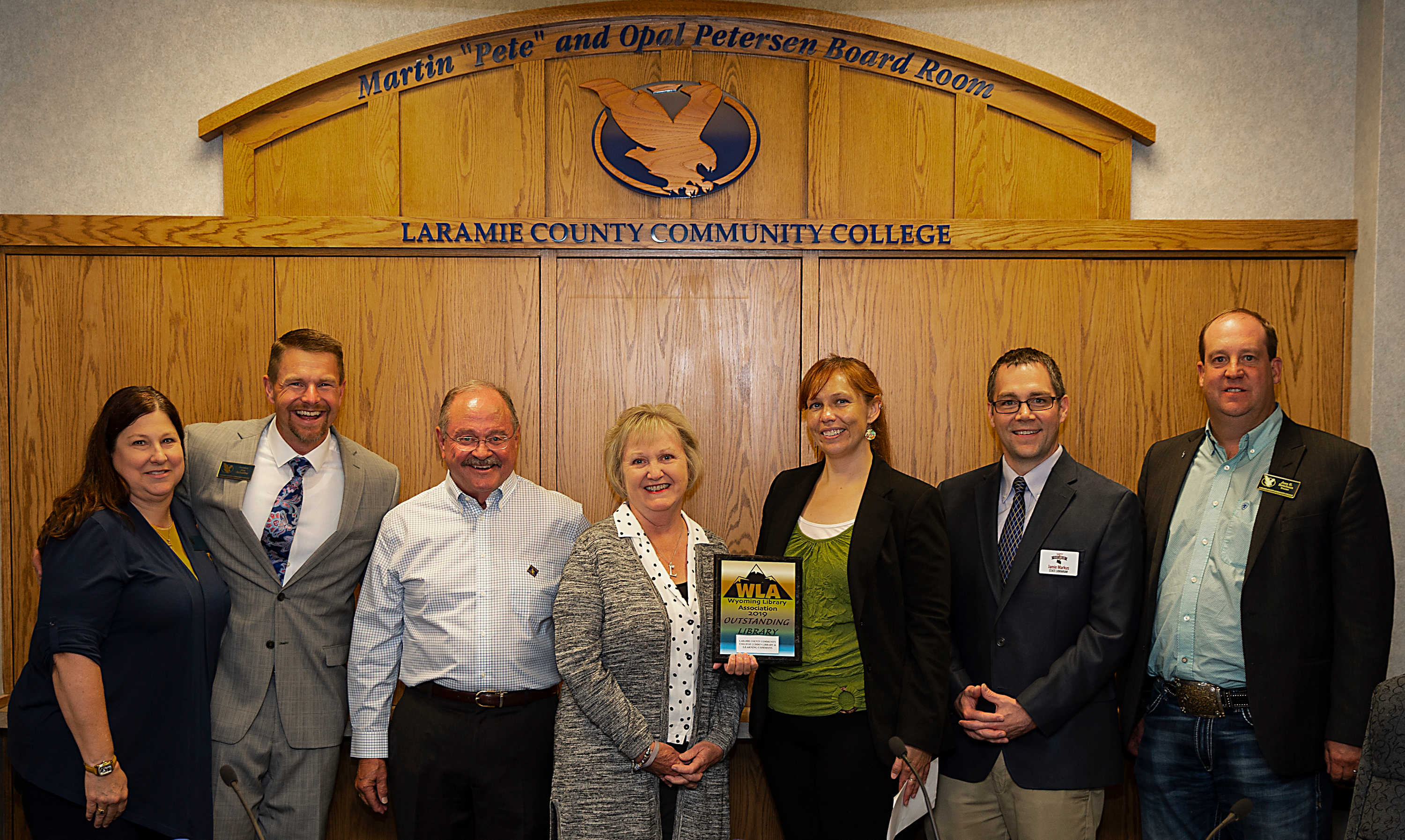 The award was presented at the LCCC Board of Trustees' meeting on Wednesday, Aug. 21. From left: Linda Herget of the LCCC Ludden Library; Dr. Joe Schaffer, President of LCCC; Randy Ludden; Yvonne Ludden; Abby Beaver, President of WLA; Jamie Markus, Wyoming State Librarian; and Jess Ketcham, Chairman of the LCCC Board of Trustees.
CHEYENNE, WYO. — This year, the Wyoming Library Association selected the Ludden Library & Learning Commons at Laramie County Community College as this year's recipient of the Outstanding Library award.
This award recognizes a significant project completed within the last two years. According to the WLA records, the Ludden Library is only the third library to receive this recognition.
The newly renovated library was unveiled to the community this April. Planning and fundraising for the updated facility began in 2013 as part of the LCCC Board of Trustees' strategic plan. Prior to the renovation, the physical space of the Ludden Library was no longer sufficient to the meet the changing needs of the college's stakeholders, especially LCCC students.
The project was made possible through a mix of private donations, LCCC monies, and funds provided by the Wyoming Legislature. This expansion—in addition to improving the entire aesthetic and access—includes improved instructional areas, additional meeting space, a dedicated family study room, quiet space for students, innovation lab, individual study rooms, cultural heritage area, vastly improved power and Wi-Fi, and so much more.
The 21,000-square-foot space is named for Randy and Yvonne Ludden, two of the college's generous and long-time friends.
"I burst with pride when I think of all of the work that the library staff put into this renovation project," Maura Hadaway, the most recent associate dean of the Ludden Library: "The compassion and care that our staff has for the students here is something that I find myself unable to put into words."
In his letter of support for the nomination, LCCC President Schaffer had this to say about the renovated facility: "When patrons walk into the Ludden Library, they feel both invigorated and comfortable to delve into learning. The Ludden Library's renovation has positively impacted our entire campus and the host of community members we serve. New learning power and energy in the Ludden Library cannot be overemphasized."
For more information about the Ludden Library, visit lccc.wy.edu/library.