7
OCT
LCCC says thank you to CRMC with delivery of goodie bags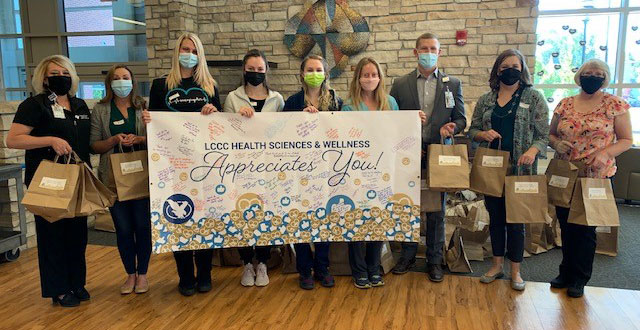 LCCC students and faculty thank CRMC employees with a delivery of goodie bags.
CHEYENNE, WYO. – Over the past 50 years, Laramie County Community College has partnered with Cheyenne Regional Medical Center (and their affiliate organizations) to provide educational opportunities and hands-on learning for students. This week LCCC had an opportunity to say thank you to the CRMC employees for their continued support of education, but even more importantly for the amazing work that they do each day.
Students, faculty and staff from LCCC's Health Sciences & Wellness (HSW) Pathway distributed 500 goodie bags and banners signed by students and staff to the hardworking healthcare professionals at CRMC. The goodie bags were a combined effort of the HSW Pathway and LCCC Dining Services. "It was our goal to say thank you to all the employees at the hospital from the doctors and nurses, to the administration, staff and custodial teams. We wanted to express our gratitude for the efforts and sacrifices that are made each day by these individuals," stated Sheridan Hanson, pathway coordinator.
Throughout the pandemic, LCCC students have been working alongside CRMC employees, utilizing CRMC as a clinical facility, training students in the areas of nursing, surgical technology, radiography and sonography.
"This opportunity to give back, allowed our students to show their appreciation for their educational experiences and to acknowledge CRMC staff's willingness to continue to teach future healthcare workers during these unprecedented times," said Hanson.
LCCC offers 12 programs as part of the Health Sciences & Wellness Pathway, providing a variety of educational and career opportunities.