30
NOV
LCCC announces new assistant athletic director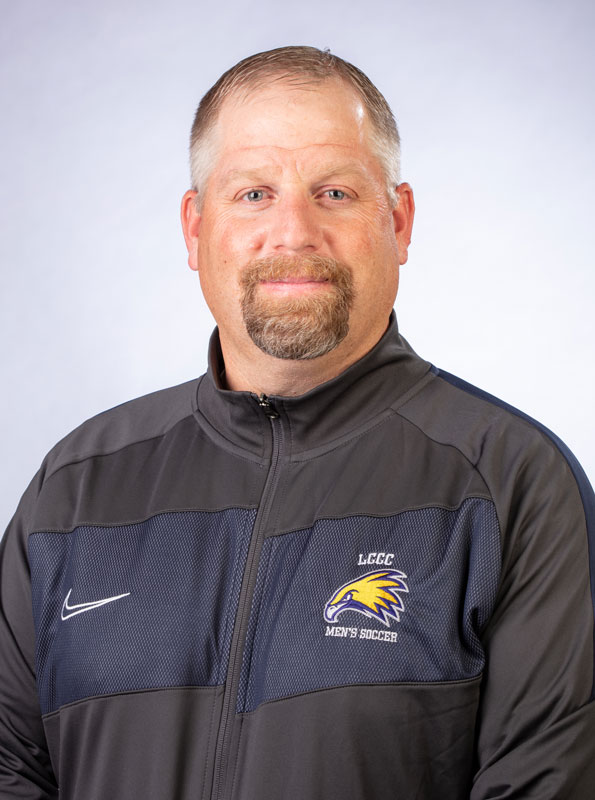 CHEYENNE, WYOMING – LCCC Men's Soccer Coach, Vince Gibson is handing over the reins of his nationally recognized men's soccer program to assistant coach, Fernando Perez, to transition into the assistant athletic director position with LCCC Golden Eagle Athletics announced, Dr. Cindy Henning, interim executive director of athletics, exercise science and recreation.
"After completing a thorough recruitment and interview process involving campus and community feedback, we are excited that our best candidate is intricately familiar with Golden Eagle Athletics," said Henning. "In his new role, Vince will have primary responsibility over eligibility, compliance, and facilities, in addition to developing a robust campus recreation program. His previous experience in these areas made him a great fit for this role." Gibson brings more than 25 years of experience in athletics and recreation to his new position, including serving as interim athletic director at LCCC in 2018.
Gibson completed 14 seasons at the helm of the Golden Eagles Men's Soccer program this year, leading the team to the NJCAA National Tournament for the third consecutive season. Gibson has been named Coach of the Year eight times with the most recent recognition in 2021.
His overall record at LCCC is 165-78-14. Over the span of his coaching career, Gibson has produced 10 All Americans, 18 Academic All Americans, and 133 All-Region IX performers. Gibson joined Laramie County Community College in 2008, after coaching both men's and women's soccer at Dodge City Community College in Kansas. His overall coaching record at the NJCAA level is 182-93-17. Gibson has worked at three community colleges in various athletic capacities including, compliance, eligibility and facility monitoring, intramural director, event management, budget oversight, donor engagement, community service, and as an adjunct instructor.
"I am very thankful to Dr. Joe Schaffer, Dr. Melissa Stutz and Dr. Cindy Henning for giving me the opportunity to serve LCCC and the athletic department. I look forward to building relationships in the community and on campus. I'm excited to get to work and help the coaches and student athletes move forward in their pursuit for excellence," said Gibson.
Gibson earned his associate's degree from the College of Southern Idaho in physical education and earned his bachelor's degree from Idaho State University in physical education/exercise science with a minor in coaching. He received a master's degree in athletic administration from Concordia University-Irvine.
Gibson and his wife Katie, an LCCC alum, have four children. Gibson will begin his assistant athletic director responsibilities in early December.