2
DEC
LCCC students assist CRMC during patient surge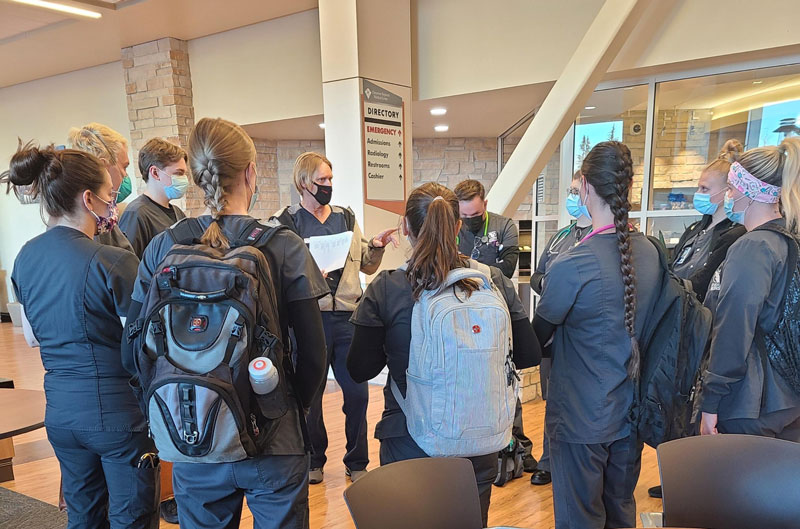 Students in LCCC's nursing program, receive direction from CRMC staff to assist with a recent surge of patients at the hospital.
In recent weeks, CRMC experienced a surge in patients in their Emergency Department that required more support than they could provide. As a training site for LCCC students, the hospital reached out to the nursing department to ask for triage support from LCCC students and staff to address the surge of patients.
"We are excited that we have developed a relationship with CRMC, that opens the door for them to reach out to our students and staff when assistance is needed," said Karen Bowen, LCCC nursing program director. "This was an experience our students will not forget, they were able to see how their hard work and dedication to nursing will positively impact patients and our community."
LCCC students and staff provided support over a three-day period at the hospital relieving bottle necks in patient movement, providing direct care to patients and support to clinical staff. Students in each semester of the program had the opportunity to participate and support the team at CRMC and were able to experience what real-time response looks like in an acute care setting.
"Cheyenne Regional was so impressed by the generosity of the LCCC students and faculty," said Tracy Garcia, Cheyenne Regional's chief nursing officer and vice president of clinical services. "When I contacted Karen Bowen, she promptly went to work lining up students and faculty to come and assist, and they were on site within a couple of hours. Cheyenne Regional and the entire community are so lucky to have such a wonderful program at LCCC. We are going to have some great nurses in the future to continue to care for our patients and community!"
LCCC's nursing program offers students an opportunity to receive a Certified Nurse Assistant (CNA) certificate, Associate Degree in Nursing (ADN) or LPN Advanced Placement. In partnership with the University of Wyoming, students who receive their ADN can also work to complete their Bachelors of Science in Nursing (BSN) at LCCC.
For more information about LCCC's nursing program, visit lccc.wy.edu or contact Karen Bowen at kbowenFREELARAMIE or 307.778.1111.