27
AUG
LCCC IT Program Director Receives Microsoft Innovation Award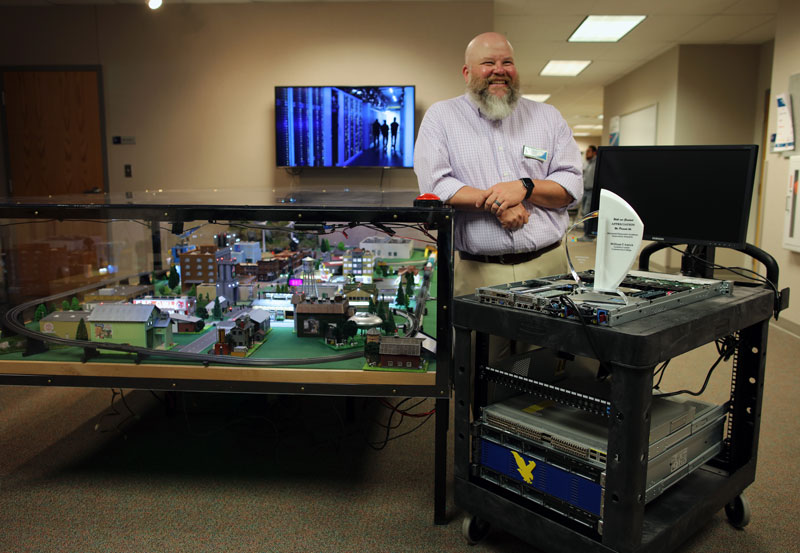 Troy Amick, program director, information technology at LCCC shows off the datacenter carts and Cyber City. Amick was awarded the 2021 Innovation Award from Microsoft due to his creativity in developing unique and engaging learning environments.
In 2017, Microsoft approached Laramie County Community College (LCCC) with a proposal to develop a Microsoft Datacenter Academy at the College. The Datacenter Technology program began in the fall of 2018 with just 14 students and now boasts an enrollment of 60 students working to earn their degree. The datacenter technology credit diploma is now the common first degree within the Information Technology (IT) Pathway and leads to advanced credentials in network administrator, systems administrator, and cybersecurity.
The growth and popularity of the IT program is a product of high demand, high wage jobs, and the flexible design and creativity of offerings. The LCCC program stands-out due to its innovation and creativity in both the classroom and labs, ensuring student growth and comprehension. That creativity is led by Troy Amick, program director, information technology. Amick began at LCCC in January 2018, following a donation of equipment from Microsoft, to create a mock datacenter at the college. Amick, utilized the equipment to created 12 mobile datacenter carts allowing students to gain hands-on, real-world application in a unique lab setting.
Due to Amick's work with the LCCC Datacenter Academy, he was recognized as a 2021 Innovation Award winner at the first Microsoft Datacenter Academy Summit in August 2021. "This type of innovation highlights the exceptional work your program is creating by making learning objectives engaging and accessible to all students," said Anthony Putorek, Microsoft senior program manager for workforce development. "This award specifically focuses on how you are driving innovation and increasing student interest, performance, and overall achievement in the Datacenter Academy."
Amick and his team of three faculty continue to create active learning and innovation opportunities, through the design and development of a new hardware lab, Cyber City and Cyber Range. The Cyber City provides a tactile learning environment for students (and even guests to the College) to view the real-world implications of a cyber-attack. The two cyber environments allow students to attack and defend the city as they learn about the various ways cyber-crimes may occur.
For more information about opportunities and programs offered in the Information Technology Pathway, contact Troy Amick at 307-772-7381 or wamickFREELARAMIE.