31
OCT
Student body president committed to advocacy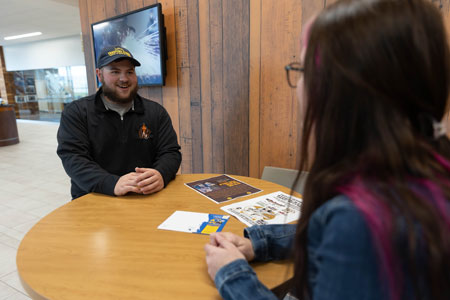 Being an effective advocate for students is all about communication for Laramie County Community College Student Body President Raeth Tolman.
Fall 2022 marks a second term as president for Tolman, who is double majoring in theater and music in his second year at LCCC. Running for an elected position in student government wasn't something he planned on, but last year he jumped at the opportunity to be a leader on campus.
"I can really get some fulfillment out of helping students overcome obstacles," Tolman said.
The elected officials of LCCC's Student Government Association represent the student body, seeking to make campus life the best they can be by advocating for students. As part of his position, Tolman meets with LCCC President Dr. Joe Schaffer at least once a month to discuss issues important to students. Student forums are also held where they can come with anything from campus-wide issues to more personal matters.
"We try to get students' points across, make sure that their voice is heard and that they get whatever they need to be successful," Tolman said.
The highlight of his first term, Tolman said, was being impressed with the quality of representation his fellow student government officials gave to LCCC. Additionally, meeting with everyone from LCCC administrators to members of the public highlighted areas of concern he may not have otherwise considered.
Awareness around anxiety and suicide were key areas of focus for Tolman's campaign for a second term as study body president. He's encountered those issues in his personal life and is cognizant of the way suicide and anxiety affect societies across the world. For LCCC students who are struggling with those issues, Tolman said there's always a solution.
"There's always someone to talk to," he said. "We're here for the student body. So if there are any issues that anyone struggles with, no matter what it is, we will try to help you to the best of our ability and hopefully see you succeed."
Tolman is a great fit for the student leadership role in no small part because he is talented and personable, said Zeke Sorenson, LCCC coordinator of Student Engagement & Diversity.
"It has always been clear he cares about student experiences and student life while working with him," Sorenson said. "He works hard to advocate for students and is determined to provide insight on issues he knows are impacting students. I admire his level of dedication in his studies and the work that he does on campus with student government and other areas on campus."
Students can attend one of the Student Government Association's meetings from 2-4 p.m. on Fridays in the Crossroads building, room 107. Students are welcome to attend meetings and voice any comments they have during the Public Input portion of the agenda. To access the agenda and meeting information, go to the Student Engagement & Diversity Virtual Office in myLCCC. Any questions regarding Student Government can be directed to Zeke Sorenson by emailing zsorenso@lccc.wy.edu.