30
NOV
SAFE works to make LCCC welcoming to all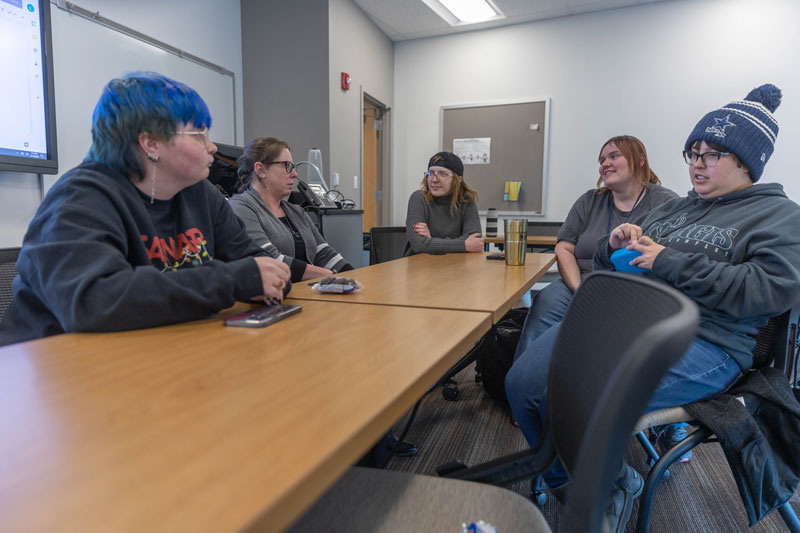 For Jessica Shutty, it's important to have spaces on the Laramie County Community College campus that are safe and welcoming for queer students.
"When I first moved here six years ago, I thought I was going to have to grow my hair — I had a pixie cut at the time — and I'd to have to wear feminine clothes," she said. "Thankfully, I never felt like I'd have to go back to the closet. I think it's important to let people know that it might be hard at first to find people that accept you or understand you, but there will always be people that will."
That passion is why Shutty is the vice president of the Student Alliance for Equality (SAFE). Through the last 10 years, SAFE has focused on education, advocacy and social opportunities for LGBTQ people and their allies. Laura Hayes, LCCC English instructor and SAFE's faculty advisor and co-founder, wanted to make sure there was a student organization that focused on LGBTQ support at LCCC.
"We're really passionate about having a space here for students of any gender, any sexuality, allies, to — no pun intended — to feel safe, and to advocate for things on campus that are LGBTQ-friendly," she said.
The education component of SAFE's mission has been to provide a place on campus where people can ask questions that can make people uncomfortable as the awareness and acceptance of LGBTQ people becomes more commonplace, Hayes said.
"People don't want to step on anybody's toes and they don't want to appear insensitive," she said. "SAFE is a place that can educate the campus community, and be a place where people can come ask about what they don't understand."
SAFE's members advocate on campus for issues important to the LGBTQ community, such as expressing support for implementing a preferred naming system in Colleague, LCCC's hub for student records.
"SAFE really wanted that to happen for preferred names and pronouns," Hayes said. "It's the kind of advocacy that really benefits everybody."
Additionally, SAFE hosts community events that help educate and advocate, such as hosting a panel of trans speakers, the Finals Are a Drag Show, a Valentine's Day gift sale that benefitted the Outstanding Student Scholarship and more.
Perhaps most importantly, SAFE provides opportunities for anyone interested to become part of a community. Many LGBTQ people, Hayes said, feel like outsiders in the larger world. SAFE can help provide support that might be missing otherwise.
"A lot of (LGBTQ people) are scared to be out in terms of whatever sexuality or gender they identify with, so providing the opportunity to just hang out with people who are like them is so valuable," Hayes said.
Hayes said she thinks back to a National Coming Out Day, which takes place each October, where SAFE hosts a "Circle of Sharing," inviting anyone interested to share stories about their experiences with coming out or supporting friends and family that have. One year, a LCCC staff member joined the group and came out after a lifetime in the closet, which Hayes said was an especially moving moment.
"She'd spent her whole life hiding, as it used to be so much less acceptable," she said. "So hearing her story and knowing that she trusted us enough to just come and say it out loud for the first time was incredibly impactful for everyone there."
It's important to emphasize, Hayes said, that SAFE is a student organization built for everyone, including allies.
"I'm just a straight, cis-gender chick, but I care deeply about these issues. Advocating for LGBTQ+ rights is fighting for human rights, since we all want our identity and our love to be recognized as valid," she said. "That's why allies and members of the LGBTQ+ community are all integral to SAFE's mission."
For more information on SAFE, contact Laura Hayes at lhayesFREELARAMIE or 307.432.1615.