30
NOV
LCCC art student sees aspirations come to life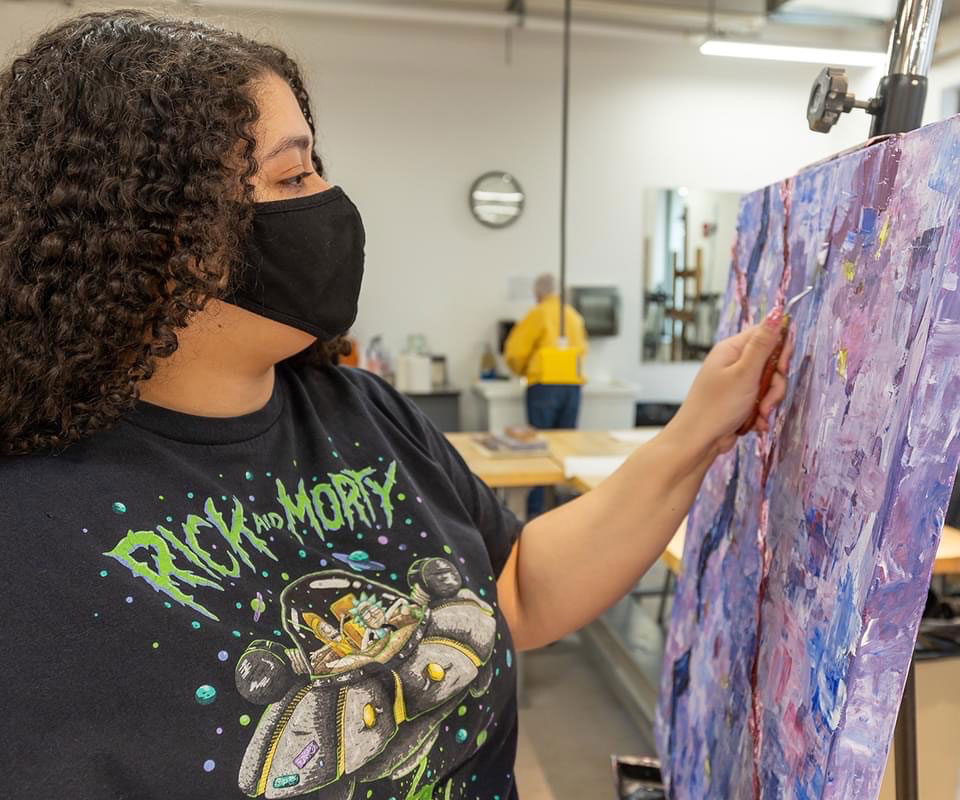 A Laramie County Community College student is helping to lead an effort to bring artists from the college to the wider community, bridging her passions for art and entrepreneurship along the way.
Tatiana Thompson, 23, started at LCCC in January 2019, completing her art degree in 2022. During that time, she helped start the Creative Community and Arts Club, in which she served as vice president. Today, Thompson is back at LCCC working on another in the Communication and Creative Arts program with emphasis areas in media/communication and art.
When she first came to LCCC, Thompson said she wasn't sure what she wanted to do. But with the Pathways approach to LCCC's degree programs, students have the flexibility to try out different areas of study before settling on direction without wasting time or money on courses they don't need.
"The art program is set up to offer a little bit of everything," Thompson said. "So maybe you're not as much into drawing, but you really like painting, so you can kind of build on those skills and take more advanced classes until you find something that you do like. You get a full spectrum of stuff with the different art mediums to see what you do or don't like."
In addition to her degree, Thompson earned the entrepreneurship certificate offered at LCCC. She said she hopes to combine her entrepreneurial aspirations with her passion for art.
"I wanted to learn how to sell my own artwork or do something pertaining to art where I use that creative flow in my everyday life for a job or occupation," she said. "So once I had done that, it gave me a new sense of enlightenment."
One way Thompson has employed her skills learned at LCCC is through coordinating the Emerging Artist Program under grant funding secured through Arts Cheyenne, a nonprofit supporting arts and culture in Cheyenne and Laramie County. Earlier in 2022, Thompson helped organize a show featuring LCCC artists and graduates in the ArtHaus, a mobile art space designed to share artists with the community.
Desirèe Brothe is an Arts Cheyenne board member and chairs the LCCC Communication and Creative Arts Pathway Advisory Committee. Brothe said she knew after meeting Thompson that she'd do great work coordinating the Emerging Artist show.
"I've really enjoyed working with her, and I think she has the right mindset and willingness to just engage and connect with other artists in a way that we really need," Brothe said.
The experience coordinating the Emerging Artist show has been rewarding, Thompson said, because she's been able to employ the skills learned at LCCC.
"It left me feeling like I've made it in a way where I'm actually using my degree for something right out of college, right after getting my degree," she said.
The experience has not only allowed Thompson to hone her skills learned at LCCC, but also to network in beneficial ways. Whether that's with people like Brothe or aspiring artists who need some direction, Thompson said she's learned a lot through making connections made possible with the Emerging Artist Program.
The Emerging Artist show Thompson helped coordinate included art she remembers students working on while at LCCC. The process of developing that art, she said, brought challenges for the artists. But to see completed works on display has taught Thompson that whether in art or life, she needs to trust the process and know that if she puts in the work, she'll see the rewards.
"It's interesting seeing artwork where I remember when they were struggling making this and then finally got the eyes right or finished the piece," she said. "It's really cool to see it all come to fruition."