30
NOV
Spanish in the Workplace strengthening Wyoming's workforce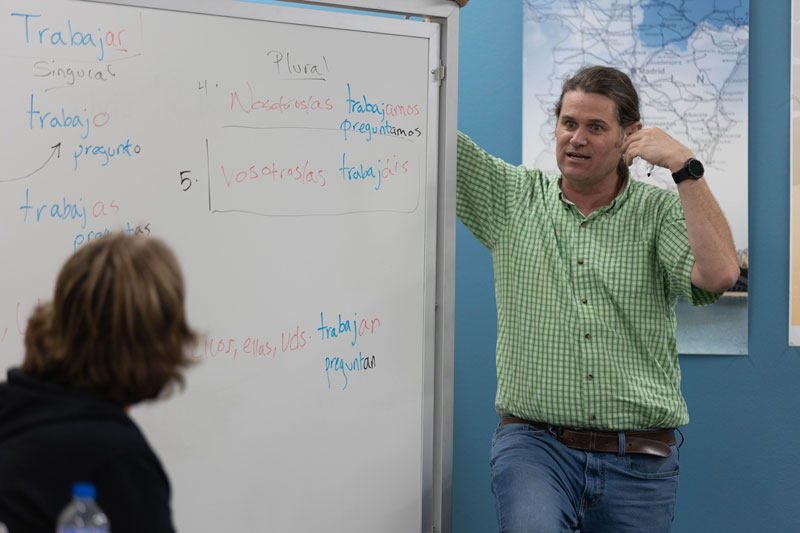 With Spanish-speaking populations growing across Wyoming and the nation, it's becoming increasingly valuable for many professionals to speak the language. At Laramie County Community College, a year-long course prepares students for speaking Spanish in various workplace settings, allowing them more opportunity to prosper in their chosen field.
The Spanish in the Workplace credit diploma, a two-semester program first offered in Fall 2022, helps students to learn to communicate at a basic-to-intermediate level with command forms and inquiry that gathers work-related information. The course is offered to anyone, but the major focus areas are law enforcement, social services, medical personnel, teachers and others in the area of education, as well as business and finance.
Almost half of the incoming population in Wyoming is Spanish-speaking. According to the U.S. Census Bureau, Wyoming's Latino population increased from 8.9% in 2010 to 10.6% in 2020, compared to the national rate of 16.3% in 2010 to 18.7% in 2020.
"I see Spanish speakers out in the community every day, and I've had people call me at LCCC and say, 'I'm a real estate agent or I work in a bank and I need to be able to better communicate with Spanish speakers,'" said Ian Caldon, LCCC Spanish instructor. "We really asked, 'What are the needs of the community and where are people seeing definite services being provided to Spanish speakers?'"
Caldon has taught language acquisition for years, in the U.S. and abroad. He has taught Spanish at LCCC for 10 years and said he's enjoyed being able to offer Spanish in the Workplace in its inaugural semester.
Caldon said Spanish in the Workplace is different from the traditional Spanish courses in that it allows students to start with a common text and then "choose their own adventure" in terms of an area of focus. For example, health care personnel might have a lesson with a medical intake form, learning how to answer questions and guide a Spanish-speaker through the task. On the other hand, those going into law enforcement may need to focus on learning words and phrases related to getting a suspect description from a Spanish speaker.
"You'll learn the mechanics of the language and the structural application of language while focusing on phrases and vocabulary specific to your field," Caldon said.
Learning a new language takes work, but Caldon said he's confident that those who put forth the effort can see results.
"It's never too late," he said. "In my personal experience, I've seen students of all ages come into Spanish and learn the language. But I guarantee you, you won't do it if you don't sign up."
Trenton Wayne Newbury-VanLove is a Spanish in the Workplace student and employee at LCCC and Laramie County School District 1. Newbury-VanLove said he's enjoyed how thorough and thoughtful the Spanish in the Workplace course is, and is excited to see progress in his Spanish acquisition.
"I'm already able to pick out words and phrases from native speakers while filling in the context," he said. "Ian is an amazing instructor who has a fiery and contagious passion with his students …. It takes a lot of effort to learn another language, but if you have the passion for it, you can do it."
Contact Ian Caldon for more information about Spanish in the Workplace at icaldonFREELARAMIE or 307.778.4367.