27
JAN
Entrepreneurship Lab open to all at LCCC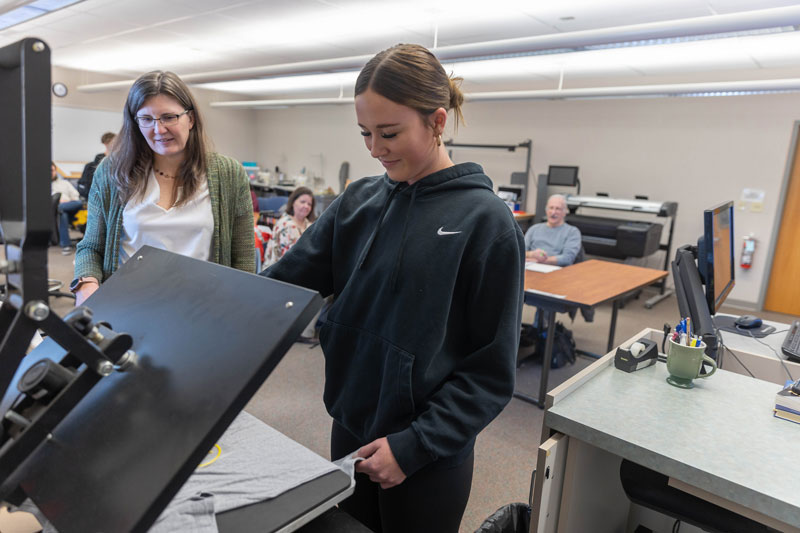 Making innovative and creative aspirations a reality is possible in the Entrepreneurship Lab at Laramie County Community College's Cheyenne campus.
The Entrepreneurship Lab, located in the Andrikopoulos Business & Technology Building, is a 1,000-square-foot makerspace that includes a laser etcher, heat press, a Dremel tool, sewing machines and more to help ideas come to life. Open to students, staff and faculty at no cost, the Entrepreneurship Lab offers unique opportunities to those at LCCC with a creative inclination.
LCCC's Golden Eagle Wyrkshop, located in the Ludden Library on the Cheyenne campus, is more of an entry-level makerspace, where the Entrepreneurship Lab has tools and technology that is on the next tier up, said Minden Fox, marketing and entrepreneurship instructor.
"(For example, the Golden Eagle Wyrkshop) has some basic, entry-level sewing machines where you don't have to worry so much about sewing your finger," Fox said. "The Entrepreneurship Lab has industrial-level sewing machines that are just a step up."
Fox points to a makerspace like TinkerMill in Longmont, Colorado, as what she would like to see LCCC aspire to. TinkerMill is a nonprofit public charity and the largest makerspace in the Rocky Mountain Region, deeply involved in the community's economic development efforts.
The development of the Advanced Manufacturing and Material Center (AMMC) at LCCC and its makerspace, or fabrication lab, known as the Concept Forge, will offer even more possibilities than the Entrepreneurship Lab. LCCC is in the process of renovating 14,200 square feet of existing space on campus for the AMMC, with programming expected to launch as early as Spring 2023. The Concept Forge is designed to help small manufacturers grow their enterprises and entrepreneurs in prototype and production.
Having three makerspaces geared toward different levels of skill and aspiration will help LCCC be ground zero for creative ideas in the region going from concept to production, Fox said. And while the Entrepreneurship Lab is certainly available for helping business students, Fox said she would like to see people from all departments on campus taking advantage of the facility.
"There's a lot of potential for every single program, every single department, every single student, if they're interested in learning to use some of this equipment, and learning what it can do for them," she said. "And I think a lot of people feel like, 'Oh, I'm not that creative.' But you don't have to be a creative person. You can come in here and say, 'I've got this idea,' and we can help you. We can show you the design software, help you with layout, all those kinds of things."
The Entrepreneurship Lab first opened in 2021, and has already seen students successfully taking advantage of its offerings.
Using 3D printers in the Golden Eagle Wyrkshop, one student has advanced to the finals of the Ellbogen $50k Entrepreneurship Competition at the University of Wyoming, a state competition open to all college students. Fox said she hopes that example will inspire others to take advantage of the lab.
For more information about the Entrepreneurship Lab, contact Minden Fox at mfoxFREELARAMIE or 307.778.1279.