20
NOV
Nontraditional student finds fulfilling career in education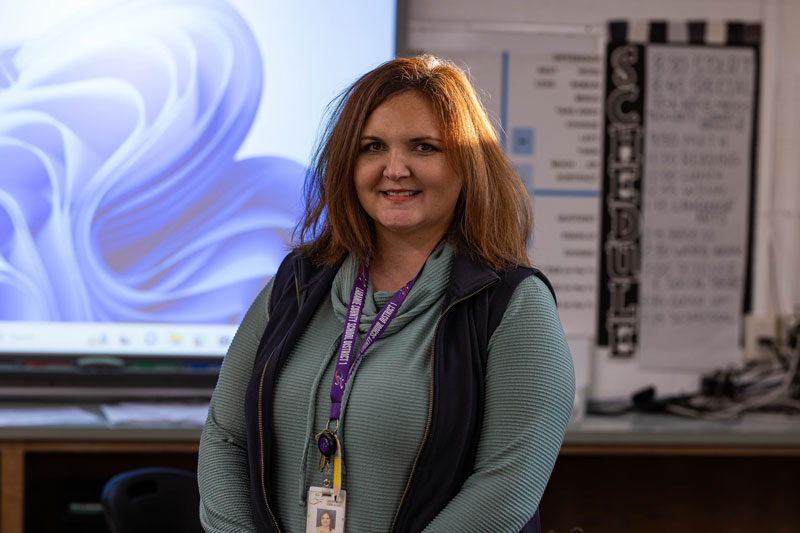 The fourth-graders in Eric Paulson's class at Miller Elementary School opened their workbooks on a Monday afternoon in November as they prepared to read Robert Frost's "Stopping by Woods on a Snowy Evening." The students were asked to compare the poem to two others they'd read previously, describing the settings of each, as they looked to make connections between the three works.
It's all part of the Wit and Wisdom Language Arts curriculum that teacher's apprentice Lindsey Belmonte loves so much.
"I love seeing the kids write," she said. "It's amazing the differences you see in what they visualize and what they put on paper. They're such creative and smart kids. There are sometimes things that I might not even pick up in the poem, and they point it out."
Belmonte, a Cheyenne native, is nearing completion of her online education program at Valley City State University in North Dakota in December which will allow her to take on classes of her own. The higher education journey taking Belmonte to her long-held goal of being an educator started at Laramie County Community College.
After graduating from East High School in 2002, Belmonte said she took a few education courses at LCCC. Her plan changed not long after as she got married and started a family. But by 2020, her children were teenagers, and her husband, an Army National Guard member, was deployed. The time seemed right, Belmonte thought, to restart her path to a degree.
It's a fulfilling career choice, Belmonte said, because she knows the impact she can make on individual youngsters and the community.
"I love to see the effort put forth and see the kids are learning and growing, and to know that I've made a difference," she said. "It's stressful at times, but for me, there's no more rewarding career."
LCCC offers degrees in its all-online programs for elementary and secondary education, intending to produce competent, high-reflective educators. For Dr. Arshi Rizwani-Nisley,
LCCC Education faculty member, that means educators need to always be open to new ideas and change.
"We must know our students, their communities, their struggles and attempt to meet them where they are and teach them to move beyond their barriers," she said.
To achieve that, LCCC must be current in educational research and pedagogy, and its faculty and students can't be afraid of trying new methods or practices, said Ann Shelby, another Education faculty member.
"Educators should be supported as professionals, and they should be committed to continual improvement of their teaching," she said.
Belmonte said she found all that and more in LCCC's program. As much as she learned from the instructors, Belmonte said a great deal of her education came from the interactions with other students that her classes facilitated.
"It was such a diverse group — some I was old enough to be their mother and others were old enough to be my mother," she said with a laugh. "It was such an outstanding group of individuals in a collaborative environment; it worked for all of us."
The credits Belmonte earned at LCCC transferred seamlessly to her university because of a transfer agreement, known as articulation agreements. (LCCC also has an articulation agreement with the University of Wyoming.) By the time she graduated with her associate degree in Spring 2022, LCCC's online classes and the capstone course — or practicum that takes the college students into K-12 classrooms to work with teachers and students — had done more than enough to prepare Belmonte for the university-level courses, she said.
LCCC's role in producing highly-trained educators isn't just a benefit for the individuals attaining degrees, said Scott Moncrief, LCCC education faculty member. The impact reverberates throughout society.
"We must have a well-educated citizenry for our democratic society to continue to function," he said. "Education is essential to produce citizens who are critical thinkers."
That point isn't lost on Belmonte as she prepares for the next day's lessons. It's obvious to her that the difference teachers make in children's lives will carry with them in everything they do. With her eyes on the future of education in southeast Wyoming, Belmonte said she'll always remember that LCCC played a critical role in getting her to this point.
"Going to LCCC is just what I needed to get rolling," she said. "Nothing could be more fulfilling than having this career that I love."
Find out more about LCCC's Education Program at lccc.wy.edu/education.