20
NOV
Boyds' legacy built into 50 years of ag at LCCC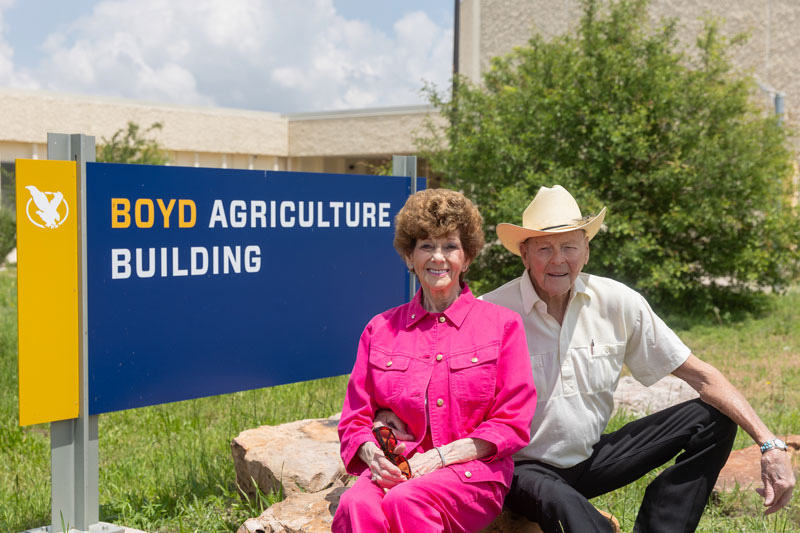 As Bob and Rogene Boyd walked into the Animal Science Lab just outside the Agriculture Building at Laramie County Community College in Cheyenne, Bob broke from the group and went straight to the sheep in pens against the north wall. His discerning eye inspected each animal as he sidestepped in front of the pens, his experience telling him just by a glance how to evaluate them.
"That's a good ewe lamb there," he said. "I'm looking at the size of the bone and thickness of the rib around the heart and lungs."
The Boyds' story is rooted in agriculture. Fifty years ago, their passion and vision, along with the work of several other key figures, led to the establishment of an agriculture program at LCCC. Bob's early years, filled with working alongside and showing sheep nationwide, evolved seamlessly into a career as an educator and innovator that would change southeast Wyoming's college landscape.
Today, the facility where students take their classes in LCCC's Ag & Equine Pathway is named the Boyd Agriculture Building, its namesake a small token of gratitude to the people who have made a lasting difference at the college.
Ag & Equine Pathway Coordinator Katie Shockley said the Boyds' legacy lives on every day in the quality education provided to students looking to make a career in the agriculture industry.
"The dedication and leadership by the Boyds and others have been instrumental in fostering a community of learners who are not just academically prepared but also possess the practical skills necessary for success in their careers in the agriculture industry," Shockley said. "As we continue to build upon the foundation laid by those who came before us, we are reminded of the profound influence they have had on the growth and development of our program."
Building from the ground up
It wasn't a long shot that Bob and Rogene would meet. They grew up as neighbors in Illinois farm country, going to the same church. They have largely been inseparable since they started dating in high school.
As a high school student, Bob met the shepherd at the University of Wyoming during a Chicago livestock show. Bob was eventually invited to come to UW as an assistant shepherd with the sheep flock.
"We got married on a Saturday night and we left on a Monday morning for Laramie, Wyoming," Rogene said with a laugh.
After serving in the U.S. Navy, Bob returned to Laramie to finish his bachelor's degree. He took a position teaching agriculture at Laramie High School after completing his degree at UW. It wasn't long, however, before a new opportunity came up at LCCC, which had been established less than a decade earlier. Ag classes had begun in 1973 and the ag proponents were seeking new talent to help build a quality program. In 1975, at the invitation of Bob's good friend Bob Schliske, the Boyds made the trip over the hill to open a new chapter in the Capitol City.
LCCC's agriculture programming began in what was then called the A classroom building. Bob's already established and growing connections with ag-focused educators and students helped him bring quality recruits to the fledgling program. The open area that became the site where the first ag building would stand was used to allow high school students to show their livestock. Parents and students always enjoyed the gatherings, and it wasn't lost on Bob that it was a great way to show off LCCC's new ag program.
The first ag building opened as the program expanded. Bob and his collaborators started the LCCC Livestock Show, the livestock sale, the Livestock Judging Team, the Livestock Show Team and more. Growth continued as the decades passed, with new courses offered and new facilities built. To save the program money during the construction of the LCCC Arena and Animal Science Lab, Bob wired the buildings. Throughout his 25 years as an instructor, Bob always sought to provide opportunities for the college and its students to succeed in agriculture education.
Before Bryan Wilson was LCCC's School of Arts & Sciences dean, he was an ag student under Bob. (Wilson went on to be an ag faculty member in the college's ag program before becoming the Arts & Sciences dean.) When looking at ag production in Wyoming, he said one could reasonably ask why the state's southeast corner should be an agriculture education hub. Today, however, Wilson said LCCC's Ag & Equine Pathway is, along with Casper College, the biggest and most robust of Wyoming's community colleges' ag programs.
"This is directly attributed to Bob and his colleagues at the time," Wilson said. "They poured themselves into growing and having a successful ag program where students learned and enjoyed their time. This put LCCC on the map and made it a place students continue to want to come to and great people want to work at."
A legacy beyond a lifetime
When Bob's students heard about his retirement in 2000, they decided they wanted to do something meaningful for the Boyds. A combined financial effort resulted in the establishment of an endowed scholarship, the Robert G. Boyd Excellence in Agriculture Scholarship. Faculty members would work to add to the scholarship, and Bob and Rogene continue to find ways to support it. Today, it is worth more than $168,000 and is providing more than $7,000 of support to agriculture students in the 2023-2024 school year.
Rogene spent 30 years as an elementary educator. The Boyds' combined passion for education also led to the establishment of the Robert G. & Rogene Boyd Education Scholarship, supporting students majoring in education.
In 2023, the Boyds were given the Lifetime Heritage Society Award by the LCCC Foundation in recognition of their extraordinary contributions to the college and the larger southeast Wyoming community. During the award ceremony, Rogene made it clear they continue to have high benchmarks for themselves and the community.
"Our goal is to give 100 scholarships to LCCC students in ag and education while we're living," she said. "Each of us can do a little to make a difference in other people's futures."
Bob's remarks at the award ceremony were all tied to thanking the people who he worked with through the years. Whether he knew or not what he was getting into when he came to Cheyenne in 1975, Bob said he is filled with gratitude for the work his colleagues contributed to building an ag program at LCCC.
"I look back now and can really appreciate the entire LCCC staff for a fantastic career," he said. "We should all honor LCCC administrators, instructors and staff in the dedication to LCCC students."
After 50 years of agricultural studies at LCCC, Bob and Rogene continue to be familiar figures on campus, attending events and finding ways they can add to their legacy of helping students. For Rogene, that altruistic life's work has been a calling that she and Bob have been privileged to answer.
"Life is a journey, not a guided tour," she said. "Be kind. You never know how long your educational dollars will impact others."
For more information about LCCC's Ag & Equine Pathway, go to lccc.wy.edu/agEquine. Go to lccc.wy.edu/scholarships for more information about financial opportunities at LCCC.