20
NOV
STEM mobile lab takes enthusiasm for learning on the road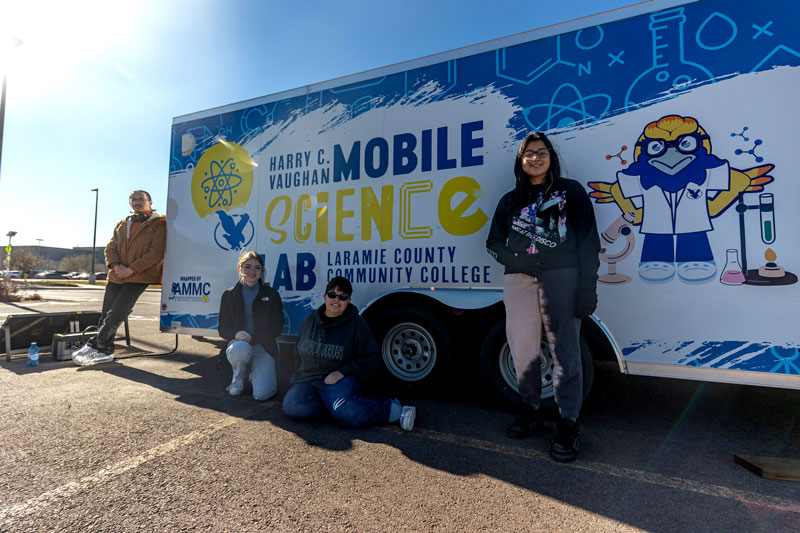 Laramie County Community College freshman Amanda Sinnott said she first became interested in science when she attended Wyoming Starbase Academy in fifth grade. The U.S. Department of Defense youth program that invites students to participate in exciting, hands-on activities in science, technology, engineering and math, or STEM, opened up a world of interest for Sinnott.
Today, she's a member of LCCC's STEAM Club, a student organization for those interested in STEM, and a biology major. The STEAM Club and STEM Pathway are hoping to bring that kind of hands-on experience and excitement to young people with the new Harry C. Vaughan STEM Mobile Science Lab, now making its way to regional events.
Sophomore Jaelyn Tafoya said she was fascinated by a 10th grade science class where she was introduced to studying diseases and growing bacteria. A visit to see technology being employed at the University of Wyoming's 3D Visualization Center in the Energy Innovation Center also ignited her passion for STEM.
"There was a building at the university where they had augmented reality and virtuality took up the whole room," Tafoya said.
Andres Lee, a sophomore majoring in physical science with an emphasis in physics, said technology being employed at LCCC is impressive and offers an exciting gateway into STEM.
"The ZSpace in the Concept Forge was something I hadn't seen before in terms of augmented reality," he said.
Whatever has excited STEAM Club's members about the STEM disciplines, the mobile lab is packed with items from the science classroom that show young people what students studying science are working with in classrooms. Whether it's anatomy models or tools used in a physics class, the mobile lab can carry awareness and enthusiasm for STEM wherever it goes.
Acquired by the STEM Pathway in August, the mobile lab has already made trips to local elementary schools, Girls Scouts of America events, the Wyoming Air National Guard Discovery Day and more.
"We can bring STEM activities to young people and show them what it's about, but we can also say, 'Hey, we offer this at LCCC; we offer biomedical sciences and engineering and more,'" said Trent Morrell, LCCC's STEM Pathway coordinator.
STEAM Club members are hoping they can bring some of the excitement that drew them to STEM to young people with the mobile lab. Natanya Sam, a sophomore at LCCC studying physical sciences, said it's important to show young people that being a scientist, engineer or whatever they want in the STEM field is within their grasp.
"There's this thing with a lot of people where they say, 'Oh, scientists do that,' like it's out of their reach," Sam said. "A hands-on experience can show kids a connection between them and scientists and that they can do this stuff."
The STEM mobile lab is made possible because of a $60,000 gift from the Windy Ridge Foundation, which has provided generous funding to various initiatives supporting learning in the state. The project is still developing, as Morrell and the students are working to decorate and install more technology in the mobile lab. Morrell said the mobile lab has also received support from various areas on campus making it an attractive learning tool.
The work with the STEM mobile lab is just beginning and Morrell said he's excited to see young people's enthusiasm for learning grow.
"We're looking forward to bringing this to students to say, 'You may want a career doing this,'" he said. "It doesn't mean you have to be a genius; you just need to have a love for curiosity and problem-solving."
Go to lccc.wy.edu/STEM for more information about the STEM Pathway.