10
FEB
Clay Pathfinder construction to provide unified entrance for Enrollment Services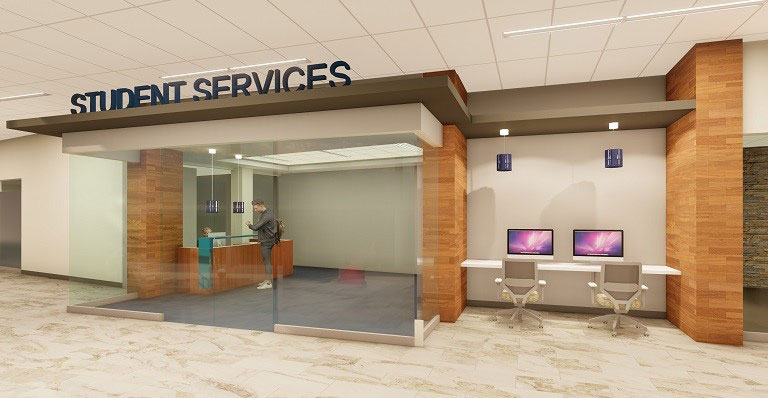 Rendering of the Student Services entrance.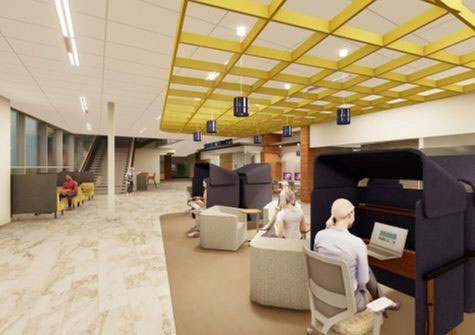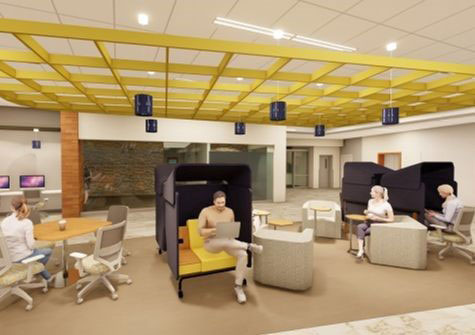 Renderings of the lobby of the Clay Pathfinder Building.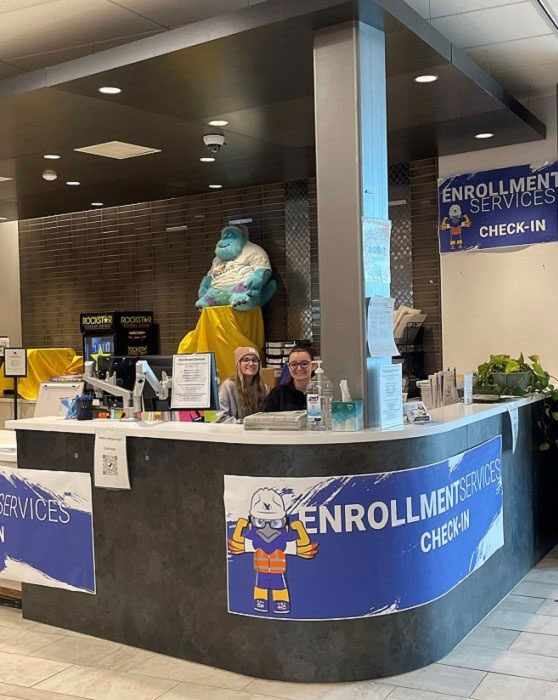 Temporary check-in desk in the Clay Pathfinder Building.
CHEYENNE, Wyoming – Changes are underway in the Clay Pathfinder Building on Laramie County Community College's Cheyenne campus that will provide a better functioning, more welcoming space.
Construction on the first floor of the Clay Pathfinder Building began Jan. 23 with completion expected in May. The Clay Pathfinder Building — the starting point for students, houses the LCCC Bookstore, Enrollment Services, the Exam Lab and the ANB Bank Leadership Center — will have a new, unified entrance for the Enrollment Services suite.
No matter what door in the renovated building a student enters, the grand entry will be seen and known as a starting point for all students, families and community members, said Sarah Hannes, LCCC Enrollment Services director.
"Enrollment Services has been through many changes the last few years to streamline processes for students," she said. "I'm excited for this renovated space to match our processes and provide excellent service for our students. Getting students on the right path is essential, and stepping foot in the Clay Pathfinder Building for the first time in our newly renovated space will help with that process and eliminate confusion from day one."
GEAR UP, a federal program to help junior high and high school students pay for college, will also be moved to the new Enrollment Services suite. This will provide better services to GEAR UP students in 7th-12th grades who are often enrolled at LCCC through concurrent or dual enrollment or after they graduate high school.
During the renovation, all Enrollment Services functions are still available. Check-in is temporarily located in the former "Coffee 101" space on the first floor, and staff are working a rotating schedule on the second floor. All services (the Student Hub, Student Success coaches, campus tours and more) are still available in-person.
The Clay Pathfinder Building was completed in Spring 2017. TDSi (The Design Studio, inc.) are the project architects, and Construction Specialists Incorporated (CSI) are the general contractor.