27
FEB
Career Assessment can help you find your path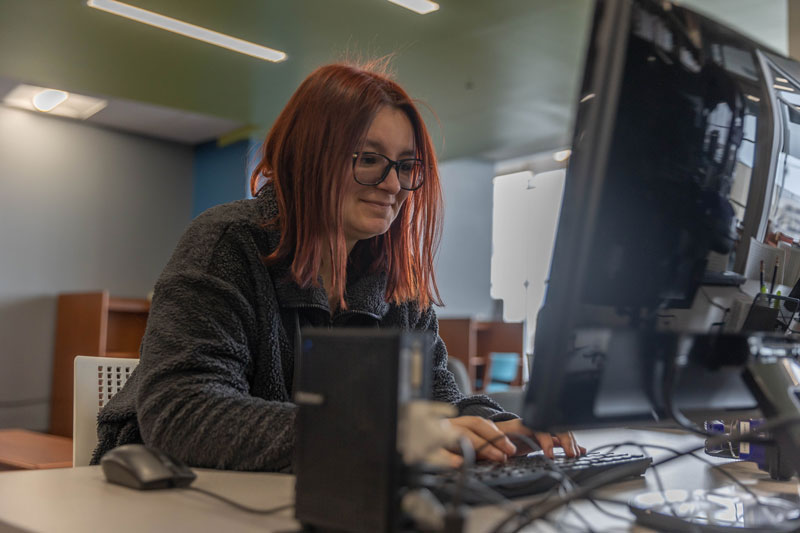 A lot of stress can come with deciding to go to college after high school or making a career change. Once you decide to go to college, choosing what you will study can be one of the most important decisions you'll make. It will shape your college experience, determine what you'll learn, and, for most, set you on track for what kind of work you'll end up doing after you graduate.
But don't let that get you down! It's important, but there are people and resources to help you make a decision.
The fact is that many prospective students, even when they know they want to go to college, don't know what they want to study. A 2022 survey by OnePoll for Colorado State University Global found that one-third of respondents didn't have a life plan after graduating from high school, though two-thirds indicated they would want to attend college at some point.
"There are a lot of students who come in unsure of what they want to do," said Kaycie Kilmurray, a Laramie County Community College Student Success Coach. "Some have good areas of interest, but just need some direction and insight on what those careers might look like, and how long it might take to get them there."
Some students haven't been exposed to what different career fields may be available to them, while others might have several interest areas and feel unsure about which direction to go. Still others just can't picture themselves in a particular career, possibly because they would be the first in their families to go to college.
Whatever the reason, there's a place you can start.
First, it's important to go through a self-evaluation.
Your interests can be the biggest predictor of career choice. Think about what you read, your hobbies, what you liked about jobs you've had in the past, and what has driven you to volunteer.


Think about what you value, or what's important to you. Do you have issues or causes that make you feel passionate about the work you do? How do you spend your free time?


Your personality impacts how you view the world. It deals with the environment you would like to work in and the type of people you'd like to work with. Are you patient? Empathetic? An optimist? A pessimist? This can all factor into your career choice.


Finally, what skills do you possess? There are transferable skills, or those you can use in multiple careers, such as collaboration, problem solving, and communication. Then there are specialized skills, or things you learn through education and experience, such as computer programming, equine management, or digital marketing.
Most colleges offer a career assessment that can help give you direction for what to study. The Career Coach at lccc.wy.edu can help you discover majors and in-demand careers and education based on your interests.
"Career Coach gives you a really good perspective," Kilmurray said. "It breaks down areas where your strengths and desires lie in percentages. If you're really good with people, it's going to show you high percentages in Health Sciences and Wellness or Human and Public Services."
If you're considering LCCC as an option, and you've taken a career assessment elsewhere in the past, it's still recommended you take LCCC's assessment as it's tied to the programs the college offers. It's a relatively quick process — Kilmurray said it generally takes less than 30 minutes.
Once you have your assessment completed, the next step is to talk with a Student Success Coach or Pathway Coordinator about enrolling in a program that interests you.
"(Students) have a team that can help them figure out the next step from there," Kilmurray said.
If you're still feeling some trepidation about committing to a course of action, that's OK. Within three years of initial enrollment, about 30% of undergraduates in associate and bachelor's degree programs who had declared a major changed their major at least once, according to the U.S. Department of Education. About one in 10 students changed their major more than once.
"You're always welcome to change your program if you find it's not a good fit for you anymore or if there's something else you might want to do — we can help you with that," Kilmurray said.
At LCCC, there are eight Pathways. These are sets of related programs grouped together to allow for exploration in multiple areas with low risk of wasting credits or time. Early on in your college experience, you can explore possibilities and even change programs within a Pathway.
Choosing your path in college doesn't have to be scary. At LCCC, people and resources are here to help you take the next steps toward a better life.
For more information, go to lccc.wy.edu/careerCoach.