9
FEB
LCCC student receives top honors at National Western Stock Show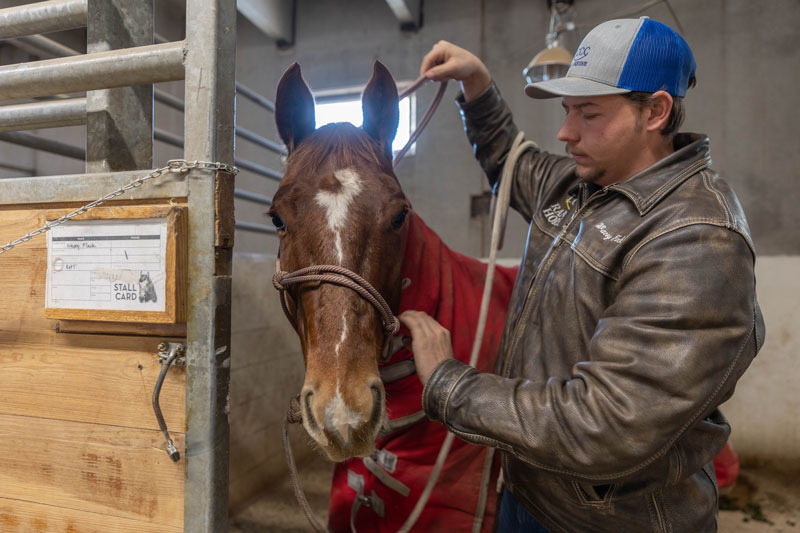 CHEYENNE, Wyoming – It was Laramie County Community College student Wacey Flack's first time at the 2023 National Western Stock Show, but he walked away with top honors.
Flack, a student in the Agriculture & Equine Pathway at LCCC, earned Grand Reserve Champion in the Cowboy Class of the NRCHA-sanctioned horse show at National Western Stock Show in January. Participants competed in a reining pattern, a fence work pattern and steer stopping. After the scores of the three events were combined, Flack and his horse "Six Pick a Light" earned the Reserve Championship.
He wasn't sure how he'd perform, but Flack said he went out there like it was any other practice run. The knowledge and skills he learned at LCCC, he said, made the difference.
"The Ranch Horse Team really helped us put ourselves over everybody else with that experience and being able to show a little bit more than others," Flack said.
The National Western Stock Show is a large annual livestock show, rodeo and horse show that takes place in Denver. The event showcases various livestock breeds and also features rodeo competitions, horse shows and other activities related to western culture and agriculture.
Being a Grand Reserve Champion at the National Western Stock Show is a recognition of the highest level of excellence in a specific category or breed of livestock at the show. It indicates that the animal has been deemed to be the second-best in its category, following the Grand Champion. It is a prestigious award that recognizes the exceptional quality of the animal and the skills of its breeder or owner.
Hailing from his family's ranch in the Nebraska Panhandle, Flack is expecting to finish his agriculture production degree in May. He said he wants to work in agriculture for the long haul.
"It's a way of life," Flack said. "That's how things were back in the day and I grew up that way, so it doesn't really seem like a job."
The National Western Stock Show has been a Colorado tradition for over 100 years and attracts participants and visitors from around the country.
Go to lccc.wy.edu/ag to learn more about LCCC's Agriculture and Equine Pathway.