13
MAR
Clothing Bank keeps LCCC students looking sharp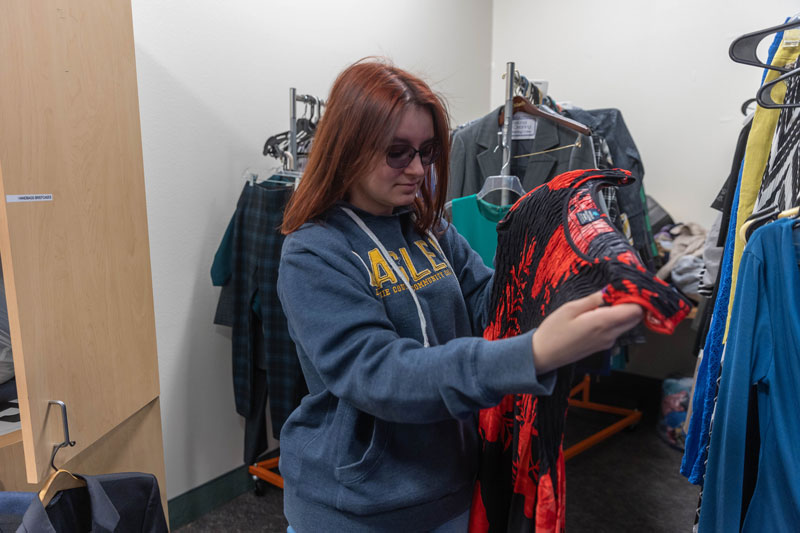 When it's time to enter the post-college world, it's important to be dressed for the occasion. At Laramie County Community College, there is now a free resource to make sure students can be professionally dressed for job interviews and internships.
The LCCC Professional Clothing Bank provides free professional clothing for current students who need anything from slacks, skirts, shirts, blouses, jackets, ties, shoes, belts and more.
"The LCCC Professional Clothing Bank is like a food pantry, but for clothes students can use for interviews and internships," said Nick Colsch, LCCC economics and public policy instructor. "Students can try on and keep an entire outfit to use for job interviews and work. They don't have to pay for anything and they don't have to return anything they use."
The clothing bank, which opened in January 2023, took a fair amount of work, establishing an account for donations with the LCCC Foundation, researching the work of companies offering similar services, reaching out to potential donors, running clothing drives, creating a website, ordering equipment, organizing donations, decorating the dressing rooms and creating ads to promote the clothing bank. But with the clothing bank open to students, Colsch said the work is paying off.
"To our knowledge, this service isn't offered by any other college in the state of Wyoming, allowing LCCC to stand out as a leader," he said.
The attire people wear in professional settings signals that they've prepared for the interview or internship and genuinely care about the position, Colsch said. Knowing that, around 20 students have used the service thus far, taking more than 60 items ranging from socks to shirts to blazers.
"A number of those students have thanked us for helping them out of a bind where they needed professional clothes quickly," Colsch said.
The clothing bank is located in the College Community Center, room 110, near the Student Lounge and can be used by any current LCCC student with a valid student ID. The operating hours are from 1-5 p.m. on Wednesdays and Thursdays during the Spring 2023 semester.
For those interested in donating, the LCCC Professional Clothing Bank accepts gently used professional clothes and shoes. Clothing or shoes with noticeable stains, holes, broken zippers, or missing buttons cannot be accepted. Donations are accepted at the Student Hub in the Clay Pathfinder Building, 8 a.m. to 5 p.m. Monday through Friday. The LCCC Professional Clothing Bank accepts monetary donations through the LCCC Foundation. Monetary donations are used to purchase detergent, clothing racks and hangers to display donated clothing. Donations of equipment (i.e. clothing racks, hangers, detergent) are also accepted.
Colsch said the city of Cheyenne is included among supporters making the clothing bank possible. In the month of November, LCCC gathered enough donations to not only fill the clothing bank, but also received more than a dozen bags of donated clothes and two boxes of shoes that were given to Goodwill in donations.
"We also received financial support from Bill and Cindy Pomeroy, the Kiwanis Club of Cheyenne, Compass Wealth Group and members of the LCCC Board of Trustees to help launch this project," Colsch said. "I am very proud of this project and the support we received on and off campus."
For more information about the LCCC Professional Clothing bank, contact Nick Colsch at NColsch@lccc.wy.edu or 307.778.1151.