13
APR
LCCC entrepreneur set to launch sky-high ambitions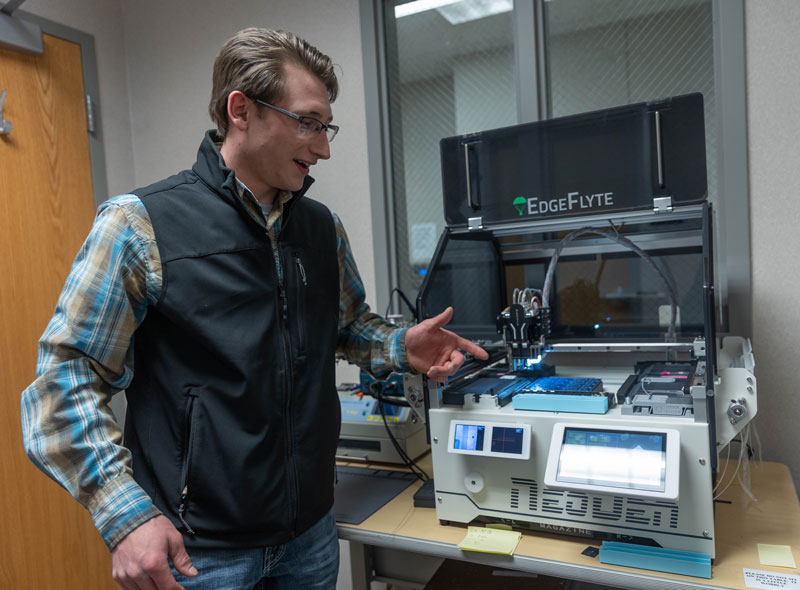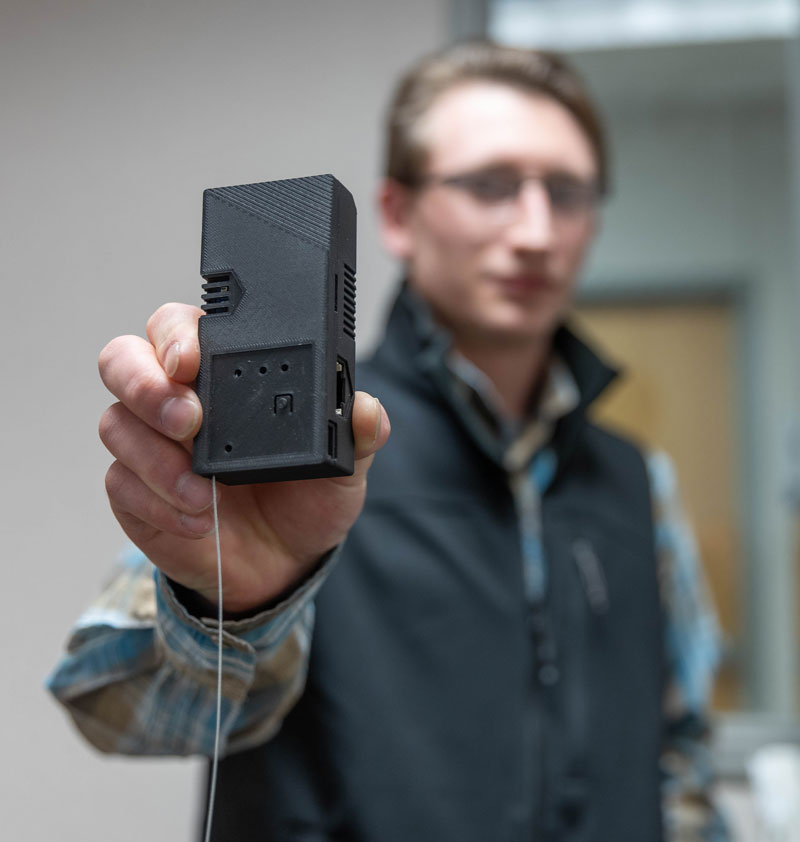 CHEYENNE, Wyoming – The sky's the limit for a Laramie County Community College student looking to launch his business providing edge-of-space flight components and a digital platform.
It began with a business idea that Tate Schrock, 19, developed in 2022. The Scientific Platform for Atmospheric Research, or SPAR, was primarily focused on implementing a hands-on project for STEM — science, technology, engineering and math — curriculum in classrooms for grades 5-12. He carried the project with him as he worked toward the entrepreneurship credit diploma at LCCC, rebranding and retitling his burgeoning business.
Today, Schrock's EdgeFlyte is focused on creating components to support edge-of-space flights for hobbyists, academics and possibly others, as well as providing a digital platform integrated with the components. Through the platform, researchers can view and share their data collected during edge-of-space flights.
Edge-of-space flight typically refers to suborbital flights reaching the edge of space at around 100,000 feet above sea level. The flights reach a near vacuum environment, meaning there's practically no pressure in the atmosphere, in temperatures as low as -70 degrees Celsius, and sometimes hit terminal velocity in their descents.
Hailing from a ranching and farming operation in northeast Colorado, Schrock saw LCCC as the ideal launchpad for his ambitions.
"The amount of resources, the facilities, networks and connections with people willing to help at any given time is completely unmatched," he said.
Schrock's outstanding ambition comes as LCCC is at the center of crossroads of opportunity.
He is a finalist for the Southeast Wyoming Innovation Launchpad, or SEWYIL, a competition through IMPACT 307. IMPACT 307 launched SEWYIL in 2019, offering counseling and financial assistance for launching business ideas, both for- and not-for-profit concepts. Finalists have access to seed money to take their business past the conceptual stage and into real-world first article builds and initial sales. The competition will identify finalists who will all be eligible to apply for a portion of the $50,000 seed fund. SEWYIL, open to residents of Albany and Laramie counties, has launched 17 companies since its start. Schrock is also a finalist in the University of Wyoming College of Business 23rd annual John P. Ellbogen $50K Entrepreneurship Competition, with the competition's final round Apr. 21-22 in Laramie
Additionally, April 14 will mark the beginning of an era at LCCC and in southeast Wyoming with the ribbon cutting of the Advanced Manufacturing and Materials Center, or AMMC. The AMMC will serve as a facility to train new workers to meet the needs of the region's current manufacturing industry. It will offer a location for the current workforce to receive training, a need not previously being met in the region. The center will offer a Concept Forge, or fabrication lab, to enable new entrepreneurs, much like Schrock, the ability to prototype their product ideas, complimenting the makerspaces in LCCC's Ludden Library and Entrepreneurship Lab.
With the makerspaces, faculty, grant and scholarship opportunities, and other resources available for entrepreneurs at LCCC, Schrock said it's up to individuals to seize their creativity and turn their dreams into possibilities.
"Why not take a creative idea and try to make something with it? You have the resources at your disposable at LCCC to improve your skills and knowledge in ways that can open up opportunities," Schrock said. "Who knows? It might turn into a multi-million dollar business."
Beginning with supporting academics and hobbyist groups, Schrock said he's prepared for broad horizons.
The AMMC ribbon cutting and remarks from dignitaries are set for 11:30 a.m.-12:15 p.m. Apr. 14. Facility tours and equipment demonstrations are set for 12:30-3:30 p.m.
Visit lccc.wy.edu/manufacturing to find out the latest on the AMMC. More information about IMPACT 307 and SEWYIL is available at impact307.org/sewyil.