27
APR
AMMC a "catalyst for change"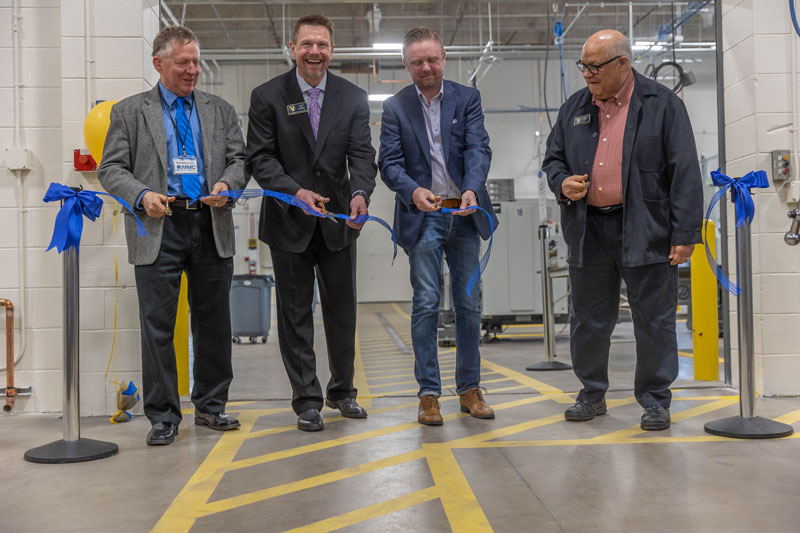 All eyes were toward the future when the ribbon was cut at the Advanced Manufacturing and Materials Center at Laramie County Community College.
The Advanced Manufacturing and Materials Center, or AMMC, will serve as a facility to train new workers to meet the needs of the region's current manufacturing industry. It will offer a location for the current workforce to receive training, a need not previously being met in the region. Dignitaries and guests came to LCCC's campus April 14 for a first look at the facility.
Wyoming's economy is both a blessing and a curse, LCCC President Joe Schaffer said. The energy sector's boom times bring prosperity only to be counterbalanced by painful downturns, swings that are becoming increasingly violent.
This has long put Wyoming leaders to the task of figuring out how to diversify the state's economy to ensure a more stable future. Unfortunately, Schaffer said, economic diversification is beginning to feel like a buzzword or even a pipedream. That's why an initiative like the AMMC has never been more important.
"Southeast Wyoming, I believe, is really leading the charge in economic diversification, but we can't let up," Schaffer said. "Now's the time for Wyoming to emerge as the next great maker state — a new heartland of production from both the material and knowledge perspective. We can talk about the latter one at another time, but for today, we're focusing on manufacturing."
Ideally situated for distribution at the intersection of interstates 25 and 80 and just north of the Colorado Front Range, Laramie County has long been an area of interest for business owners. However, many have passed on building a business in Laramie County because it could not meet their workforce needs. The AMMC could be a significant factor in making it possible for more enterprises to choose Laramie County. The state's business-friendly climate and hunger for new opportunity also serve as advantages for Wyoming's southeast corner.
The AMMC, Schaffer said, "is going to be the catalyst for that change."
The AMMC is housed in a renovated 14,200 square feet space on campus. The college will offer both credit and non-credit programming leading to skill development, industry certifications and college credentials. Specific skills taught include safety, lean manufacturing, mill and lathe operations, 3D modeling, robotics and more. A Zspace is available for training in virtual and augmented reality. Additionally, the center will offer a Concept Forge, or fabrication lab, to enable new entrepreneurs the ability to prototype their product ideas. The Concept Forge will include 3D printers, sewing machines, laser cutters, Glowforge, a larger helix system, a sublimation printer, soldering stations, cutting tools and more. Funding from the U.S. Economic Development Administration and Wyoming Innovation Partnership will make this entrepreneurial space possible.
The AMMC was made possible by $3.04 million in funding approved by the 6th penny election, as well as a generous $2.3 million equipment grant from the Economic Development Administration.
Laramie County Commissioner Gunnar Malm said he's the son of a manufacturer, and seeing the unveiling of the AMMC made him excited about the opportunities it would bring to the county.
"I think our community has done an amazing job over the last 25 years of setting ourselves up to be a diversified place," Malm said. "That doesn't just happen with one individual or one entity or one government. It happened with all the people of the community, all the businesses of the community, being willing to invest in itself. That's what I'm so proud of."
Understanding the possibilities that came with a manufacturing training center on the Cheyenne campus, the LCCC Board of Trustees long ago saw the importance of supporting the initiative, said Chairman Bob Salazar.
"It's important for the students to have opportunities to gain skills in high-demand occupations within the manufacturing industry — that's pretty obvious, because we're here for the students," he said. "But, in addition, since LCCC serves as an economic engine, we're also here for the industry and business that is going to benefit, as well."
Go to lccc.wy.edu/manufacturing or call 307.432.1687 for more information about the Advance Manufacturing and Materials Center at LCCC.