27
APR
ESL student overcomes adversity to become role model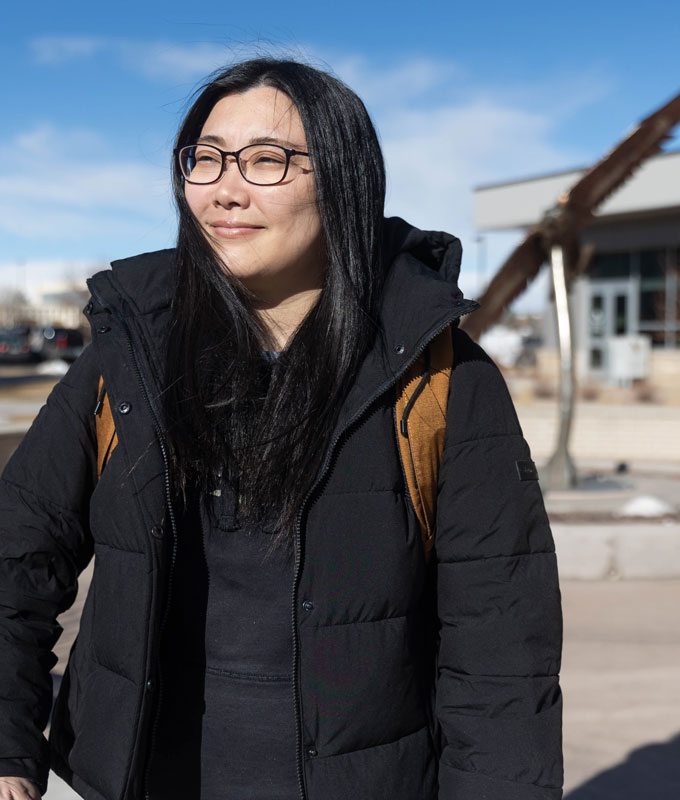 Yuriko Monelo has a goal that is neither simple nor easy: make the most of herself so her 12-year-old daughter can see that anything is possible.
At Laramie County Community College, Monelo, 36, is taking great strides toward that goal, first learning to speak English, then obtaining her high school equivalency and now taking courses in the STEM Pathway. Along the way, she's become a high achiever and role model for other English as a Second Language, or ESL, students.
Monelo hails from Japan, where she struggled with school. Losing a close family members led to other challenges, and she didn't graduate from high school in her native country.
In 2021, Monelo was living in Germany with her husband, who serves in the military. More than anything, she knew at that point that she wanted to go to school. With the pandemic affecting many facets of society, her options were limited.
But when Monelo learned she and her husband would be relocating to Cheyenne, she found the ACES program, which stands for Adult and Career Education Services, at LCCC. ACES is designed to help adult learners develop the skills necessary for continued education or meaningful employment through combined training in academics, communication skills, and college and career transitions. She began observing classes online, preparing to take on the real thing.
Monelo arrived at LCCC in October 2021 and began attending ESL courses through ACES. At the start, she wasn't sure what she wanted out of her new journey. But gradually, Monelo began to see success. She garnered a nearly 100% score on an ESL exam. Bridge courses — designed to help adult learners upgrade their reading, writing and math skills in preparation for college courses — helped Monelo improve in key areas. She joined the IET/Career Boost class and earned her CPR certification. Monelo was the LCCC ACES program's National Adult Education Honor Society students for 2021-2022.
Before long, Monelo earned her high school equivalency, and was left wondering what to do next. With her newly acquired knowledge and skills, Monelo said she knew she could take on the task of becoming a full-time student at LCCC.
In April, Monelo was honored as the Learner of the Year by the Mountain Plains Adult Education Association, or MPAEA. at the annual conference. The mission of MPAEA is to support and promote lifelong learning in the Mountain Plains region.
Today, Monelo said she's not sure what direction she wants to go in the STEM Pathway. A Pathway is a set of related programs grouped together to allow for exploration in multiple areas with low risk of wasting credits or semesters, so she has time to figure things out. Monelo loves math and is taking biology. What the future holds is yet to be revealed, but in the meantime, she said she's enjoying the ride.
"I just love learning and being a student," Monelo said.
After overcoming the challenges in her younger years, Monelo knows she has come a long way. Looking at her 12-year-old, Monelo said everything she's been through will have been worth it to see her daughter succeed in life.
"The most important thing is my daughter," she said. "I want her to go to college and learn more stuff that I wish I could have learned. I just want to show her that I'm doing it — you can do it, too."
For Thomas Lear, lead instructor for ESL and civics courses in ACES, who has worked with Monelo since she started her journey at LCCC, seeing her come this far is extraordinary.
"She is constantly happy and smiling now and says that her classes are going great," Lear said. "She speaks about how she wants to be an inspiration for her daughter. I believe that these experiences have positively impacted the trajectory of her and her daughter's lives for the good."
For more information or to reserve a space for classes, contact LCCC's Adult Career and Education System at 307.637.2450 or visit the ACES homepage. More information about LCCC's pathways is available at lccc.wy.edu/pathways. To learn more about the Mountain Plains Adult Education Association and the Learner of the Year award, go to mpaea.wildapricot.org.