27
APR
Former lawmaker explores Paralegal Program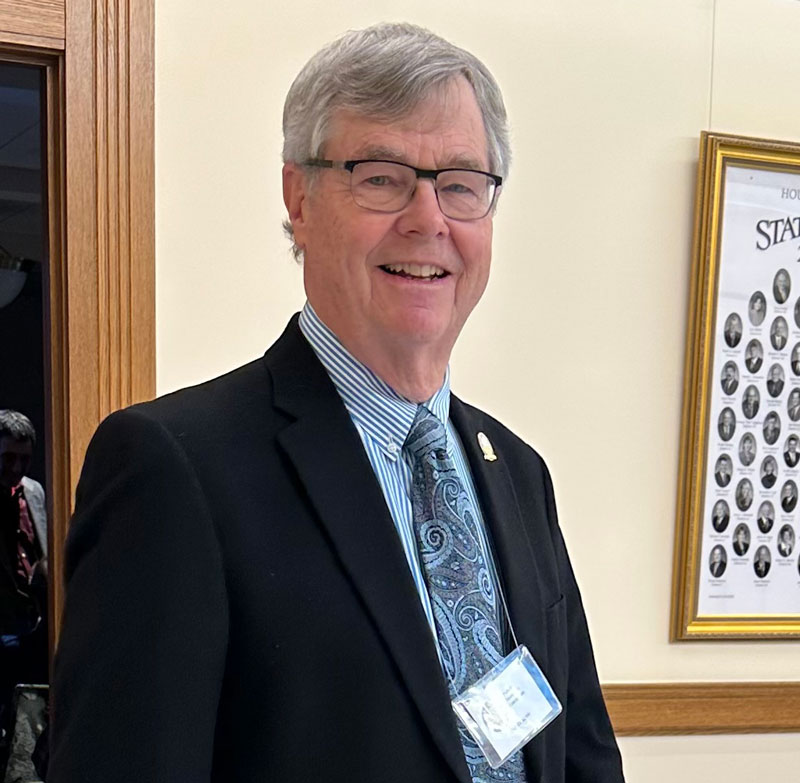 A former Wyoming lawmaker, inspired by his work in the Legislature, is taking courses at Laramie County Community College in the Legal Studies Program.
Dan Kirkbride served in the Wyoming House of Representatives out of Chugwater from 2013-2020. From 2017-2020, Kirkbride was the House Judiciary Committee chairman, addressing complex issues including law enforcement, corrections, the courts, public meetings and public records law and more.
Semi-retired on his ranch near Chugwater, and inspired by his work on the judiciary committee, Kirkbride said he was interested in learning more about the law. He said the Legal Studies Program at LCCC, offered completely online, seemed like a perfect place to pursue a subject he enjoys.
"I enjoy what I've learned, it tunes up my computer skills and it keeps me up to par with what's happening in education," Kirkbride said. "The fact that it's all online is very convenient for me. I wouldn't have been able to do it if I'd had to drive to Cheyenne every week."
Graduates of the Legal Studies Program at LCCC commonly go on to become paralegals. A paralegal, also known as a legal assistant, is a professional who works in a law firm or legal department and assists lawyers with their legal work. Paralegals perform a wide range of tasks, including conducting legal research, drafting legal documents, organizing and managing files, and communicating with clients and other parties involved in legal proceedings.
Paralegals may also help lawyers prepare for trials, hearings and other legal proceedings by gathering and organizing evidence, interviewing witnesses, and assisting with the preparation of exhibits and other materials. In some cases, paralegals may also be involved in the negotiation of settlements or plea bargains.
While paralegals are not licensed to practice law, they play an important role in the legal profession by providing support to lawyers and helping to ensure that legal proceedings are conducted efficiently and effectively.
LCCC's program, approved by the American Bar Association, prepares students with the technical skills and knowledge necessary for them to perform successfully and ethically as paralegals.
When thinking about the law, Kirkbride remembers his committee's accomplishments, moving through legislation pertaining to areas such as domestic abuse and criminal justice reform. His current work on the state's Judicial Nominating Commission — tasked with nominating three qualified applicants for each Supreme Court justice, district judge or circuit judge vacancy — is complemented well by his studies in LCCC's Legal Studies Program, Kirkbride said.
"The fact that I'm doing those two things in parallel fashion allows me to learn and apply knowledge to and from each," he said. "I've just enjoyed how it has increased my understanding of public affairs."
The experience as a LCCC student is just the latest in Kirkbride's involvement in higher education through his life. He graduated from the University of Wyoming with a journalism degree in 1975 and did a year of theological studies in Canada in the 1980s. During Kirkbride's time in the Wyoming House, he debated and voted on policies affecting higher education, including state distributions to UW and the state's community colleges, capital construction and more. Through it all, Kirkbride said he's convinced of the value of education.
"In my legislative time, I came to appreciate what the community colleges were doing around the state," he said. "The fact is that at one point I was looking at how education was delivered in the state, and before I'm through, I'm taking one more bite from the apple and benefiting from the system in my state."