22
MAY
Golden Eagle taking flight: Brazilian makes new life in U.S., starting at LCCC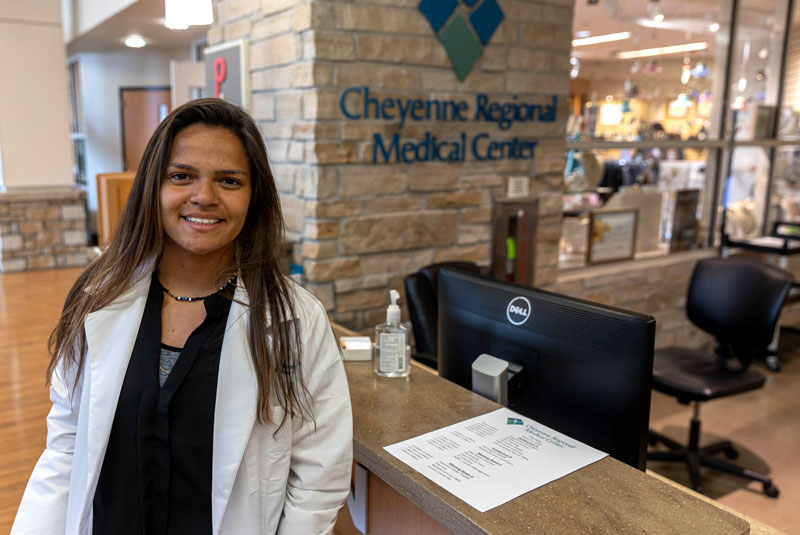 From a young age growing up in São Paulo, Brazil, Thalita Portela dreamed of living in the United States. Laramie County Community College and its soccer program helped her realize that dream.
Portela started playing soccer early in her life, playing street games, largely with boys. In 2009, she first went to an academy to play soccer, though it was an all-boys school.
Beginning her development as a player competing with boys made her a strong competitor, Portela said.
"I feel like it made me a little mentally stronger, because, of course, there are the comments that you have to hear and they are not nice," she said. "I think it also had a huge impact on my technical skills."
The conditions in Brazil growing up were far from ideal, Portela said. In terms of social conditions, Brazil struggles with high levels of income inequality, crime and violence, particularly in its urban centers. The country's education system is also facing challenges, with limited access to quality education for many citizens.
Economically, Brazil faces several structural challenges, including a high tax burden, complex regulations and corruption. The country also has a large informal economy, with many workers operating outside the formal sector and without access to social protections like health care and pensions. Unemployment and underemployment remain significant issues, with many Brazilians working in low-wage jobs without job security or benefits.
"Those were major factors in that I never wanted to live in the country since I was a kid," Portela said. "I always studied a lot and I knew the reality of my country. I guess you could say I wanted to run away somehow. But really I just wanted to look for better conditions."
Then, in 2012, Portela went to a girls academy where the goal was to become a professional soccer player. Continuing her development not only as a player, but also her academics and English skills, she graduated from high school at 17.
Portela went to one year of college in Brazil, studying nutrition. But her life would take on a dramatic new path when she was recruited by LCCC interim women's soccer coach Jim Gardner to come to Cheyenne.
Moving across the world to a landlocked community in the least-populated state in the U.S. had its challenges, Portela said. The food took some getting used to, and the pace of English-speaking caught her off-guard at times. But with the support of her teammates, coach, faculty and staff at LCCC, Portela said she found her footing.
Whether it was in the classroom, on the soccer field, in her job in the dining hall or outside of campus, Portela said she was a social butterfly who loved meeting new people.
"I feel like it was the perfect fit for me," she said.
Balancing her commitments as team captain and academics was also a tall order at times. Whenever she needed help from instructors or staff, however, Portela said she was never left hanging at LCCC.
"I always felt welcomed by people — everyone was very nice," she said.
Portela said she, too, was happy with her two seasons on the field. Always a competitive bunch, she said it's likely her team only fell short of the national championship during her sophomore season because of a teammate's injury.
"I will always say this: If we had our full team during nationals, we would have won the whole championship," Portela said.
In the end, she would play 32 games as a Golden Eagle, stacking up five goals and chipping in six assists.
After graduating with honors from LCCC with her associate in health sciences in Spring 2020, Portela would go on to Shaw University in Raleigh, North Carolina. In December 2022, she graduated with a 4.0 GPA. Upon graduating, Portela was honored by Shaw University as the Female Athlete of the Year, having the highest GPA for bowling and soccer, and also took home the Leadership Award for women's soccer.
Having obtained her bachelor's, with a whole world of opportunity in front of her, Portela thought about the connections she'd made in Cheyenne.
"I just feel so welcomed (in Cheyenne)," Portela said. "I feel like I have families everywhere here. All through my years at LCCC, I never had problems with finding a place to stay over Christmas, or even summer time. I never felt like I was just abandoned."
Portela started looking for work. She found it, and today, at 23 years old, is working as an exercise physiologist at Cheyenne Regional Medical Center.
Growing up, Portela had respiratory issues. Without the help of health care professionals who attended to her, she knows she never would have realized her dream of playing soccer in the U.S. Being able to work in health care, Portela said, is a way she can repay those who helped her.
"I wanted to somehow requite those professionals by becoming one of them," she said.