22
MAY
Graduates take in the moment at commencement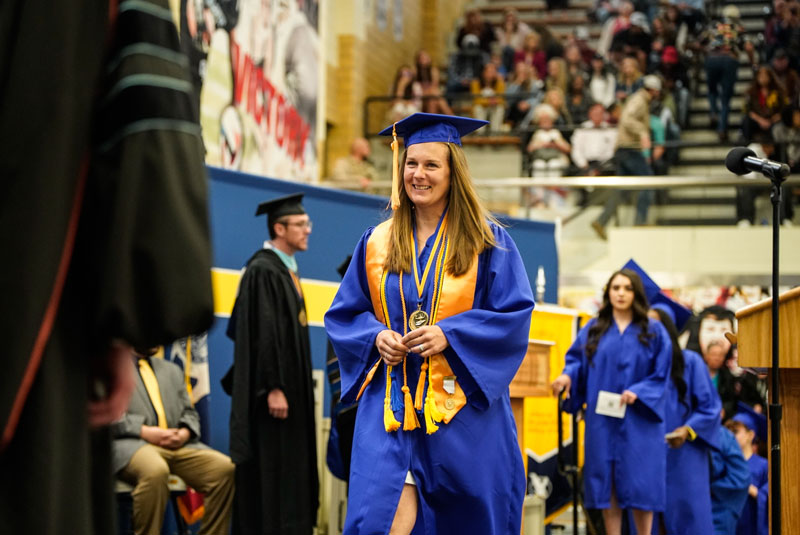 LCCC graduate ​​Sarah Behrendsen has come a long way since hitting "send" on the application to go to college.
"I told myself I'm not going to worry about getting to graduation — I'm just going to take that first step and just focus on the first semester, the first class," she said.
Preparing to walk across the stage at LCCC Commencement May 13, she said she was reflecting on the moments that got her to the stage.
Living in the moment through her time at LCCC, while balancing her family and full-time work, Behrendsen performed admirably. Because of her hard work in and outside the classroom, Behrendsen was given the Jan and W.M. Stalcup Excellence Award, an honor the namesakes wanted to recognize a student each year "… who has gone above and beyond by engaging in the LCCC community" and stipulating that "the award should not be based solely on grades but by a commitment the student made in service to the College or the Cheyenne community."
Along with the distinction, Behrendsen received a cash prize.
Smiles were on display and laughter hung in the air on commencement day as graduates donned their caps and gowns and families filed into Storey Gym, the event's venue while the LCCC Blue Federal Credit Union Recreation and Athletics Center is under construction. More than 700 students in the 2022-2023 academic year completed their programs and received degrees, with hundreds participating in commencement.
LCCC President Joe Schaffer said he would spare the graduates cliches about this being the first day of the rest of their lives or the brightness of the future. Instead, he asked the students to truly appreciate and savor the moment they were living in.
"Stop looking at me and instead look around," Schaffer said. "Take in the faces of those among you. Seek out the proud faces of your family and friends who helped you get here today. Burn into your memories all that your senses can gather – the colors of your gowns, the powerful silence, your walk across this stage, and the feel of that diploma in your hand. Store those away along with the feelings and emotions coursing through your body. Make a vow to always remember this day and what it has meant in your life. Because today is a very special day and it should be a day etched forever in your memories. From here, who knows what will happen."
In addressing his peers, student body president Raeth Tolman told students to think back to what was going through their heads when they first arrived at LCCC. Now, with degrees and certificates in tow, as they move on to the next steps in their journey knowing they can accomplish great things, Tolman told graduates to reach as high in their endeavors.
"You made it this far, so now use the time you have spent to your advantage," he said from the podium. "Accomplish whatever else your heart desires. Make your impression on the world and let everyone know who you really are and what you can do. It will be a journey but so is college, so what says you can't do it?"
As she prepares to move with family to a new chapter in her journey, Behrendsen said she's not entirely sure how she'll use her degree, whether she'll start working or transfer on to obtain an advanced degree. Whatever happens, she said she knows what she learned at LCCC, in and outside of the classroom, will carry with her for the rest of her life.
"It's definitely bittersweet," she said with a sigh. "I'm excited for the next step, but I'm also sad to say goodbye to everybody here at LCCC. I'm excited to see what the future is going to look like and how it's all going to come together."