22
MAY
Kickstart scholarship gives adult learners a leg up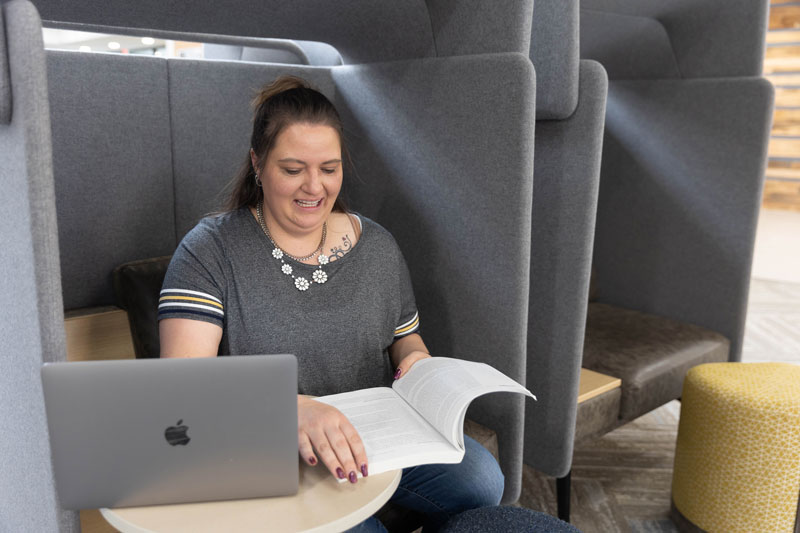 Nontraditional college students in Wyoming will have the chance to receive money toward their goal of earning a degree or certificate, thanks to "Kickstart Wyoming's Tomorrow Scholarship," an opportunity local leaders hope will bring adult learners to LCCC.
"Kickstart Wyoming's Tomorrow Scholarship" is an exciting new statewide program offering up to $1,800 per semester toward tuition at Wyoming's eight community colleges, including LCCC, and the University of Wyoming. The new state-funded scholarship program is for those aged 24 and older who want to pursue a degree or certificate, or need to take more classes to finish a degree they already started.
One of Wyoming's greatest historical legislative achievements was the establishment of the Hathaway Scholarship. Hathaway is merit- and needs-based, allowing many in Wyoming as they graduate high school to attend college with a lessened financial burden. Community college leaders for years have been trying to establish an endowment that would support adult learners in the way Hathaway supports high school graduates.
"We started recognizing that finances are oftentimes the biggest barrier that adults face if they want to return to college or come to college for the first time," LCCC President Joe Schaffer said. "This scholarship has been a long time coming and we are grateful to our legislative representatives and community partners that have advocated for the Wyoming's Tomorrow Scholarship and the Kickstart funding."
The scholarship was created and funded by the Wyoming Legislature to help working adults obtain the skills and education necessary to re-enter the workforce, move up in their current careers or pursue new career paths.
It is ultimately the Legislature's goal to establish an endowment to assist adult learners. Between 2022 and 2023, lawmakers allocated $30 million to the Wyoming's Tomorrow endowment, meaning an additional $20 million would need to be added before reaching the $50 million necessary for any money to be dispersed for scholarships.
In the meantime, however, lawmakers included $1.5 million in this year's supplemental budget being used as "Kickstart Wyoming's Tomorrow Scholarship" that will utilize the Wyoming's Tomorrow scholarship criteria for the academic year.
Wyoming House of Representatives Appropriations Committee Chairman Bob Nicholas said he's confident Wyoming lawmakers will eventually fully fund Wyoming's Tomorrow, and is happy adult learners can begin their higher education journey's in the near-term.
"I have little doubt that we will reach the $50 million threshold," he said. "It may take several sessions and continued surplus dollars, but we will get there. Wyoming's Tomorrow is one more way to help citizens earn a sustainable wage and hopefully raise a family in Wyoming where they can thrive, which is another building block for Wyoming's future."
Scholarship funds are limited, so all awards are dependent on funding availability. Beyond the age requirement, applicants must be Wyoming residents, complete a Free Application for Federal Student Aid (FAFSA), and register for the Wyoming At Work program through the Department of Workforce Services. This program provides access to information and career resources to assist in the job search process.
For more information on how to apply, go to lccc.wy.edu/WYtomorrow or contact the LCCC Student Hub at 307.778.1265 or studenthub@lccc.wy.edu.