22
MAY
STEM Day takes science outside the lab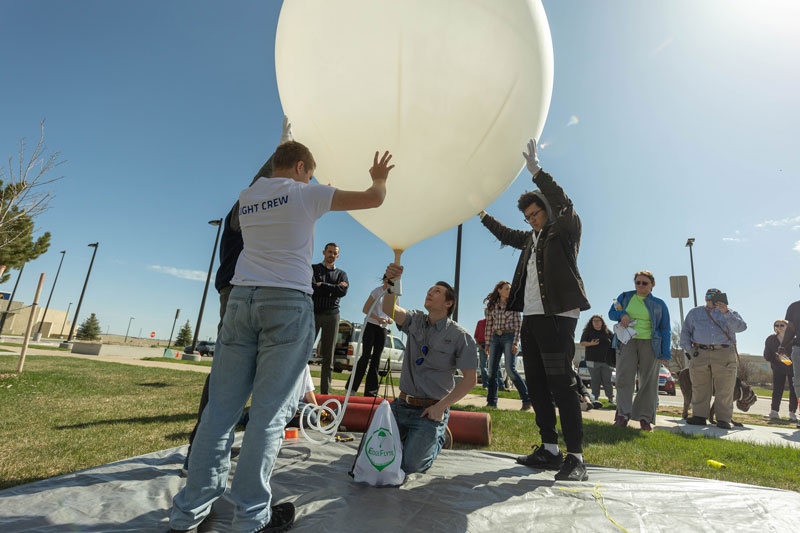 A large crowd had gathered outside the Clay Pathfinder Building at LCCC May 5 to see the launch of a weather balloon, as people were hoping to witness science in action.
Prepared to take measurements while in flight and carrying a payload assembled by students, the balloon launched just after 10 a.m. to cheers. The launch and retrieval of the balloon, as well as a review of the data it gathered, were the highlights of this year's STEM Day, said LCCC STEM Pathway Coordinator Trent Morrell.
STEM Day brought together LCCC students, Laramie County School District 1 high school students and interested folks from the local community to generate excitement around science, technology, engineering and math.
"You can look at these everyday things you find interesting, whether you're a scientist or not, and you can come back and say, 'There's a lot of STEM involved here, and maybe that can be part of a career,'" Morrell said.
The weather balloon was a project of EdgeFlyte, a company launched by LCCC student entrepreneur Tate Schrock focused on creating components to support edge-of-space flights for hobbyists and academics, as well as providing a digital platform integrated with the components. Through the platform, researchers can view and share their data collected during edge-of-space flights.
In the air for about two hours, the balloon reached an altitude of around 90,000 feet, just more than 27,400 meters. For a comparison, common passenger airliners fly at around 30,000 feet, or 9,144 meters. It was recovered in Nebraska just across the Wyoming border east of Albin.
Don Day, meteorologist and president of DayWeather, started his college career in 1986 at LCCC. As a scientist, he said having demonstrations of STEM working in the real world is critical in generating excitement about the fields of study.
"When you're able to apply what you've learned in the classroom and experience what you're being taught in real life, that is so important," he said.
Students in this STEM Pathway at LCCC research people, animals, machines, buildings and the universe as they learn about emerging technologies and prepare for continued education in their career paths. Students in the Pathway can choose from a variety of programs, including the STEM Program, which allows students to explore a variety of career options. A Pathway is a set of related programs grouped together to allow for exploration in multiple areas with low risk of wasting credits or semesters, meaning students in the STEM Pathway can discover what interests them and still graduate on time.
For several LCCC students, STEM Day brought the opportunity to work on EdgeFlyte's Flight Crew. One of those students, sophomore Stacia McElroy, said her organic chemistry instructor suggested she take part. Given her interest in science, she jumped at the chance to have the hands-on experience. With the goal of transferring to a university and studying theoretical chemistry, the balloon flight was a great opportunity to learn outside the classroom, she said.
Andres Lee, a freshman, said he enjoys conducting experiments, and was happy to be able to participate in the EdgeFlyte project. For him, LCCC is a launchpad for limitless potential.
"I just want to learn all I can about physics, and hopefully discover new phenomena in life," Lee said.
It was also interesting for Morrell that EdgeFlyte's Shrock is in the Information Technology Pathway at LCCC. The fact Schrock's time in the IT Pathway and work as an entrepreneur overlaps with STEM shows how interwoven the disciplines are.
"The IT Pathway at LCCC attracts exceptional students, among them Tate, who embodies the innovative and growth mindset we aim to cultivate," said Dan McIntosh, LCCC's IT Pathway coordinator. "Tate's interdisciplinary approach not only showcases the diverse opportunities available to students at LCCC but also underscores the importance of IT knowledge across various fields. The IT Pathway can equip students with the necessary skills and expertise to navigate and thrive in an increasingly technology-driven economy, regardless of their specific career paths. Events like STEM Day, with support from accomplished experts like Don Day, emphasizes the value of partnerships and collaborative efforts with industry partners to empower our students in unlocking opportunities and contributing to the development of a stronger community."
For more information about LCCC's STEM Pathway, go to lccc.wy.edu/stem or contact Pathway Coordinator Trent Morrell at tmorrellFREELARAMIE or 307.778.1312. For more information about LCCC's IT Pathway, go to lccc.wy.edu/it, email itpathFREELARAMIE or call 307.778.1152.