19
SEP
Russian makes new life in U.S., starting at LCCC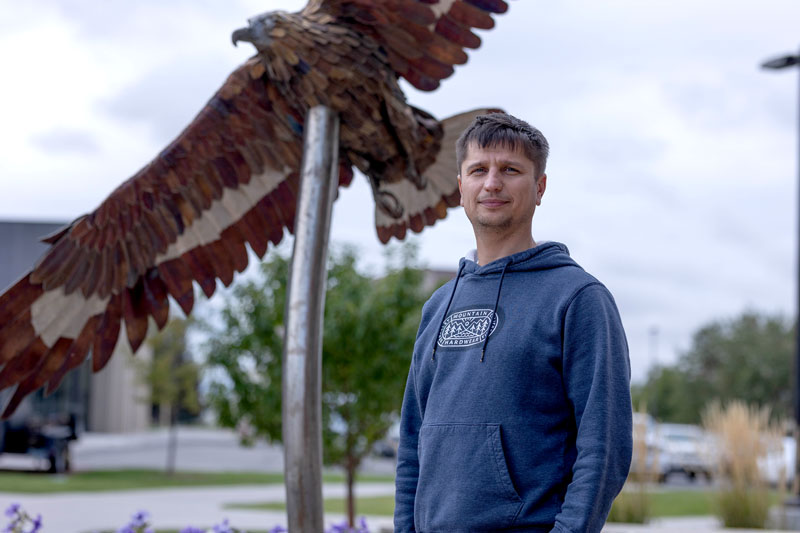 CHEYENNE, Wyoming – Sergei Cherepanov wasn't sure how things would work out coming to the United States from Russia, starting his life all over again. But thanks to Laramie County Community College's Adult Career and Education System, or ACES, Cherepanov is forging a new path and building a life that he hopes can take him to new heights.
Cherepanov is originally from Saratov, Russia, where he was educated and professionally successful. With a Master of Business Administration in management, he built a career as an auditor.
But his situation in Russia eventually became untenable, and he made the decision to leave his home country and attempt to claim political asylum in the U.S. Cherepanov had made friends with a University of Wyoming student who travelled to Saratov a few years earlier. His American friends helped Cherepanov make a challenging journey to the U.S., where he claimed asylum.
"It was really unexpected," he said. "I never had plans to take advantage of their friendship to come to the United States. But all the things they did were a huge, big deal for me."
Once in the U.S., Cherepanov wanted to start with a clean slate. The priority he needed to address, he said, was improving his English-speaking skills. In April 2022, he began the English as Second Language & Citizenship Course as part of LCCC's ACES program — offered at no cost.
"It was a really basic step, but it was super important for me to join this class," Cherepanov said.
Starting with the basics of learning how to improve his English and learning about some of the important contexts that make up American culture, Cherepanov completed the ESL course and obtained his High School Equivalency Certificate, or HiSET. Being surrounded by students from different backgrounds and experiences in the adult education programs also had a profound impact on Cherepanov's acclimation process.
"I met people from different countries with their own histories and backgrounds," he said. "It was interesting because we were different, but in the same situation. To have us working together made sense."
With the skills and knowledge he obtained through LCCC's adult education programming, Cherepanov was able to begin taking classes at LCCC in Fall 2022. He is currently pursuing a cyber security degree in the Information Technology Pathway and eventually expects to transfer to the University of Wyoming to pursue a bachelor's degree.
The opportunity to come to the U.S. and find his path at LCCC has been a life-changing part of Cherepanov's journey over the last several months.
"It's been really difficult to start over from the very beginning," he said. "But LCCC gave me a great opportunity."
Cherepanov said he'll never forget the advice he received from ACES instructor Thomas Lear, who emphasized the importance of an education in the changing U.S. economy. For Lear, it's been a privilege to get to know Cherepanov and help him pursue his goals LCCC.
"He wants to make a difference here in the United States, and I don't know what that will look like, but I have no doubt he's going to be very successful," Lear said.
Gov. Mark Gordon has joined other leaders across the nation to recognize National Adult Education and Family Literacy Week, taking place Sept. 18-22. More than 43 million Americans cannot read or write at basic levels and lack the skills necessary to succeed in post-secondary education. Each year, one in three young adults drop out of high school. Adult education programs contribute to solving these challenges, helping Americans on their educational journeys to achieve basic skills, attain certifications and prepare them for college and careers.
LCCC's adult education program offers no-cost classes to attain a HiSET and improve literacy in the ESL courses. These classes lead to high-value training programs designed to upgrade the skill sets of community members in Laramie and Albany counties.
For more information about the Adult Career and Education System, or ACES, at LCCC, call 307.637.2450 or lccc.wy.edu/academics/services/adultEducation.