LCCC's History at 50 Years
"The college that cannot be built" is a story of persistence and perseverance that led to the formation and growth of Laramie County Community College (LCCC) beginning a half century ago and continuing to this day. Throughout its existence, this can-do attitude has spurred the college to fulfill our mission to "transform our students' lives through the power of inspired learning."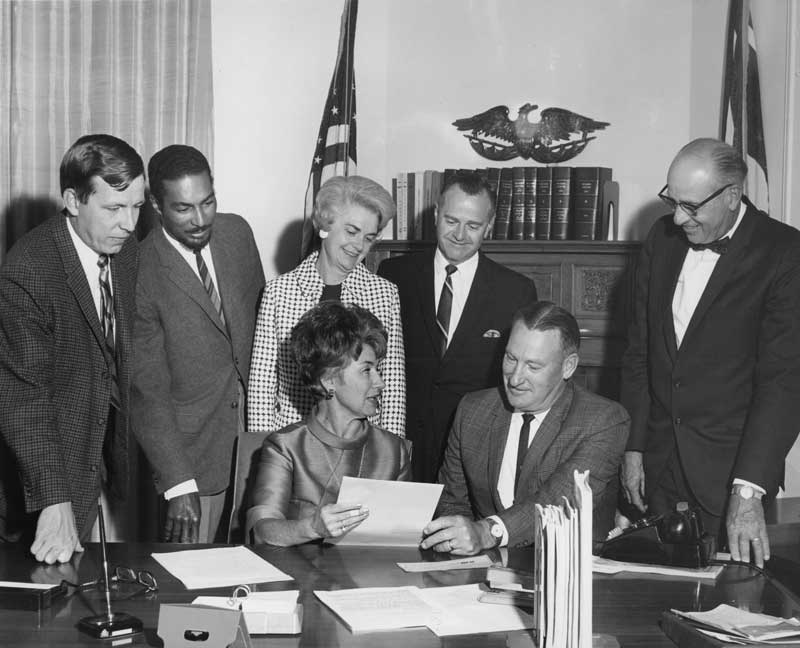 It was inspired thinking that led to creation of the college. Political experts claimed the county lacked the resources and community support to make the college a reality. Yet, on May 21, 1968, the electorate voted in favor of establishing a community college in Cheyenne.
Although the college continued to face opposition, support rapidly grew. Doran Lummis and the Arp Family donated 168 acres of cattle pastures toward making the initiative a success, giving the land to the board of trustees to use as it wished. A well was drilled, free of charge, to make sure the new site had water, and soon ground was broken for the new college—although not without an element of drama.
Opponents of the college had requested a "Cease and Desist" order, which was delivered to board of trustees member J.O. Reed as he prepared to climb onto the backhoe during the groundbreaking ceremony. Reed accepted the letter, stuffed it in his pocket without reading it, and proceeded with the groundbreaking.
Today, LCCC is a full-service, comprehensive community college with campuses in Cheyenne and Laramie and outreach centers in Pine Bluffs and at F.E. Warren Air Force Base, providing a wide range of academic, career/technical, and community programs. We're accredited by the Higher Learning Commission of the North Central Association of Colleges and Schools.
LCCC understands that students, regardless of how they arrive at LCCC, yearn for a better life by engaging in the process of acquiring knowledge. We aid in this transformation by offering diverse educational experiences designed to be inspirational for all those involved in the learning process.
The entirety of LCCC's work is grounded in the four foundational elements of the comprehensive community college mission:
to prepare people to succeed academically in college-level learning;
to engage students in learning activities that prepare and advance them through the pursuit of a baccalaureate degree;
to develop individuals to enter or advance in productive, life-fulfilling occupations and professions; and,
to enrich the communities LCCC serves through activities that stimulate and sustain a healthy society and economy.
Through the years, the campus has grown to include 25 buildings on our 271-acre LCCC campus. These include three residence halls with a capacity of 250, an outstanding physical education complex, indoor arena, high-tech health sciences building, library, state-of-the-art Smart classrooms and science complex, and fully equipped and highly functional classrooms and computer labs. The newest buildings, constructed with overwhelming community support, are the Clay Pathfinder Building and the Flex Tech Building.
Although only a third as old as Cheyenne, LCCC has grown and matured with the city. Beginning as a place for high school graduates to take their first steps on their higher education journeys, the college now serves the entire community. We continue to provide a bridge between high school and four-year universities while launching skilled workers directly into the workforce.
LCCC also helps unemployed or underemployed people train for better careers, provides education for students needing high school equivalency degrees, improves the skills of entire companies who send employees to specialized training, and creates the future leaders of Laramie County.
Our nationally recognized, entrepreneurial, and innovative programs and services help students become the most sought after individuals. The college develops world-class instructors and is relentless in the use of evidence to make decisions that responsibly and efficiently allocate resources, drive instruction, and create an environment of adaptability and productivity.
At LCCC, everyone has the freedom to innovate and take informed risks based on promising practices and creative ideas. We learn from our failures as much as from our successes. Clear academic pathways, high-touch services, and engaged employees are the bedrock of our students' success. We drive collaboration throughout the community to ensure the success of all students who come to LCCC. We are changing the world of higher education and face seemingly impossible challenges head on.