LCCC Newsletter: Keeping you updated on the college
May 2022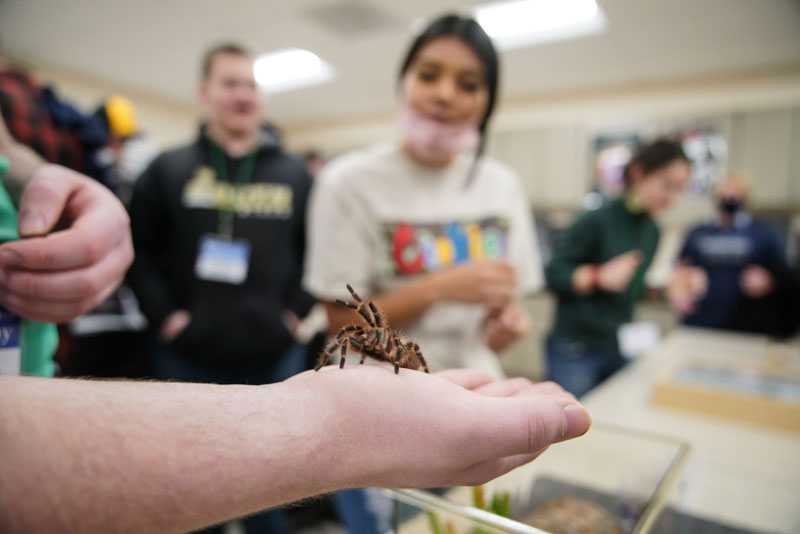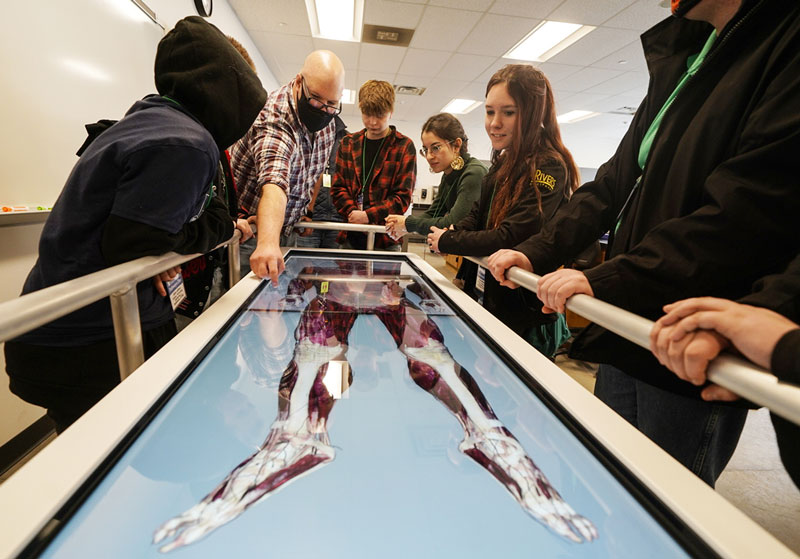 Hundreds of high school students get a taste of careers, programs
More than 200 high school students from southeast Wyoming and across the West got to experience a taste of Laramie County Community College as part of Pathways Day.
The juniors and seniors went hands-on with a variety of activities, including law enforcement fingerprinting, horse training, creating a short play, DNA extraction, working through health care simulations and much more.
"We had such wonderful feedback from students, counselors, faculty and staff who participated in the event," said Kaycie Kilmurray, LCCC's interim student success coach. "All of the students and guests really seemed to appreciate the hands-on experiences they were able to have as part of their track. For some, it even opened their eyes to other programs and paths and opportunities they were not initially aware of before coming to Pathways Day!"
The goal of the event is to allow LCCC to share with high school juniors and seniors what the college has to offer through a fun, interactive day that showcases each Pathway.
Through these activities, it gave the students a glimpse at what it's like to attend LCCC and work in the career field they are interested in. Students choose which Pathway, or set of programs, they wanted to experience. The Pathway system is fairly new to the college. In 2020, LCCC officially launched the Pathways, which was a change from its previous academic structure focusing on majors and degrees. In the Pathway's model, the college provides students with an opportunity to explore their career interests and then align them with a program that will help students achieve their career goals.
One of the activities for the day let students extract DNA from strawberries. The relatively simple process only required soap and alcohol. Strawberries in particular make a great subject for the activity because students can see the DNA easily and quickly.
"It was so wonderful to have our future students from around the region on our campus experiencing our beautiful facilities, engaging with their fellow peers, and getting to participate in hands-on activities with faculty in the programs of their interest," said Dr. Danielle Ryan, Pathway coordinator for Human & Public Services. "Our faculty and staff love getting to spend time with our future students; we had a great time showing them what it's like to be a part of LCCC's collegiate experience!"
LCCC currently has eight Pathways: Agriculture & Equine; Business & Accounting; Communication & Creative Arts; Health Sciences & Wellness; Human & Public Services; Information Technology; Science, Technology, Engineering & Math (STEM); and Trades & Technical Studies.
Students entering LCCC's Pathways will participate in a common first semester for all programs within a Pathway, allowing students the opportunity to learn about the programs without losing time or credits.
One student even walked away with a full-ride scholarship to LCCC. All of the attendees were put into a raffle for the scholarship and Cheyenne South High School student Damian Mendoza's name was drawn.
"It really was a special moment when Damian won the scholarship," Kilmurray said. "The cheer from his friends and fellow classmates lit up the room, but Damian's reaction of shock and excitement followed by wanting to immediately call his mom about the good news was the perfect example of what we try to do at LCCC and the best way to cap off such a great event."
---
Always looking to innovate
LCCC creates new programs to meet changing world
Innovation at Laramie County Community College doesn't just come from the quality of the faculty or facilities. The college also innovates by keeping up with the education and career trends. That's why this fall, LCCC will debut 10 new programs in three of its Pathways.
"At LCCC, we continue to seek opportunities to meet the needs of our students and our community partners, while also making sure our programs are relevant and current. We are excited about the 10 new programs we are introducing and how they will help our students reach their career and educational goals," said Dr. Kari Brown-Herbst, vice president of academic affairs.
Here's a quick look at each of the new programs coming to LCCC this fall across three different pathways.
Agriculture & Equine Pathway
Agriculture Production Technology: The credit diploma in Agricultural Production Technology prepares students to quickly enter the workforce in production agriculture. Students who get this diploma would likely work as an employee or entrepreneur in livestock or crop production. In addition to the credit diploma students can also gain industry certifications for commercial pesticide application and artificial insemination and experience a supervised internship.


Equine Management: The Equine Management credit diploma gets students ready for work in equine training and management. By the end of the program, LCCC students will have an overall understanding of equine anatomy, physiology, nutritional needs and horse evaluation. The program also includes an internship in their chosen field, which will ultimately prepare them for work in the equine industry in careers such as managing a horse boarding, training or recreation facility.
Health Sciences & Wellness Pathway
Sports Performance and Coaching: The Sports Performance and Coaching Associate of Science program is focused on many aspects of sport-related movement and its application to physical activity and performance in the pursuit of excellence in sports of all kinds. This program is suggested for students who are interested in careers such as sport coaching, strength and conditioning, sports nutrition or related fields. In addition to the degree, at the end of the program, the students will also have a State of Wyoming coaching license. Also, after successfully completing the NCSF Strength and Conditioning Specialist certification, the student can then take the NCSF Sports Nutrition Specialist exam.
Information Technology Pathway
Data Analytics: The Data Analytics Associate of Applied Science program will prepare students for entry-level positions in fields related to data analysis, presentation and warehousing. Students in the program learn about computer hardware and operating systems, networks, automation, Microsoft systems, database applications and statistical analysis. In addition, students will also learn about policies and ethics related to governing data. Students can earn additional credit diplomas and stackable industry certifications while concurrently earning this A.A.S.


Telecommunications Specialist: The Telecommunications Specialist Credit Diploma prepares students with industry-established skills necessary for a career in telecommunications deployment, maintenance and repair. Students will gain expertise in ethernet, copper and fiber optic networking, as well as structural access and design, and workplace communications.


Data Analytics Systems Administrator: The Data Analytics Systems Credit Diploma provides students with the essential skills and knowledge to administer core data warehousing and analysis systems. In two semesters, students in the Data Analytics Systems Administrator program develop skills in computer information systems, including Microsoft systems, database applications and statistical analysis. Students also learn about policies and ethics related to governing data. Graduates of this program demonstrate the expertise necessary to leverage data systems for actionable business intelligence.


Virtualization and Cloud Administrator: The Virtualization and Cloud Administrator Credit Diploma will prepare students with the core skillset and experience to deploy, administer and manage modern enterprise IT services on virtualized and cloud platforms. Students can earn four industry certifications, and gain experience on the most prevalent platforms.


New programs at LCCC are created and deployed thoughtfully. They go through a rigorous vetting process that starts with community, industry and student need.
The development of a new program starts with research by our faculty, program directors and Deans. Programs are then approved by our Academic Standards Committee, the Board of Trustees, the Wyoming Community College Commission and when appropriate our accrediting agency the Higher Learning Commission. This process ensures that we are only bringing new programs to the institution that will truly benefit our students and business partners," Brown-Herbst said.
For more information on these programs and the dozens of others LCCC offers, visit lccc.wy.edu/path.
---
New athletic director focuses on success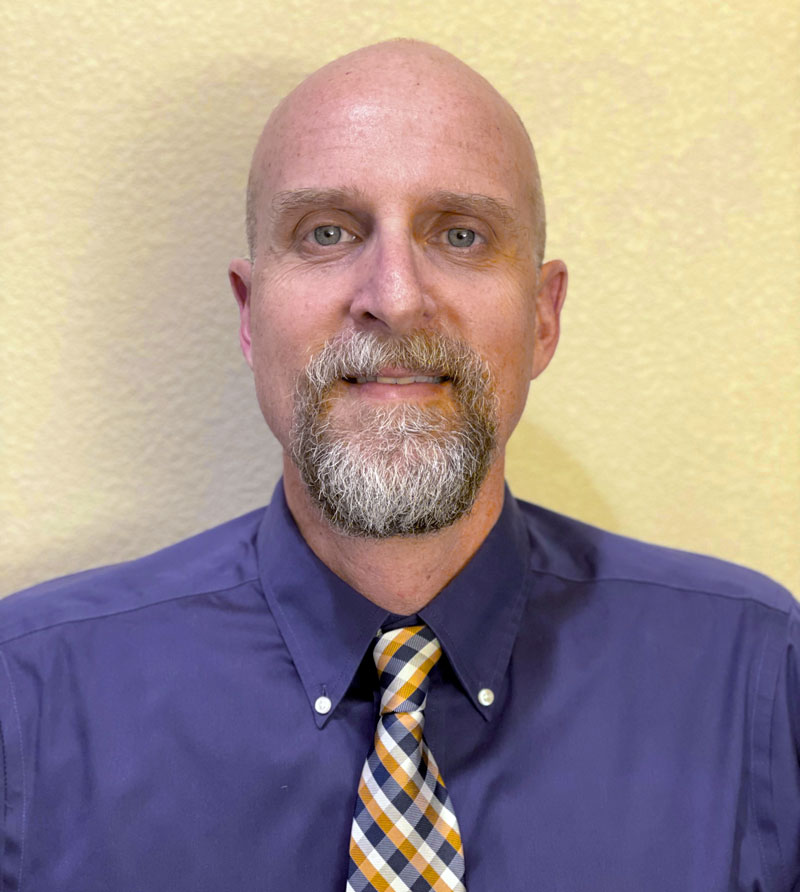 For Mark Puev, knowing Laramie County Community College's athletic department was key in his decision to take the job as the college's newest athletic director.
"I am extremely excited about this opportunity. Throughout this entire process, I was pleased to see that both myself and everyone at LCCC have a similar vision for the future of the athletic department," Puev said. "I look forward to joining the Golden Eagles and collaborating with all stakeholders to continue to build on the success of the athletic department."
Although this will be a step up for Puev, it certainly isn't outside his wheelhouse. He has served as the athletic director for Cheyenne South High School where he's been involved with numerous city, state, and national athletic organizations, including serving as president of the Southeast Wyoming Administrators Association and the Wyoming Interscholastic Athletic Administrators Association. He currently serves on the membership committee for the National Interscholastic Athletic Administrators Association and is on the board of directors for the Wyoming High School Activities Association.
But beyond his skillset, Puev is a good match for LCCC because of his commitment to growth in academics in tandem with athletics.
Puev is the state coordinator for Wyoming's Leadership Training Institute, where he is responsible for teaching professional development classes for Wyoming Athletic Directors. Additionally, he is a Certified Athletic Administrator with the National Interscholastic Athletic Administrators Association and will earn his certification as a Certified Master Athletic Administrator this spring.
"It was important that we select an individual that believes in the mission and values of LCCC and has the skills and leadership ability to grow LCCC Athletics, both athletically and academically well into the future," said Dr. Melissa Stutz, vice president of student services at LCCC. "Mark is an energetic, visionary leader who is well respected by his peers and possesses the leadership skills and character traits we were seeking. I am eager and excited to welcome Mark to the LCCC Golden Eagles."
Puev will oversee the continued success of multiple athletic programs including men's and women's basketball, women's volleyball, rodeo, esports and men's and women's soccer. Soccer, basketball and esports all found themselves in post-season play last year and multiple Golden Eagle rodeo athletes qualified for the College National Finals Rodeo.
And now with upgrades to the college's Recreation & Athletics Complex set to begin this fall, Puev will have a lot of exciting changes to look forward to. Originally built int 1971, the RAC's transformation will include moving the competition gym into the existing Multipurpose Room while increasing the ceiling height to align with NJCAA requirements and increasing seating. The new seating will accommodate 1,300 spectators at LCCC athletic competitions and community events. The project also includes a two-story addition to the west end of the current Multipurpose Room that will allow for additional office spaces, student-athlete locker rooms and weight training facilities and storage. Additionally, the space will include a larger allocation of space for both fitness and weight training for all LCCC students and employees.
LCCC has had an interim athletic director, while engaging in a rigorous national search that included members of the athletic department, faculty, staff, administration, Golden Eagle Booster Club and community members. Puev will begin his new role at LCCC this spring.