LCCC Newsletter: Keeping you updated on the college
June 2022
May commencement ceremonies a success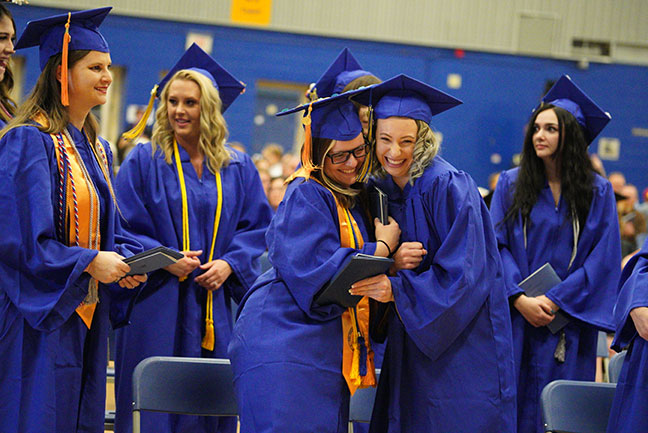 As Dariia Kasymova received her diploma from Laramie County Community College May 14, she was focused on her future.
Kasymova will transfer to the University of Wyoming to earn her bachelor's degree three years after moving to Cheyenne from Kyrgyzstan. Her journey at LCCC started in 2019 as part of the college's Adult Career and Education System, or ACES, program to earn her high school equivalency. It wasn't entirely clear to Kasymova what she wanted to study when she began her college journey, but with the help and guidance of staff and faculty at LCCC, she realized she wanted to be an English teacher.
"I realized I wanted to be a teacher who helps students," Kasymova said. "I just thought that I have a lot of experience that I can share with students from other countries."
In addition to receiving her degree, Kasymova was recognized as the Stalcup Student Excellence Award winner. The award honors students who have been exceptionally involved in the LCCC community.
LCCC conferred 697 credentials to 592 students in Fall 2021 and Spring 2022. Kari Brown-Herbst, LCCC vice president for Academic Affairs, said commencement is the crown jewel of everything students, staff, faculty and administrators go through in the academic journey.
"What goes through my head at commencement is really just how fortunate we are to share the dreams of so many people," Brown-Herbst said. "It really becomes evident at commencement how much time, energy and precious dollars the college students invest. Commencement really brings that full circle."
Stacy Maestas, LCCC registrar, said it's important for graduates to celebrate the completion of their degrees with their peers, faculty and staff. She said she thinks back to a moment with a student ambassador who initially did not want to participate in commencement, but eventually came around.
"She finally gave in and agreed two days before the ceremony," Maestas said. "She gave me the biggest hug and thanked me for encouraging her when she came down the stairs after walking across the stage. She said that walking across the stage was the best thing ever and she was so glad she did it."
May 14 also marked a historic achievement for LCCC as it saw the first commencement ceremony to award bachelor's degrees. The bachelor's programs were launched in Fall 2020 in the midst of the pandemic. Seventeen students in 2022 received bachelor's of applied science degrees in two programs.
"It's tremendously successful," Brown-Herbst said. "We learned a lot and made modifications as we needed to with the course scheduling for the first cohort. Having so many students earn the BAS this spring is an incredible achievement for the college."
President Joe Schaffer told all of the graduates they are a part of the LCCC fabric, having woven their own way into the tapestry that makes the campus community rich and wonderful.
"I wish you the very best of a life full of unforgettable experiences, wonderful memories, and an everlasting positive impact on the people and places you have the good fortune to touch," Schaffer said.
---
LCCC rodeo team looks to build on success from CNFR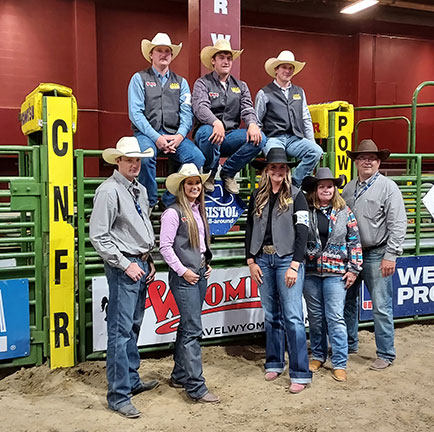 Laramie County Community College's rodeo team made some history at this year's College National Finals.
Five Golden Eagles — sophomore Sage Miller, junior Payton Feyder, sophomore Stefan Tonita, junior Hayden Madsen and junior Bernard Girard — qualified for the event that began June 12 in Casper.
"They're great athletes and great people," Coach Seth Glause said. "To see them have success this year just meant the world to me."
This was the second consecutive year that Tonita qualified for CNFR, bringing experience to the team. It was the first time at the national competition for the other four athletes. This year marked the first time in 18 years that the women's team has scored points at CNFR and Miller was the second bronc rider that has come through in the team's history to finish in the top 10 nationally.
Miller is going on to compete in rodeo professionally. Glause said it's been great to watch the athlete grow and develop.
"He's been a great part of our team, and I just wish him the best in the future," he said.
The Golden Eagles didn't all have the performances they'd hoped for this year at the CNFR, but Glause said there's a lot to build on for the future. Madsen — the regional champion in breakaway roping — roped her first calf and won fourth in the third round, which Glause said gives her momentum to make it back to the CNFR and try again.
"Both [Madsen and Feyder] have all of the talent to compete at a high level in that arena," Glause said.
Girard simply had a tough go in steer wrestling to start, but made good runs on his second two steers. "Stephan, drew tough bulls to ride and tried his best," said Glause.
"It was a good set of bucking bulls," Glause said. "I'm very proud of what Stephan has done for LCCC the last few years, how he's competed and the young man he's become."
Madsen, Feyder and Girard will be returning to LCCC's rodeo team while Miller and Tonita move on. Glause said he expects the team to be "very competitive" next year.
"We're just working on closing the gap between the top teams in the region and us," he said.
LCCC will host their annual home rodeo, The Shawn Dubie Memorial Rodeo, Oct. 14-16 in the LCCC Arena. For more information and a full competition schedule, visit golccc.com.
---
LCCC student learns how the sausage is made at Wyoming Legislature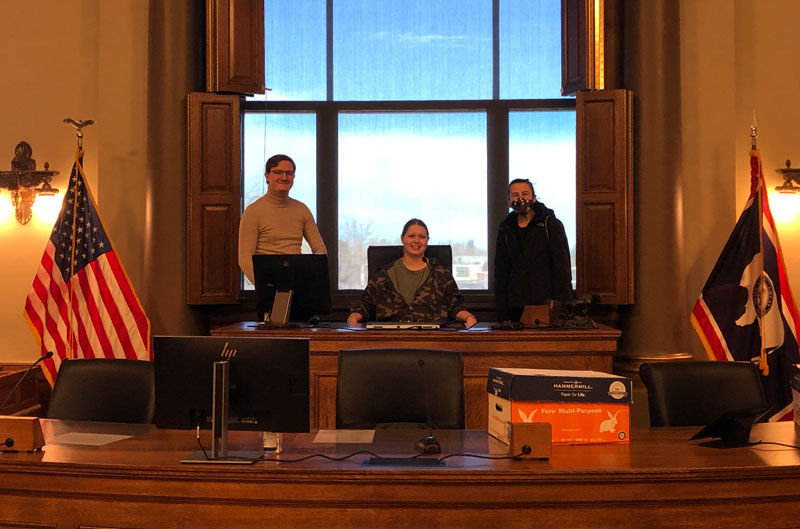 Laramie County Community College political science instructor Lily Rowen said she can teach students a lot about how Wyoming government works in the classroom, but if students really want to know how the sausage is made in lawmaking, they should see it first-hand.
That's why she was excited to send a LCCC student to the Wyoming Legislature to work as an intern during the 2022 budget session.
"To get students in the middle of the action, participating and observing — it's unbeatable," Rowen said.
Kayleigh Smith is a LCCC student and Wyoming National Guard member from Colorado Springs who now lives in the Fort Collins area. An aspiring journalist, Smith said she wanted to learn more about how state government works. When Rowen brought the idea of interning at the Legislature to her attention, she seized the opportunity.
Rowen said Smith did an excellent job during her time as a legislative intern.
"She did a terrific job, so we're very proud of her," Rowen said.
To qualify for the internship, students need to have taken the American and Wyoming government courses, but the position isn't limited to political science majors.
"The program is open to students of all academic majors, which is terrific because the policy problems the country and the world faces are not just political-science problems," Rowen said.
Lavonda Kopsa is in her 19th year as internship coordinator for Wyoming's Legislative Service Office. She works with students from the University of Wyoming, the state's community colleges and high school students who come to learn and interact with the lawmaking process. The number of interns Kopsa works with in a session varies from around nine to 25.
"It's a wonderful experience for students who want a hands-on opportunity to really see the working of our political system at the state level," Kopsa said.
Students are expected to attend a day of orientation and spend at least 10 hours a week at the Legislature throughout the course of the session. In that time, students watched House and Senate floor debates, attended committee meetings and even participated in the legislative process by working on tasks for lawmakers.
In addition to observing the Legislature, Kopsa said she takes interns to meet members of the state Supreme Court and Wyoming's top five elected officials, providing encounters with all three branches of government. Interns also often meet with lobbyists and journalists to give them a well-rounded experience.
"It's beneficial for the interns to see that there are many little pieces of the puzzle that come together to make up legislation," she said.
Kopsa said she directs students to select bills they are interested in following through the course of the session watching as they go between the House, Senate and committees. Interns are also encouraged to look toward following bills they don't know a lot about.
"I tell them they may find something that is totally new that they never thought would interest them," Kopsa said.
Committee meetings, she said, are important for students to observe because of the public-participation component. At the session's end, students often observe bills' final stage of obtaining the governor's signature.
During the session, Smith said she worked with Rep. Joe MacGuire, a Casper Republican, and Rep. John Romero-Martinez, a Cheyenne Republican, doing research and watching committee meetings.
Smith said she learned the lawmaking process can be complicated and encouraged future interns to pay close attention to the conversations that take place in committee and on the House and Senate floor.
"If you don't pay attention, you'll miss everything," Smith said.
The experience is more than just an opportunity to earn academic credit. Rowen said it's her hope students become more civic-minded after their internship, following the lawmaking process into the future.
"I hope that ends up being the outcome for students," she said.
Kopsa said she hopes they come away from the session knowing legislators are people who are accessible, and that the interns as citizens can play a role in lawmaking, whether that's by providing public comment during a committee meeting, being active in lobbying for or against a bill, writing or speaking directly to their legislators, or actually running for an elected position.
The most rewarding part of her role as an internship coordinator, Kopsa said, is having students thank her for the time they spent at the Legislature and seeing how their lives have been positively impacted by the experience.
"It's just fun for me to see young students who are part of a generation that tends to be apathetic or cynical about politics become engaged and really wanting to be instrumental in working for solutions," Kopsa said.
The intern application for the 2023 general session begins in the fall with applications generally being submitted in November, Rowen said. Students who are interested in applying can reach out to Rowen at lrowenFREELARAMIE.