LCCC Newsletter: Keeping you updated on the college
June 2022
LCCC president elected chair of national community college board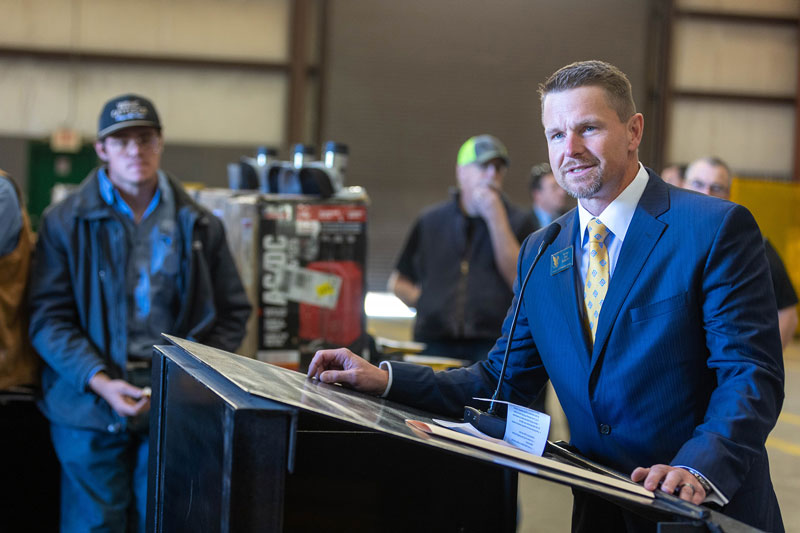 Laramie County Community College President Dr. Joe Schaffer is looking to bring the voice of rural America to his new role as chairman of the American Association of Community Colleges Board of Directors.
The AACC is governed by a 32-member board of directors. The board acts on behalf of the institutional members to create and maintain a vision for the AACC and to determine and ensure that the organization adheres to appropriate standards of performance. Schaffer as chair-elect about a year ago and assumed the role in full on July 1. He will be in the position for a year before serving another year as past chair.
Schaffer has served on the board for several years and previously chaired the commission for small rural colleges. Schools with larger student populations, he said, can command a lot of attention, so it's been an important initiative for him to highlight the needs of smaller colleges.
"About half of the nation's community colleges are rural or rural-serving, so I get to bring that perspective," Schaffer said. "I bring a lot of energy and a lot of support to (LCCC) that way and hopefully I can help champion the mission of the organization and be a good advocate."
Community colleges are higher education's largest and fastest-growing sector, currently enrolling close to half of all U.S. undergraduates. After a century of history, the AACC now represents more than 1,000 two-year, associate degree-granting institutions and nearly 12 million students, seeking to provide a voice and advocacy for the community college mission.
"It's the entity that brings us together to help advocate for things that ultimately help the institutions and our students, but also constantly is keeping us at the forefront of major shifts and major changes in the way we need to approach our mission," Schaffer said. "It's the national umbrella that pulls 1,000 community colleges together, keeps us protected in some ways and supported."
LCCC's involvement in the association has led to tangible benefits such as being on early initiatives around apprenticeships, the "Cyber Skills for All" grant, implementing the guided Pathways approach and the use of the AACC's Voluntary Framework of Accountability.
"There are a lot of wonderful opportunities and resources that have come our way because we've engaged so deeply with the organization," Schaffer said.
The board's high-altitude focus has included advocating for federal policy that supports community colleges, innovating in areas that help students see high levels of success and closing equity gaps for students who face challenges in the community college sector. In Schaffer's role as chair, he will coordinate and support the board's activities to help guide the association and its CEO to be as effective as possible.
One of the best things the AACC can do in the current environment is to lead in conversations that demonstrate the value proposition of the nation's community colleges, Schaffer said.
"There's so many things that we need to be doing right now to help the nation and our communities," he said. "Some of that's pragmatic, as we need to train people to fill jobs. Arguably, some of that is far more obscure. We need to help individuals learn how to have difficult conversations and navigate social challenges."
Schaffer said Wyoming can be a leader among the nation's community colleges, and he hopes to bring that to his new role.
"It's the first time we've ever had a board chair for the national organization that's been from Wyoming and it's one of the few times we've had rural people in that seat," he said. "If nothing else, hopefully it's indicative of the fact that with a small population in a big state, places like Wyoming can be leaders for the nation, and we should be wanting to step up and do that."
Go to www.aacc.nche.edu for more information about the AACC.
---
Weld Works: Teaching the teachers
Cheyanne Hope, a teacher at Valley High School in Gilcrest, Colorado, wants to see her students learn industry-relevant skills.
That's why she came to Weld Works, a program hosted by Laramie County Community College at its Cheyenne campus on June 20-21. The annual welding training for local and regional high school instructors is a two-day workshop that gives participants the opportunity to learn about welding and enhance their skills in the college's welding lab.
"My hope as a teacher is that I send students out who are capable, prepared, competent and really have some of those foundational skills," Hope said. "That way they can go and employ any technical skill they want."
Hope said she did some welding while a student at Colorado State University, but it wasn't on the level her students need from her.
"I'm excited to be here because I've learned so much already and improved my skills so I can pass it off to the kids," she said.
This year marks the fourth event for Weld Works at LCCC. The program has seen growth in that time, starting at around 13-14 participants, now closer to 20. High school teachers have come from all over the region, including Wyoming, Nebraska, Colorado and South Dakota to build on their welding skill set.
"They come here to get those skills so they can teach their students how to weld," said Dr. Jill Koslosky, LCCC School of Business, Agriculture, and Technical Studies dean.
Chase Metzler, LCCC's lead instructor for the event, said Weld Works allows teachers to better prepare high school students for their next steps in life. Welding can be a high-paying career in a growing industry. The median annual wage for welders, cutters, solderers, and brazers was $47,010 in May 2021, with the industry projected to grow 8% from 2020 to 2030, according to the U.S. Bureau of Labor Statistics.
"Welding is never going to go away," Metzler said. "We need younger generations to step up and want to do this and have that drive, and that starts with the teachers. The teachers are the ones who make an impact on students. The teacher shows them a good weld and how to do it the right way, which gives the students confidence so they are ready."
Hope said she wants to see her students succeed by giving them a well-rounded set of skills that fit what employers want. Coming to Weld Works, she said, is part of that mission.
"There's a big job market and there's a shortage of people who can do technical skills like electricity, plumbing and welding specifically," she said. "I think they have a great shot at having a career for the rest of their lives if they have these skills.
---
New CFD Foundation executive director says LCCC critical part of her success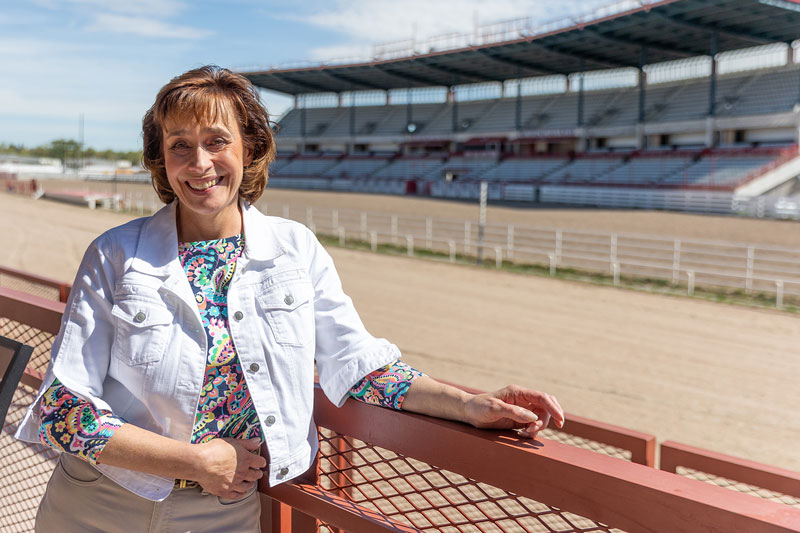 Renée Middleton has worn a lot of different hats in her life. But whether she's been a student, professional or volunteer, it's all been connected to Cheyenne.
"Cheyenne is just who I am," Middleton said.
The newest hat for Middleton is that of serving as executive director for the Cheyenne Frontier Days Foundation, a role she took on in May.
"It was a great opportunity for a brand I love and I really feel like I'm going to be able to make a difference here — I love it," she said.
Middleton has never been sedentary in her life that led up to her executive director role. She first became involved with CFD at 8 years old carrying state flags as a Saddle Tramps rider in the parades and in the rodeo grand entries. At the young age of 18, she began serving on CFD's volunteer public relations committee (which she continues to do today).
Even with all her activities and opportunities, Middleton said she wasn't sure after high school what she wanted to do with her life. After graduating, Laramie County Community College for the first time became a recurring part of Middleton's journey.
"Cheyenne Frontier Days has always been an undercurrent for me, just like LCCC has been with a constant for me," she said. "LCCC has always been coming in and out of my life."
Middleton attended the University of Wyoming where she earned Bachelor of Science in journalism with a minor in public relations. She went on to work in marketing at several Cheyenne-based companies, including Taco John's International, Sierra Trading Post, and Unicover Corporation. While working, Middleton started work towards an MBA and took all of her prerequisites at LCCC. All the while, she continued volunteering for various nonprofits in Cheyenne, and never stopped working with CFD.
"Through all of this all along, Cheyenne Frontier Days has been in my blood," Middleton said.
Life became more complicated when Middleton's husband was diagnosed with cancer, a struggle he ultimately did not survive. Through that tragic experience — Middleton dealt with her own cancer diagnosis — she found she had an interest in the medical field.
Once again, Middleton would look to LCCC to take a radical new turn in her life, pursuing a nursing degree. She finished her associate degree in nursing in 2015 and again went to UW to earn her bachelor's, which she did in 2016. The oncology floor at Cheyenne Regional Medical Center ended up being her calling, a job she still holds today as her "night gig."
"The hospital and nursing I really find interesting because it's just so totally different from marketing," Middleton said.
In 2016, Middleton was interviewed and then appointed to the CFD Board of Directors. In her six years on that board, she helped establish the CFD Foundation, and found herself writing the job description for the executive director position. It wasn't long before Middleton was asked by Frontier Days CEO Tom Hirsig whether she wanted the position for herself.
For Middleton, there was no question she was the right woman for the job.
"It's my dream job," Middleton said. "I'm loyal to this brand."
Through all of her life's adventures, higher education has provided opportunities Middleton said she's thankful for.
"I constantly like to grow and learn something new every day, and without higher education, I wouldn't have had any of these opportunities," she said. "Whether it's your associate degree or bachelor's or master's, in the end, because you keep educating yourself, you're going to open up new pathways and can end up doing what you really, truly like."
Because the executive director position is a part-time job, Middleton said she'll continue work in nursing for the foreseeable future. But in her new gig, Middleton said she's found her "soul goal."
Getting there, she said, has taken a lot of work. Whether it was pursuing a degree, being driven in her career or innovating ways to make the organizations she volunteered for better, Middleton said it took dedication and hard work. People seeking their own "soul goal" can do the same.
"All you have to do is take one step at a time and set yourself up for success," Middleton said.