LCCC Newsletter: Keeping you updated on the college
September 2022
ACES puts adult learners on the right path
For Thomas Lear, there's more to the adult education program at Laramie County Community College than academics.
Lear is the lead instructor for English as a Second Language and civics courses in ACES, which stands for Adult and Career Education Services. ACES is designed to help students develop the skills necessary for continued education or meaningful employment through combined training in academics, communication skills, and college and career transitions.
ACES is open to anyone 16 or older who has left the education system, been pushed out of the system or never had access to it, including immigrants and refugees. Those people face a lot of different barriers to advancing their educational or career goals, Lear said, but ACES staff are there to help overcome obstacles.
"The reason I love my job is because we do more than just teach," Lear said. "Whether that's helping students with immigration status or paperwork or just connecting them with the right person in the community, we want to help them accomplish whatever it is they're looking to accomplish."
ACES includes several components. Adult Education programming is for individuals wanting to improve their reading, writing and math skills. There is High School Equivalency Certificate (HSEC) Preparation, helping students prepare for taking HiSET™, which is offered through ACES, and GED 2014®, which is offered through the Exam Lab. For those with a high school diploma or equivalency, Adult Secondary Education courses help students with improving their academic skills to upgrade their employment or pursue further education. English as a Second Language is for non-native English speakers wanting to enhance their communication skills for the workplace or life in general. In addition to language skills, ESL students become more integrated into society by learning about American culture, customs and the rights and responsibilities of citizenship. Finally, Summer Bridge Classes are available for individuals wanting to brush up on their skills before college classes start in the fall.
There can be a lot of obstacles for those left out of the education system, and financial barriers can be particularly difficult to overcome. That's why Lear wants to help people understand that the non-credit courses offered in ACES come at no cost to the student. For the costs that come up, such as testing, he said there are scholarships available that help those in need.
Federal and state funding administered by the Wyoming Community College Commission covers the cost of ACES. It's an important investment of public monies, Lear said, because state and national graduation rates are not what they could be. For those looking to improve their economic standing and life in general, ACES is the entry point.
"We are that first step into job training, certification, credit programs," Lear said. "We provide access to higher education and job training that otherwise would not be available to many of our people."
According to the U.S. Bureau of Labor Statistics, those without a high school diploma had median weekly earnings of $606, compared with $749 for high school graduates, and $874 for workers with some college or an associate degree. For 25- to 34-year-olds who worked full time, year-round, higher educational attainment was associated with higher median earnings, according to the National Center for Education Statistics. For example, in 2020, the median earnings of those with a master's or higher degree were $69,700, some 17% higher than the earnings of those with a bachelor's degree. In the same year, the median earnings of those with a bachelor's degree were 63% higher than the earnings of those who completed high school.
"Education is access to higher earning potential and then, of course, that's going to put money back into the economy," Lear said. "It's better for Wyoming if we have a higher educated population."
Fall 2022 marked a special occasion for ACES at LCCC because there are more students who have completed ACES programming taking college classes in diploma and certificate programs this semester than ever before.
"That's one of our big pushes is getting our students into LCCC (taking classes for credit), and this fall we have our largest numbers ever," Lear said.
For those who are interested in pursuing education and career goals but are concerned the hurdles they have to jump are too high, Lear said they should feel confident ACES staff have seen it all before and want to help those who are willing to help themselves.
For Lear, that ability to help those in need is what will keep him coming back to ACES.
"I can't think of a job right now that would tear me away from teaching here, because the impact you have is real," he said.
For more information or to reserve a space for classes, contact LCCC's Adult Career and Education System at 307.637.2450, or visit the ACES homepage.
---
New partnership guarantees surgical technology students jobs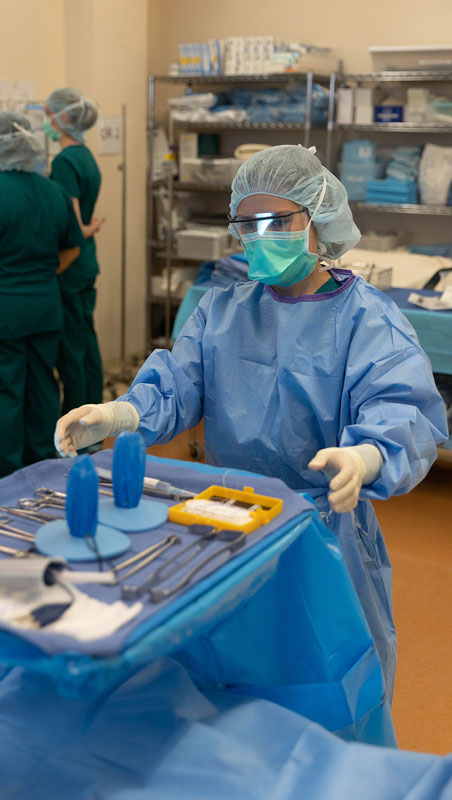 A new agreement between Laramie County Community College and Campbell County Health will give one to two surgical technology students each year the opportunity to have some education costs covered and guaranteeing work before graduation, and after graduation when certification is obtained.
Campbell County Health will provide several benefits for those who enter the program in return for an agreement that the students will work as surgical technologists in Gillette for three years after graduation. Tuition, fees and books will be paid for by Campbell County Health, and the students will be given jobs at Campbell County Memorial Hospital in Gillette during the course of their education, working 16-30 hours a week while being paid for 40 hours.
There is a shortage of surgical technologists across the region, said Tracy Perko, LCCC Surgical Technology Program director. The agreement allows students in Gillette the opportunity to obtain a degree and have a job waiting for them after graduation in their hometown while also addressing the shortage.
"The students are the biggest winners and get the most out of the situation," Perko said. "Not only do they get college paid for, but they also have a guaranteed job at the end. For a student I can see why this would be very attractive."
Making the investment in students allows them to overcome barriers that might overwise be in the way of pursuing an education, said Norberto Orellana, Campbell County Health spokesperson.
"I've talked to a lot of people who have the passion, but for one reason or another circumstantially are just not able to get involved in health care," he said. "This partnership is how we can really break down barriers and enable them to become providers."
Campbell County Health is proud to bring the unique opportunity to the community, said Sara Hackman, Campbell County Health Surgical Services clinical care supervisor.
"Students will build relationships and spend quality time with the surgical team while preparing to start their career," she said. "They will have an ample head start compared to the average graduate."
Students based in Gillette will attend lectures via Microsoft Teams and have a volunteer in the city to help them practice lab skills each week. Monthly trips to Cheyenne will allow for competency testing on previously-learned skills, as well as providing opportunities to learn new lab skills.
A surgical technology screening committee will determine whether students are qualified to enter the program. The agreement between Campbell County Health and LCCC covers an initial term of seven years. Perko said it's her hope that the program will continue after the initial seven-year agreement.
Surgical technologists play an integral role in health care by assisting in surgical operations, typically working in hospitals or outpatient surgery centers.
"We're the surgeon's extra set of hands," Perko said.
LCCC offers an intensive 11-month surgery core program that combines classroom lectures and discussions, laboratory demonstrations with hands-on practice and supervised clinical experiences in patient care settings. The program admits one class of students each fall. It is the only surgical technology program in Wyoming.
"It's nice that we're able to provide remote learning, as we are the only program in the state, and we're able to reach up all the way into the upper north part of Wyoming," Perko said.
LCCC saw a 100% job placement rate for surgical technology graduates in the class of 2019, and a 92% five-year rate between 2015 and 2019.
Those interested in learning more about the program can contact Tracy Perko at tperkoFREELARAMIE or 307.778.1155 or visit lccc.wy.edu.
---
Mobile lab enhances LCCC welding program
Laramie County Community College's new mobile welding lab is the latest addition to the college's exceptional welding program based in Cheyenne.
The mobile welding lab is a Chevrolet Silverado 2500 with a welding machine, tool boxes fabricated at LCCC and tools supplied by the welding program. The lab is designed to allow LCCC students to have enhanced learning opportunities, as well as serve as a recruitment tool that can travel the state and region, said Chase Metzler, LCCC welding instructor.
"It's about that 'wow' factor," Metzler said. "Once high school students see the welding truck, they get excited about welding, and it helps bring them into the program."
The truck is meant to function exactly like a regular welding rig. It has a welding machine, tools and tool boxes, just the same as one might see on an industrial rig for an oil field pipeline, farm or ranch or whatever the case might be, giving students the experience of working in industry.
"The students are going to be able to use it for their piping classes and stuff like that," Metzler said. "The pipe fabrication class will use the truck to actually build the piping that we're building for the pipeline aggregation device."
Many students, Metzler said, dream about starting their own welding truck business after completing the LCCC welding program. Having the mobile welding lab will allow instructors to show students how to manage a truck.
"The truck is a tool, just like any other tool you have, and it allows you to make money," Metzler said.
The idea came when LCCC President Joe Schaffer talked about increasing awareness of LCCC and its programs, Metzler said.
"The big driving force was figuring out how we continue to get our name out there," he said. "One of the ways is to go out and show the students what we're doing."
Metzler said he hopes to have the mobile welding lab on the road by Spring 2023, which is typically when the welding program's recruitment process begins. The fabrication class in the evenings will have the opportunity to help build the bed and the toolboxes that will be mounted on the bed.
Welding is an important trade to learn because it's never going away, Metzler said. Graduates from LCCC's program can find work in a variety of fields, with an average hourly pay rate ranging between $22-26 per hour. The average number of job openings each year in the region for welders, cutters, solderers and brazers is above 370.
"Buildings will be built and remodeled, and a lot of that entails welding," he said. "(The welding program) gives students an opportunity to get outside the normal academic mindset and shows them the opportunities the trade can bring."
Go to LCCC's Welding Program page for more information.