Online learning can make the impossible possible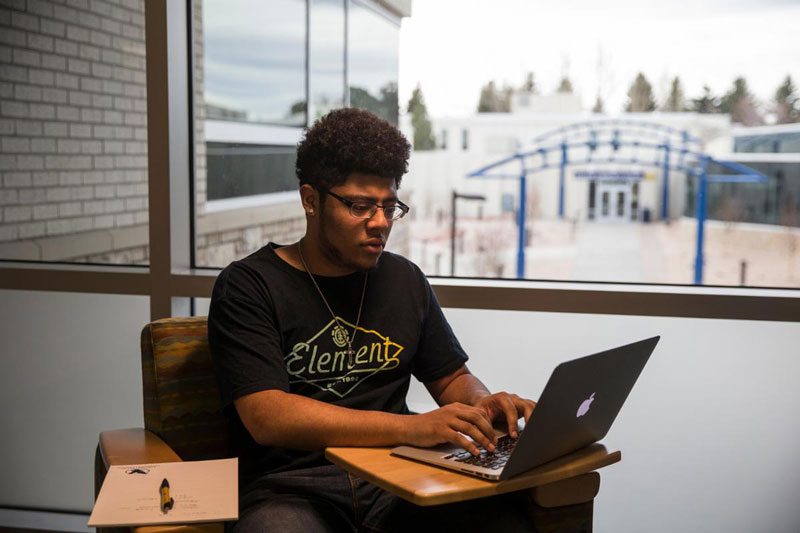 For some people interested in pursuing a college education, being on campus and in the classroom everyday just isn't in the cards. Fortunately, many colleges and universities offer online programs that help students integrate a higher education into their busy schedules.
Online learning in higher education saw a surge related to the pandemic, but many institutions are continuing to offer programs online and are working to improve their online offerings.
Students are showing increased interest in learning online, based on the consensus of roughly 75% of university chief online officers in the Changing Landscape of Online Education, or CHLOE, survey by the nonprofit Quality Matters and the higher education consulting firm Eduventures. Despite the many shifts and challenges brought on by the pandemic, the majority of students surveyed in 2020 by Cengage are feeling more optimistic about the future of online learning and use of digital materials in their courses. Attitudes about courses combining in-person and online instruction have also improved considerably compared to pre-pandemic responses, according to the survey.
Students have a variety of circumstances that lead them to online learning. Many are nontraditional students who are employed or have dependent family members. Others have scheduling conflicts where an online option makes continue progress on an academic plan possible. For some folks, it's simply a preference to learn outside the traditional classroom.
Laramie County Community College, for example, offers a wide range of online courses and degrees. All of these courses are delivered by well-qualified faculty members and offer the same level of quality across all instructional modalities as the on-campus offerings.
At LCCC, there are two flavors of online courses: synchronous and asynchronous. In synchronous courses, students and faculty don't share the same physical location, but they do meet online at the same time. You're on the same schedule, meeting for the same amount of time you would on campus; just not in the same spot. Asynchronous courses, on the other hand, are online on your own time. Students view instructional materials at any time they choose with no scheduled meetings.
There are also innovative approaches to learning that combine face-to-face and online learning. Hybrid-distance means students spend up to 75% of their course time online and the rest is on campus. An example might be a science course where the lecture content is delivered online, but students are expected to complete lab work in the classroom. Hybrid-face-to-face refers to courses where the majority of time is spent in the classroom with a smaller online component. LCCC is also offering -flex courses, where students have the option to be face-to-face in the classroom, attend class remotely or engage with materials asynchronously.
"What makes high-flex especially nice for students is the students decide from class meeting to class meeting which of those options they're going to exercise," said Kari Brown-Herbst, LCCC senior vice president of Academic Affairs.
Online learning certainly comes with its own challenges. Brown-Herbst said reliable internet access is a common problem for LCCC's online learners. There's a misconception among some, Brown-Herbst said, that online courses are easier. But she said faculty members teaching in any online modality have the same expectations as face-to-face instructors and the courses are equally rigorous.
"It's a different modality, but it's not less work," Brown-Herbst said.
For some students, the independence that comes with online learning is not a good fit. Students in online courses need to be organized and have their schedules up to date if they expect to keep up with discussion forums, quizzes, assignments and everything else that comes with online learning.
But if you're ready to do the work, LCCC has resources to help you get through online courses. Support for Canvas, the learning management system utilized by LCCC, is available 24/7. Staff at the Ludden Library is also available to help with any online learning questions. If you're struggling with the course content, the Learning Commons staff, especially the tutors, are always "student-focused and student-centered," Brown-Herbst said.
And it's only going to get better at LCCC. The college, in a commitment to ensuring it is delivering outstanding online courses, has joined Quality Matters (QM), an international leader for quality assurance in online and innovative digital teaching and learning environments.
QM is a nonprofit developed in 2015 that provides a scalable quality assurance system for online and hybrid learning, identifying evidence-based practices on what online learning should look like. As a QM member, LCCC has adopted a rubric with 42 rigorous standards of quality that help faculty design courses so students' cognitive load can be focused on the content they are learning. A peer review system will allow faculty to continually make improvements to online offerings. QM membership will also allow LCCC to provide faculty with tools, such as ongoing training, to refine courses so they meet current research-supported standards in pedagogy.