Why choose a 2-year college over a 4-year college?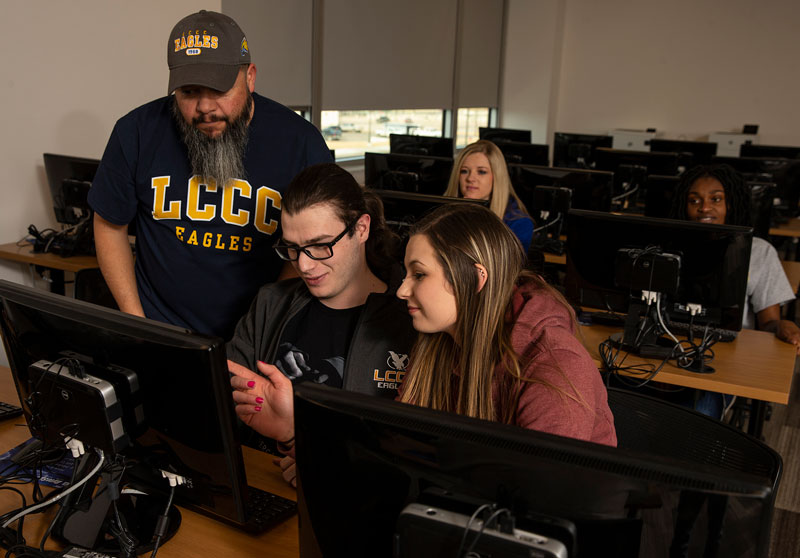 When contemplating going to college, some prospective students are inclined to think they need to go to a four-year college right from the get-go. But for many looking to start their higher education journey, the opportunities offered by two-year institutions can be better fit.
For starters, it can be easier to apply to a two-year institution than a four-year school. Some four-year institutions require essays and letters of recommendation as part of the application process. Many community colleges, on the other hand, do not. And at Laramie County Community College, for example, there is no application fee. Completing an application for LCCC only takes about 5-10 minutes, said Sarah Hannes, Enrollment Services director.
"Not all questions are required, but we highly suggest you complete and answer all of the questions to make the enrollment process quicker," she said.
Cost is a serious matter of concern for most considering college. The cost of attendance at institutions of all sizes has risen in the last several decades, and the White House estimates the cost for four-year private and public colleges has tripled. All the while federal support has not kept pace with the rising cost, resulting in more borrowing. The skyrocketing cumulative federal student loan debt — $1.6 trillion and rising for more than 45 million borrowers — is a significant burden for many Americans.
Going to a two-year institution can save students money as they're beginning college careers. Average annual tuition and fees for public, in-district community colleges in 2021-2022 came to $3,800 compared to $10,740 at public, in-state four-year schools, according to the American Association of Community Colleges. A college like LCCC is more affordable than many four-year institutions, Hannes said, with out-of-state students often coming to LCCC for less than it would be to stay in-state. Especially for those planning to live on campus, students stand to save more by attending LCCC than they would at a four-year college.
Additionally, LCCC offers scholarships and financial aid opportunities in the same way four-year institutions do, giving students the chance to chip away at the cost. With private donor scholarships, institutional scholarships and the ability to qualify for federal aid, students exploring a two-year school like LCCC may find the cost-savings significant.
At LCCC, students take part in the pathways approach to their higher education, designed to help students match their interests to their end goals of prosperous, fulfilling careers. With a pathway, students can explore different programs with low risk of wasting credits or semesters. The approach allows students to explore a variety of options before deciding what exactly they hope to accomplish in college.
"Being able to start college in a pathway based on your interests and goals your first semester gives students the opportunity to continue exploring career and transfer options," Hannes said.
There is a correlation between student success and smaller class sizes, according to 2020 research published in Educational Researcher, a peer-reviewed academic journal. While many universities have classes with hundreds of students, community colleges offer classes with a much smaller student-instructor ratio. At LCCC, the student-to-teacher ratio is 15:1.
"This means stronger relationships are made and students don't get lost in a large classroom environment," Hannes said.
Many community college students will need to move on to a four-year institution to complete their degrees and find the careers they want. Hannes said LCCC is set up so that students can transfer with relative ease when they complete the community college part of their journey. Staff at LCCC are ready and willing to work with students to make sure they are successful in this regard.
"Having communication with your student success coach and pathway coordinator will be important for this to be successful," Hannes said.
For those looking to complete a program and enter the workforce in two years or less, LCCC has a wealth of options available that can get you in the workforce in less time than you would going to a four-year college. Some certificate diplomas can be earned in just a semester.
Some students, often nontraditional students, need to strike a delicate balance between work, family and their education. LCCC offers many courses with flexible options, whether that's on-campus, online or hybrid, as well as holding classes at different times of the day to accommodate life and schedules.
Finally, some who might otherwise be interested in a community college over a four-year school worry they won't have the full college experience and quality of life on campus. But Hannes said LCCC has an amazing college feel to it.
"LCCC has residence halls that house more than 600 students on campus, something that not all community colleges offer," Hannes said. "LCCC also has athletics, intramural sports, clubs and organizations, and a Student Life Office that is always hosting events and activities for students, as well as their families."
Those interested in learning more about the advantages of a two-year institution like LCCC over a four-year college can contact LCCC Admissions at 307.778.1212. Virtual information sessions are available.