Residential living is the ultimate college experience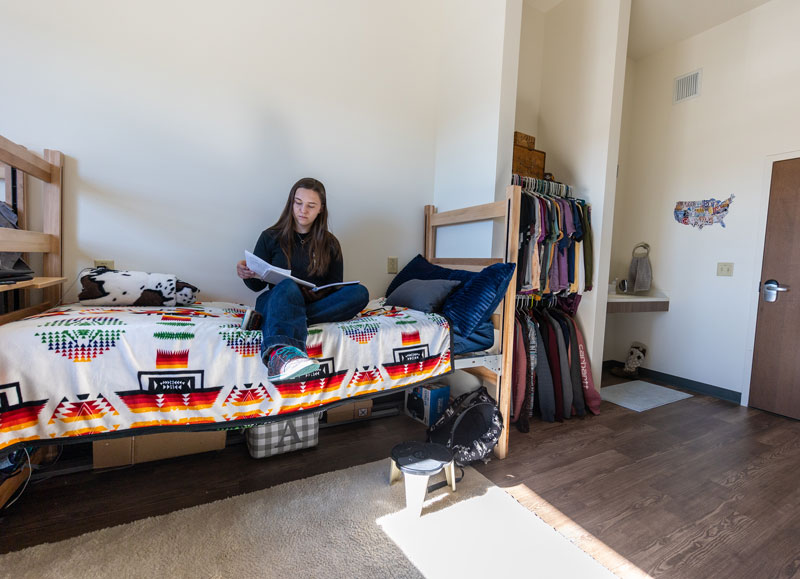 For many students attending college, it's not just about taking on the challenges of academia, work and social life — it's the first time they have lived away from home.
According to the National Center for Education Statistics, in Fall 2019, 25% of all undergraduate students enrolled full-time in degree-granting postsecondary institutions lived on campus in institutional housing such as dormitories or residence halls. It's higher for first-time freshmen, accounting for more than one-third of students. However, the percentage of students living on campus varies at some types of institutions. For example, 79% of students at private not-for-profit four-year institutions lived on campus in Fall 2019, while only 11% of students at public two-year institutions lived on campus.
Living on campus while attending college has numerous benefits for students. First and foremost, it is highly convenient as it eliminates the need for a commute to campus, saving students time and money. Additionally, living on campus provides students with easy access to academic resources, such as libraries, study spaces and tutoring services, as well as recreational facilities like fitness centers and sports fields. This can be especially helpful when you're going to college in a climate with harsh winters.
Another significant benefit of living on campus is the sense of community that it fosters. Students who live on campus become part of a community of their peers, which can help them develop friendships and a sense of belonging. This can be especially important for students who are transitioning from high school to college and may be adjusting to a new environment.
"If you know someone on campus who's going into the same field as you, you then have someone else you can bounce ideas off of and talk about the kind of job you want, the workforce, and they can help with the connection to our other resources on campus," said Melissa Nelson, Residential Living director at Laramie County Community College in Cheyenne.
Living on campus can also help students develop independence and learn valuable life skills, such as time management, budgeting and conflict resolution. Students who live on campus often have more opportunities for campus involvement, such as joining clubs and organizations, attending events and activities and taking on leadership roles. This can help them develop leadership skills, expand their social network, and gain valuable experiences that can enhance their resume.
Overall, living on campus while attending college provides students with a supportive environment that can help them succeed academically and socially, while also helping them develop valuable life skills. While living off-campus may be a viable option for some students, the benefits of on-campus living make it an attractive choice for many.
There are studies that show students who live on campus tend to have better outcomes than those living off campus. Alexander Astin, founding director of Higher Education Research Institute at UCLA, conducted research recently that found living in residence halls had a positive impact on degree attainment. Research conducted by Ernest T. Pascarella at the University of Iowa and Patrick T. Terenzini at Pennsylvania State University, analyzing more than 5,000 studies spanning three decades, appears to confirm Astin's findings that students living on campus were more likely to graduate than their peers living off campus.
At LCCC, around several hundred students livein the residence halls. LCCC offers a wide variety of housing styles and types, including suite style, single rooms and double rooms. There are also private spaces and private bathrooms.
The residence halls truly are set up for convenience. Not only are they close to classes, but they are furnished and all the costs are built in. No need to buy furniture. And, no need to pay for rent, utilities, internet, food and more each month. With the dining hall, you don't have to worry about what to cook for each meal. Additionally, LCCC's residence halls include free laundry, computer labs, kitchens, pool and ping pong tables, an emporium, study spaces, social spaces and more.
There's something to meet the needs of students, whatever those might be, Nelson said.
"You can find a lot of different types of housing with us at different price points, as well," she said.
If you're wondering whether you'll get the same on campus experience at a community college as you would at a university, Nelson said LCCC has it all. Students participating in events, athletics, clubs, studying and socializing can be found across campus, bringing a lot of exciting opportunities to those willing to seek them. Certainly it's a smaller scale than a university, but Nelson said that's a great fit for many students. In a smaller environment, she said it's easier for students to find the personal attention they need, whether that's from staff or peers.
"For me, really getting to know our students individually has really been something I've appreciated," Nelson said.
Whatever you're looking for in a college experience, you can find it at LCCC. Start by visiting LCCC's Living on Campus webpage, where you can also see pictures, find links to schedule an in-person tour and live chat with LCCC staff who are ready to answer your questions.
The price to live in the residence hall includes room, meal plan, utilities, cable television, high-speed Internet access and free laundry. View rates and more information. For residents of Laramie and Albany counties, ask about getting 25% off your room!