fnbo Food Pantry
Thanks to the generous support of fnbo, students at Laramie Country Community College have more support when it comes to fighting food insecurity.
The fnbo Food Pantry provides free food and toiletry items to students who are in need and may not otherwise have consistent access to these items throughout their time at LCCC.
The Food Pantry is a free resource available for any currently registered LCCC student. Students must present a current and valid student id card to access the pantry. Student IDs can be obtained from the Student Hub in the Pathfinder Building.
The food pantry is located in the Crossroads Building, and students can ask for access and assistance from staff in the Student Engagement & Diversity Office in Crossroads, Room 107.
Food Pantry Guidelines:
Students can access the pantry up to two times per week and obtain the following:
10 Food Items
2 freezer food items included in the limit of 10
2 Personal Hygiene Items
School Supplies (Students may take what they need from school supplies)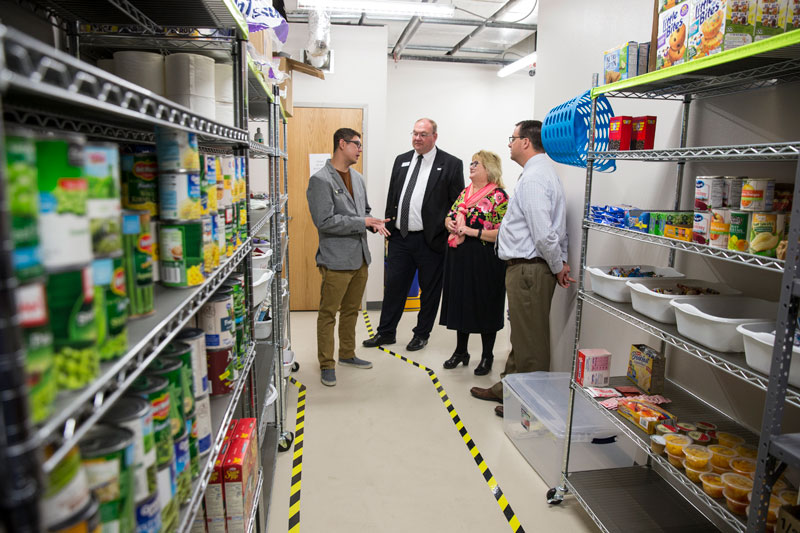 All food provided in the pantry is donated by the campus and Cheyenne community.
A huge thanks for the generous support of fnbo for establishing an endowment fund to help with operational costs and to help us keep essential items stocked.
---
The Pantry has been open since 2012. Originally funded by the LCCC Foundation's Golden Apple Grant project, the pantry started as a service learning project under the direction of now-retired faculty member Jeri Griego. Since that time, many employees, students and community members have supported the food pantry with donations of money or items.
In 2018, Western States Bank provided an endowed gift to provide long-term support for the Food Pantry.
In 2022, Western States Bank changed its name to fnbo.
Anyone interested in donating food or seeking to organize a food drive for the fnbo Food Pantry can contact Ashley Garhart for more information. Monetary cash donations can be made through the Laramie County Community College Foundation Office. For more information regarding cash donations please email office@lcccfoundation.edu or call 307.778.1285.