27
FEB
LCCC Radiography student to represent Wyoming at national meeting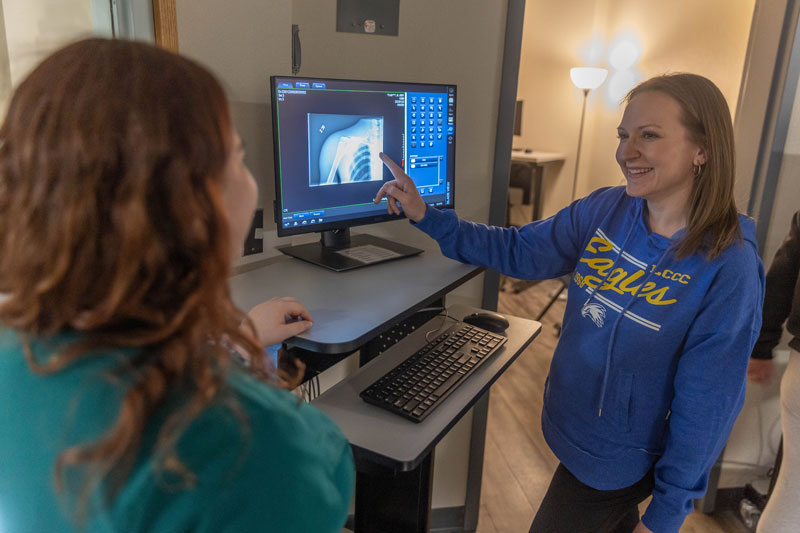 When Victoria Holmquist decided she wanted to switch gears with her career, she needed to find a path that would provide security, as well as opportunities for growth and advancement.
That's why she was intrigued by what she found online about Laramie County Community College's Radiography Program in the Health & Sciences Pathway.
"In terms of choosing the program, the graduation and job placement rates were very high, so that was encouraging, especially when you're making a huge change," Holmquist said.
Today, Holmquist is a first-year radiography student at LCCC, and was recently selected to represent Wyoming at an annual gathering for the nation's premier association for medical imaging technologists, radiation therapists and radiologic science students.
Holmquist will attend the 2023 American Society of Radiologic Technologists (ASRT) Student Leadership Development Program (SLDP) annual House of Delegates gathering in June. The SLDP is a three-year program that offers students a chance to get to know the ASRT, attend educational sessions, and network with medical imaging and radiation therapy professionals.
The program's expectations include engaging in all activities throughout its three-year course, meeting eligibility requirements for voting membership, maintaining affiliate membership, completing coursework and participating in ASRT community discussions.
Even knowing the program is a significant commitment, Holmquist said she's excited for the opportunity to grow in ways that will allow her to enhance her profession and better serve patients.
Holmquist said she's already found meeting with her mentor in the program rewarding.
"She's amazing, because she's supportive and shares her experiences and gives us tips on what we're doing," Holmquist said. "It's been a great experience knowing that there's someone out there who, in addition to my instructors, I can bounce questions off or share feelings with."
Originally from New York City, Holmquist came to Laramie more than 20 years ago to attend the University of Wyoming. She bounced around studying different areas in health sciences, and worked in various office jobs after finishing a bachelor's degree.
For Holmquist, the LCCC radiography program has been exactly what she needed to start on a new path, appreciating the hands-on experience students find in clinicals starting in the first semester.
"We learn about it in class, then we get to start doing it right away," she said. "It helps us develop the skills so we're ready to start a career."
Radiography students at LCCC gain the knowledge and skills for using radiation (x-rays) in the diagnosis of disease under the direction of a physician. This program combines academic study with supervised clinical experience. Students will learn about patient care, radiographic anatomy and positioning, radiation effects and safety, x-ray production, radiographic pathology, as well as advancing x-ray technology. They will get hands-on experience with patient care, problem solving and communication with members of a healthcare team.
For Holmquist, working in health care offers the opportunity to explore sciences that intrigue her and work with patients in rewarding ways.
"It's having that calling to help people when they're at a critical point in their lives," she said.
To learn more about LCCC's Radiography program, go to lccc.wy.edu/radiography. To learn more about the American Society of Radiologic Technologists, go to www.asrt.org.