Health Sciences & Wellness Open House: 11 a.m. - 1 p.m. on Oct. 21
Most LCCC HSW students must complete clinical rotations for program completion. These clinical rotations occur in clinical settings with clinical sites that have agreed to provide these educational experiences for LCCC students. In order to ensure the safest environment possible for their patients and staff, many of these clinical settings have included COVID-19 in their list of clinical clearance requirements, with limited exemptions available for students and employees. Because all clinical hours and/or clinical competencies must be completed to meet program requirements, this means you may be required to receive the COVID-19 vaccination or have an approved exemption on file to enter and/or progress in the Radiography program. For additional information, regarding these requirements, please see the Health Sciences & Wellness Policies Handbook, Addendum and the Clinical Site COVID-19 FAQs.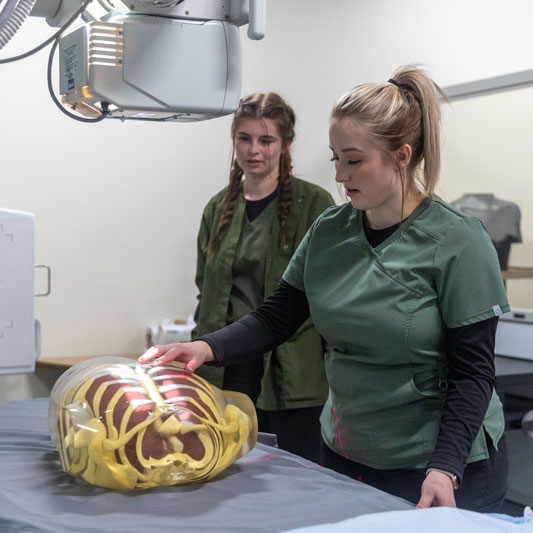 What will I learn?
Radiography students gain the knowledge and skills for using radiation (x-rays) in the diagnosis of disease under the direction of a physician.
This program combines academic study with supervised clinical experience. Students will learn about patient care, radiographic anatomy and positioning, radiation effects and safety, x-ray production, radiographic pathology, as well as advancing x-ray technology. They will get hands-on experience with patient care, problem solving and communication with members of a healthcare team.
Associate of Applied Science
The program spans five semesters (which does not include the prerequisite courses). Graduates of the program are eligible to take the national certifying examination of the American Registry of Radiologic Technologists. Upon passing the examination, a student is certified as a registered radiologic technologist.
The Joint Review Committee on Education in Radiologic Technology (JRCERT), 20 North Wacker Drive, Suite 2850, Chicago, IL 60606-3182 (www.jrcert.org), through its accreditation of the program in radiography at LCCC, has established a maximum number of students selected each year for the program based on clinical site availability. The program begins a new class each fall.
A student interested in applying for the radiography program may contact the Radiography Program Director, Clinical Coordinator, or the Admissions Office for specific procedures, including placement tests, which must be completed in the early spring for admission to the program in the fall semester. Selection of new students will be completed by early April and is based on a student's grade point average, prerequisites completed, the date of receipt of application, and other criteria as noted in the program application materials.
Available at the Cheyenne main campus.
What can I do with this degree?
Most radiographers work in hospitals, medical clinics and private medical offices. Most students are employed immediately upon graduation from the program. Graduates may wish to continue their education with a bachelor degree in Radiologic Sciences, or train in advanced modalities such as computed tomography, magnetic resonance imaging, mammography, and bone densitometry.
Visit Career Coach for additional information about Radiologic Technologists and Technicians.
Visit LCCC's Career Resources to find tools for selecting the right program for you and marketing yourself to future employers.
Cost of Attendance
For general college expenses, students should view LCCC's cost of attendance. Students in the Radiography program have additional estimated course fees expense of $2,100.* This is an estimate and may change at any time.
Additional Program Fees and Expenses
Program Fee (per semester) $255

Immunizations $150

Background Check and Drug Screening $217

Books (approximate) $700

Online Clinical Management System $150

Uniforms and Shoes $150

Radiography Student Club Dues and Fees $60

ARRT Certification Examination Fee (after completion) $225

Wyoming Licensure Fee (after graduation) $225