27
APR
Free medical care available for LCCC students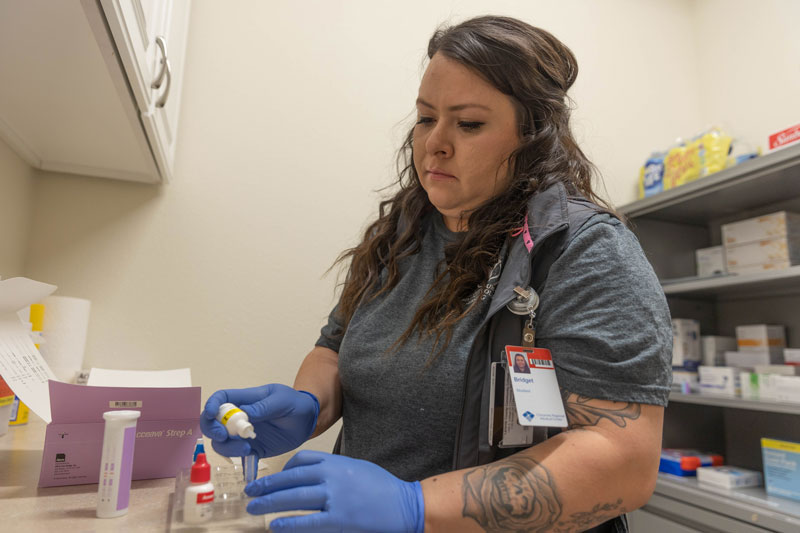 It's common for college students to put off seeking medical care because of cost. But at Laramie County Community College, students can receive free health care services at the Tuesday Evening Health Clinic.
Staffed by residents from the University of Wyoming Family Medicine, the clinic is located conveniently on campus in the College Community Center, room 129. Students currently enrolled in and attending at least one LCCC credit-bearing course can walk in from 6-8 p.m. any Tuesday during the fall and spring semesters.
According to a Gallup poll, 38% of Americans said they put off medical treatment in 2022 because of the cost associated with care, up 12%from the previous year. Lower-income, younger adults and women were most likely to report delaying care. Aurie Garcia-Munter, LCCC Counseling & Campus Wellness coordinator, said untreated medical conditions can interfere with students' ability to do their best work in college. Having a free option on campus is a critical service for students.
"It's really important to prioritize your physical health needs when you're in college," Garcia-Munter said. "When you're healthy, you can be successful and graduate."
Several services are available for students. Testing is available for strep throat, flu, pregnancy, blood sugar and more. COVID-19 testing will be referred to a provider off campus. Students can seek treatment and assessment for things such as cough, cold, fever, sprains, strains, other minor illnesses and injuries and more. The clinic can also provide items such as condoms, birth control, over-the-counter-pain medication, oral and topical antihistamines, sports physicals and more. View a complete list of tests, treatments, assessments and services.
Students do not need an appointment — they can come to the door and knock. The waiting room will be open. Students attending the health clinic for any reason must wear a face covering. One can be provided by the nurse upon arrival.
Inquiries can be made to the clinic during operating hours at 307.432.4397. Counseling and Campus Wellness can be reached at 307.778.4397.