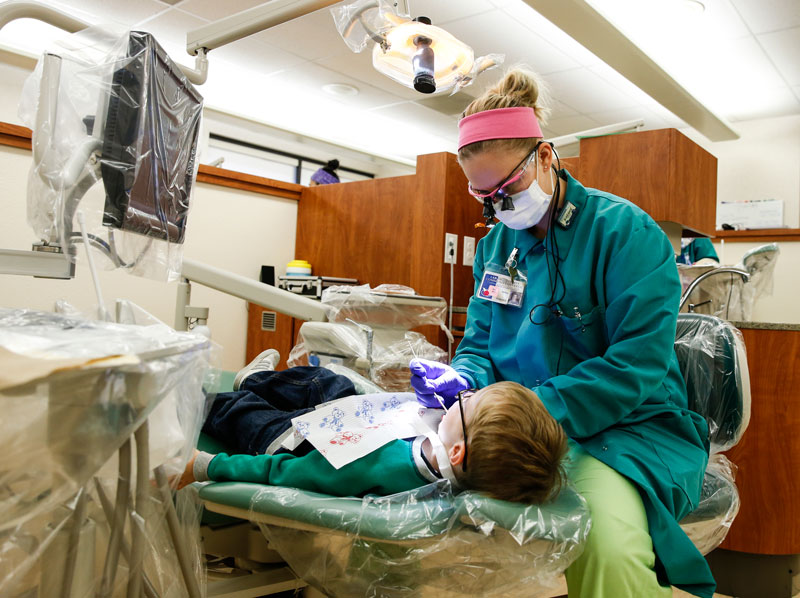 What will I learn?
A dental hygienist is a preventive oral care professional licensed to provide clinical and educational dental hygiene services to the public. This may include:
Patient screening which includes the assessment of oral health conditions, comprehensive review of the health history, taking and assessing vital signs, oral cancer screening, head and neck examination, dental charting and periodontal charting.
Take and review dental x-rays (radiographs).
Remove build-up from the teeth.
Apply preventive materials to the teeth, such as sealants and fluorides.
Provide patient education focused on each individual's needs.
Provide nutritional assessment and counseling to improve the patient's oral health.
Dental Hygienists are passionate about helping and educating people, very patient-oriented. They have effective communication skills and enjoy working with a diverse group of people. Dental hygienists also are detail oriented and have excellent hand dexterity.
Associate of Applied Science
This unique 16-month program combines academic study with supervised clinical experience. Graduates of the program receive an Associate of Applied Science degree and are eligible to take the appropriate national, regional and/or state examinations. Applicants are encouraged to contact the state boards of dentistry in the states in which they wish to practice for individual licensing requirements and circumstances for licensure denial.
The dental hygiene program is a vigorous study of advanced science classes offered in an accelerated format. General education and basic science courses are essential to prepare students to succeed. Therefore, applicants are required to complete predental hygiene course requirements. Each prerequisite course must be completed with a grade of "C" or higher. Completion of the prerequisite course work does not guarantee admission into the dental hygiene program. Additionally, LCCC's academic skills assessment and placement policy apply.
Available at the Cheyenne main campus.
What can I do with this degree?
Dental Hygienists may work in private dental practices, community health settings, nursing homes and hospitals. Many hygienists work part-time in multiple offices, particularly in rural locations.
Visit Career Coach for additional information about Dental Hygienists.
Visit LCCC's Career Center to explore resources for selecting a program pathway and career.
Prepare dental hygiene graduates to be well-qualified, entry-level practitioners who possess the knowledge and skills to provide evidence-based dental hygiene care, practice informed decision making based on current research and function as integral members of the dental health team through demonstrated competence as defined by Program Competencies.


Promote the health and well being of the public by providing quality, clinical dental hygiene care assured through a comprehensive, quality-assurance program.


Support and promote the personal and professional development of faculty, staff and students by fostering professional behaviors consistent with legal and ethical expectations through professional activities, continuing education programs and community and college service.
a. Participate in and support service activities and affiliations with organizations that advance the mission of the college, department and profession.


Practice teaching excellence reflective of current dental hygiene and educational theories and practices.
a. Use faculty expertise and current educational methodologies to provide quality and contemporary didactic and clinical dental hygiene education through a competency-based curriculum.
The mission of the Dental Hygiene Program at Laramie County Community College is to prepare graduates for entry-level positions as licensed dental hygienists. The dental hygiene mission supported by program competencies are designed to ensure that student's successfully meet program goals.
The LCCC dental hygiene program seeks to prepare highly qualified graduates equipped for success in the workplace and in the community. It values educational excellence, use of current and relevant content and technologies and value the input of the community for success.
The program strives to develop mutually beneficial interactions with the local community and prepare students for civic engagement and community service by actively participating in service learning opportunities.
Program competencies taught to students are entry-level skills needed to begin dental hygiene practice. These competencies are supported by content in general education, the biomedical, dental and dental hygiene sciences.
This program is accredited by the Commission on Dental Accreditation. The Commission is a specialized accrediting body recognized by the United States Department of Education. The Commission on Dental Accreditation can be contacted at 312.440.4653 or at 211 East Chicago Avenue, Chicago, Illinois 60611.
Cost of Attendance
Students can visit the Cost of Attendance page specific for this program to learn more about additional costs.