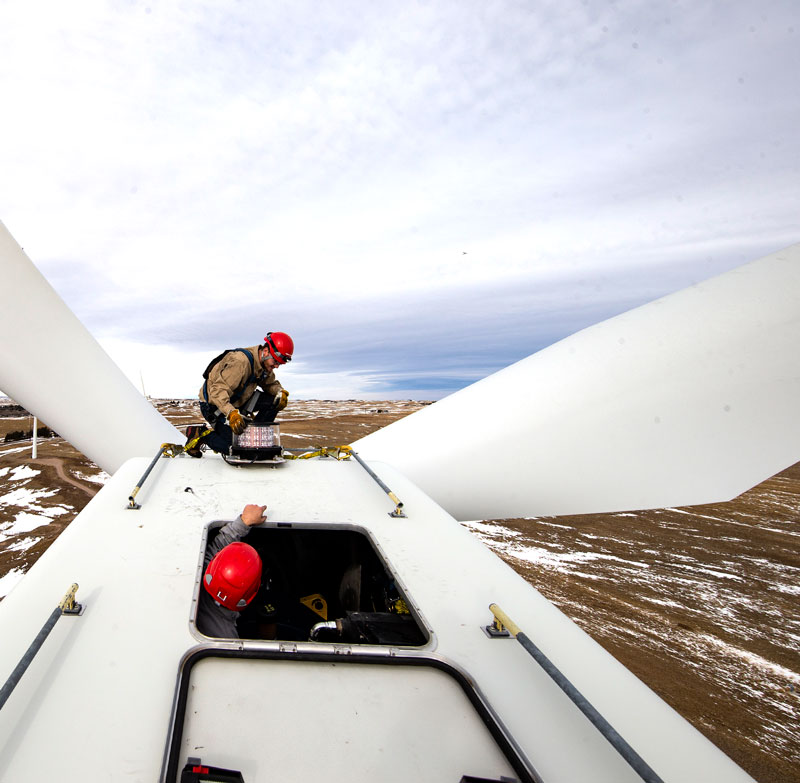 What will I learn?
Students in this one-semester program will learn about installing, inspecting, maintaining, operating and repairing wind turbines.
They will learn about the components that create electrical energy as well as the system operation. Students will learn preventative maintenance on wind turbines in addition to troubleshooting faults. They will practice safe usage of industry tools and climbing.
After successful completion of this program, students are prepared for direct industry employment as entry-level wind turbine technicians.
Credit Diploma
The Wind Energy Credit Diploma Program provides students with the critical skills needed to become successful technicians in the rapidly growing wind industry. A combination of classroom instruction and hands-on training allows students to quickly turn concepts into valuable work experience.
Throughout the program, students learn basic and advanced electrical, mechanical and fluid power system theory. This knowledge is used to interpret detailed mechanical drawings and schematic diagrams to determine system operation and troubleshoot complex faults. In addition, students perform preventative maintenance tasks on an actual wind turbine nacelle and rotor housed in the College's Wind Energy Lab. Students develop effective climb safety techniques using the program's Fall Protection Lab.
Completion of the one-semester Industrial Systems Technology Credit Diploma is required for enrollment in Wind Energy Technology credit diploma courses.
Available at the Cheyenne Campus
What can I do with this degree?
Graduates typically work as:
Visit Career Coach for additional information about Wind Turbine Service Technicians.
Visit Career Coach for additional information about Wind Energy Operations Managers.
Visit Career Coach for additional information about Wind Energy Engineers.
Visit LCCC's Career Services to explore resources for selecting a program pathway and career/job data.
Cost of Attendance
For general college expenses, students should view LCCC's cost of attendance. Students in this program incur additional expenses of $250 in program and course fees.