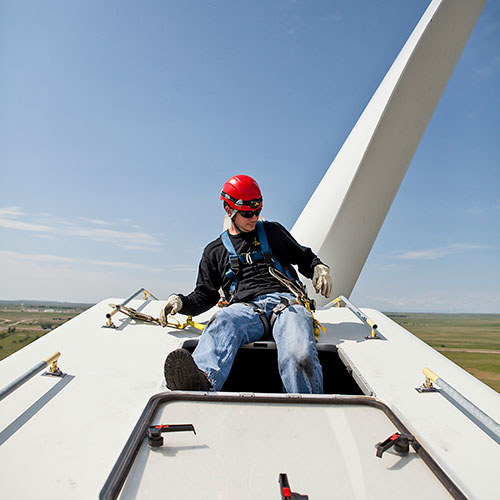 What will I learn?
Wind Turbine Technicians perform general maintenance, operations and inspections on wind turbines and related facilities. Students in the wind energy program learn about electrical systems, mechanical and hydraulic theory, installation and troubleshooting skills. They also learn wind turbine anatomy and how systems work together to produce electrical energy.
Students will spend time performing maintenance and service on wind turbine components and learning how to operate specialized equipment. They receive a certification from 3M for climb safety and rescue.
Students will climb an operational wind turbine, visit a blade manufacturing plant, tour an electrical substation and tour a natural gas fired electrical generation station. They also have the opportunity to attend the American Wind Energy Association Wind Power convention.
Associate of Applied Science
The Associate of Applied Science degree in Wind Energy is designed for students who want to gain valuable industry skills while pursuing a basic academic foundation. General education requirements, industrial maintenance knowledge and skills, and specific wind power industry topics are combined to provide the groundwork for direct industry employment.
Certifications:
OSHA CFR 1926 Construction 10 Hour and 30 Hour
Capital Safety Competent Rescuer Certification
Gold Cross CPR AED First Aid Certification
HYTORC Bolt Tensioning Certification
Available at the Cheyenne Campus
What can I do with this degree?
Graduates typically work as:
Visit Career Coach for additional information about Wind Turbine Service Technicians.
Visit Career Coach for additional information about Wind Energy Operations Managers.
Visit Career Coach for additional information about Wind Energy Engineers.
Visit LCCC's Career Center to explore resources for selecting a program pathway and career/job data.
Cost of Attendance
For general college expense, students view LCCC's tuition and fees Web page. Students in this program incur additional expenses of $250 in program and course fees and $525 in books and supplies.