August 2022
LCCC radiography program leaders seizing success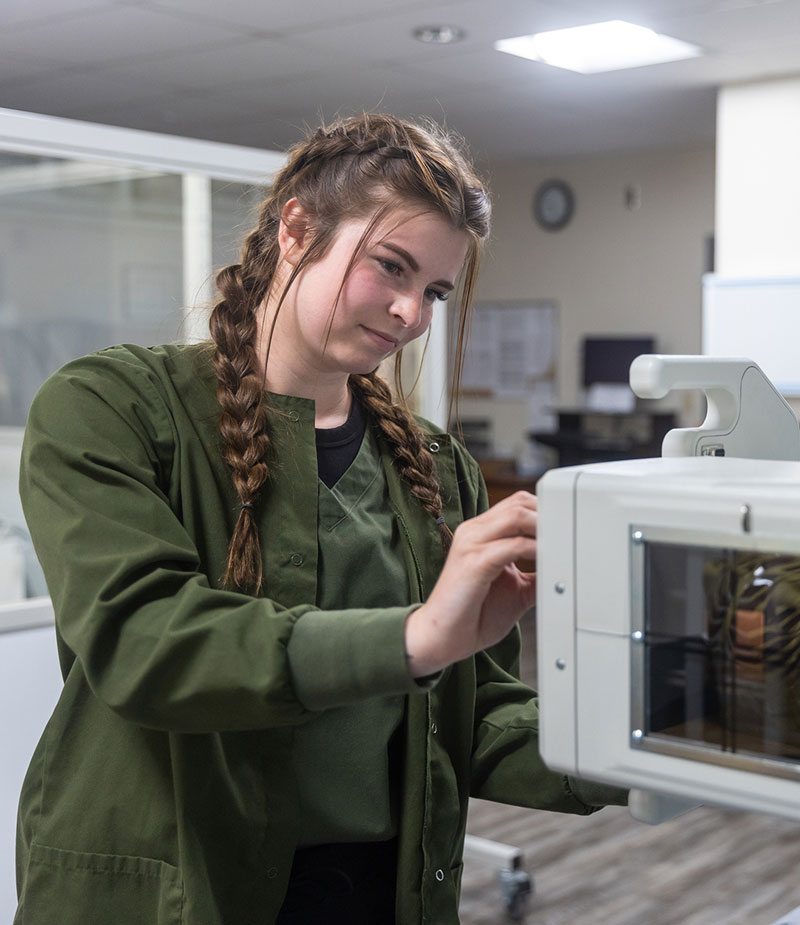 The radiography program at Laramie County Community College offers students an exciting opportunity to work in a field where most are employed immediately after graduation.
The five-semester program offers students the knowledge and skills for utilizing radiation (X-rays) in the diagnosis of disease under the direction of a physician.
"We're the people who take X-rays," said current student Abigail Soddy, who said radiography professionals should not be confused with radiologists, who read X-rays. "We position the patients and try to get the correct images."
Combining academic study with supervised clinical experience at a variety of sights, the radiography program gives students hands-on experience with patient care, problem solving and communication with members of a health care team.
Soddy said she became interested in pursuing radiography while in Environmental Services at Ivinson Memorial Hospital in Laramie. A tour of the radiology department at the hospital sparked her interest in pursuing something different.
"I started the radiography program, and the first year was hard, but I've definitely come to love it," Soddy said.
Another current student, Meredith Kopsa, is a Colorado native whose mom is a respiratory therapist. This inspired her to pursue a similar path.
"I've always had an interest in the medical field," she said. "I found radiography when I was in high school and just went from there."
Soddy and Kopsa are the program's class of 2023 representatives, allowing for a greater understanding of how the program operates and leadership opportunities.
"Being a class representative is a nice way to get involved and see how the program runs outside of class," Soddy said. "There are so many things I've learned about the equipment they order, how much it costs and just what is really put into this."
Both Soddy and Kopsa, along with several of their classmates, have traveled to represent Wyoming as part of the radiography program, including at the Association of College Educators in Radiologic Technology annual conference in Las Vegas, Nevada, and the Wyoming Society of Radiologic Technologists' Annual Conference held in different places throughout the state. Most recently, Soddy was selected to represent Wyoming at the American Society of Radiologic Technologists' Student Leadership Development Program in Orlando, Florida. While there, she was able to participate in the Educational Symposium, House of Delegates governance meeting and network with other radiography students and professionals.
The students were also part of LCCC's Radiography Club in April donating $2,500 to Cheyenne Regional Medical Center's Curie Fund, which helps patients undergoing cancer treatment. LCCC students held fundraisers, such as bake sales, and sold t-shirts to help raise the funds they donated.
"That's a fund we donate to every year for cancer patients who are getting radiation therapy that provides assistance for things such as transportation, meals, lodging and wigs," Soddy said.
This past year, the Radiography Club also held a food drive with the donations going to the LCCC Food Pantry, prepared goodie baskets for the Cheyenne and Laramie urgent care clinics to thank them for their hard work during the pandemic, hosted an open house to celebrate and bring awareness to National Radiologic Technologist Week and the radiography program, and made 100 Valentine's Day cards and provided candy to residents and staff at a local retirement community center.
Anyone interested in applying for the radiography program may contact the radiography program director, clinical coordinator, or the admissions office for specific procedures, including placement tests, which must be completed in the early spring for admission to the program in the fall semester. Selection of new students is completed in early April and is based on a student's grade point average, prerequisites completed, the date of receipt of application and other criteria as noted in the program application materials. More information is available at LCCC's Radiography Program webpage.
Soddy and Kopsa began in August 2021 and are expected to graduate in May 2023. Being a part of the radiography program takes significant commitment, Soddy said. But the payoff in a short amount of time, she said, is worth it.
"The small cohort size that we have allows us to be one big family," Soddy said. "Be prepared, work hard and never give up."
---
Future leaders have 'fun through service' in Rotaract
The room was electric when Jennifer Jones, Rotary International's first incoming woman president, took the stage at Rotary International Rotaract Leadership Pre-Conference in Houston in June, Laramie County Community College graduate Lauren Lacey said.
Attending the conference as vice president of LCCC's Rotaract chapter, Lacey said it was inspiring to see a woman assuming the top leadership role in Rotary.
"It's really remarkable to see that a woman has the opportunity to be in that role, and I think she just has a really great mindset," Lacey said of Jones.
Rotaract clubs bring together people ages 18 and older to exchange ideas with leaders in the community, develop leadership and professional skills, and "have fun through service," according to the Rotary International website. Rotaract programs work in partnership with Rotary clubs, which are humanitarian service organizations that bring together business and professional leaders in communities across the globe. Rotary and Rotaract members work side by side to take action through service. Today, there are more than 10,000 Rotaract clubs in 180 countries with a membership of over 200,000.
"It's an opportunity for students who are not in the greater Rotary to be able to engage with an international organization that has global perspective and service, to do service projects and raise funds, and work on activities towards that greater good, but in a capacity of people their own age," said Carole Boughton, LCCC Business and Accounting Pathway coordinator and the Rotaract chapter's faculty adviser.
Lacey graduated from LCCC in spring with her associate degree in business and accounting. She now plans to transfer to the University of Wyoming where she'll pursue a bachelor's degree in marketing. The time in LCCC's Rotaract chapter, she said, has better prepared her for the next steps in her academic journey and her eventual career path.
"I got a lot of confidence knowing that I have the ability to be a leader and meet new people and just be myself, accomplishing really amazing things," Lacey said.
Each semester, students fill five officer positions in the LCCC chapter, then put their ideas to work in organizing a fundraiser and service project.
"That's all their ideas, and they plan the whole thing," Boughton said. "I just make sure they're going down the right path."
During the Spring 2022 semester, LCCC's Rotaract chapter hosted its Spike Out Stress Spikeball Tournament.
"It was fun to take that over and learn how to plan it and organize an event," Lacey said. "Then just seeing the impact and it finally coming together really made the payoff meaningful."
In addition to seeing Rotary's first incoming woman president speak, Lacey said the conference in Houston was a great opportunity to meet Rotaract members from across the world, learn about their service projects and network.
"It was fantastic to see how big of an impact everyone can make," she said.
Some of the biggest takeaways from the conference for the five LCCC student attendees were the intangible elements, Boughton said.
"When the students got there and heard what other clubs did, they really started understanding what it means that Rotary is an organization with a global reach," she said.
Rotaract's motto, Boughton said, is service above self.
"The way we grow and learn in life is by serving others," she said. "Yes, everybody is limited on time and money, but it's what you learn through your service projects and through the leadership skills that allow you to grow. Then also by networking with the people both here in town and the community leaders is invaluable going forward."
Students interested in Rotaract can contact Boughton at cboughtoFREELARAMIE.
---
Money is available to help you go to college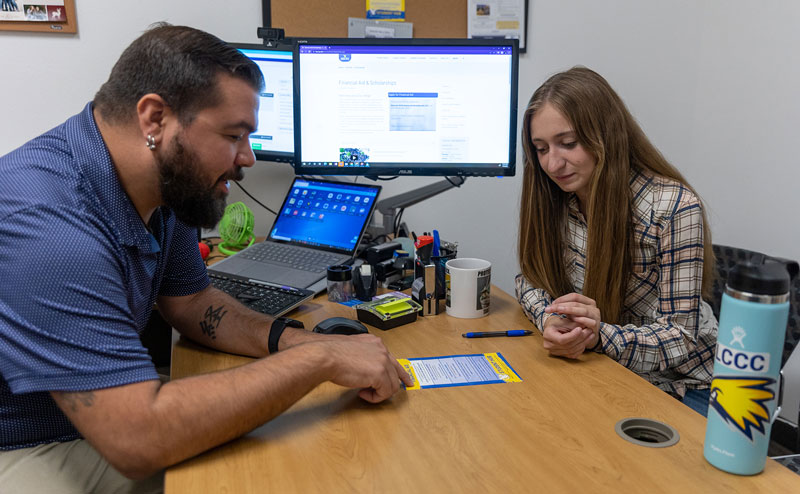 Are you interested in pursuing a higher education but worried about how you'll pay for it? Well, there are a lot of opportunities out there for people who want to go to college where a little effort can go a long way.
It's normal for college prospects to feel unsure of how to get financial aid and scholarships, or to think the process of applying seems daunting. However, resources to help you on your way are ready for you to seize.
It all starts by filling out your FASFA, or Free Application for Federal Student Aid. This is the application for all federal financial aid programs. It also applies to some state programs you might be interested in, as well as scholarships and grants at your institution of choice. There's no time frame on when you must fill out your FASFA, but the sooner you can do it, the better.
Applying to your institution of choice is also an important step that should be taken at this early stage so that your institution can receive your FASFA information.
Prospective students are occasionally required to provide certain documents when completing the FASFA, usually from your tax return, so have those things handy when working on your application.
Wyoming's traditional prospective students, meaning those going straight from high school to college, will find the Hathaway Scholarship provides great opportunities for financial assistance. Created and funded by the state of Wyoming, Hathaway is merit- and needs-based. That means you can qualify for money based on your level of academic achievement or on your financial situation. Those who apply may be able to receive up to $1,680 per semester if you meet certain eligibility requirements. If you're in the military or have some other reason for not going to college straight out of high school, don't worry — you can apply for Hathaway up to four years after completing high school. Home-schooled and GED students can also apply for Hathaway. You will need your high school transcript and ACT scores to apply.
Prospective students from Wyoming who are not eligible for Hathaway can instead apply for the Wyoming Works Grant. This program is targeted toward adults in specific academic programs who want to advance their skills in areas that lead to employment opportunities. Wyoming students who qualify can receive this needs-based grant for up to $3,360 for the academic year.
In addition to federal financial aid and state aid programs like Hathaway and Wyoming Works, there are also other financial aid opportunities specific to Laramie County Community College students. In the past academic year, degree-seeking LCCC students received more than $15 million in financial aid assistance between federal, state and institutional aid.
The Presidential and Dean's Scholarship are LCCC's main recruitment scholarships, targeting graduating high school seniors. Those who earned a 3.5 GPA or higher at the end of their junior year can qualify for $1,600 per academic year and a 3.0 GPA can net you $800 per year.
More than 400 scholarships are also available through the LCCC Foundation Donor Scholarship Application. Timing is critical here; students are encouraged to complete the application between Jan. 1 and April 1 each year for the following year. Filing by the April 1 priority date allows for full consideration. Make haste! Students can apply after April 1 and are encouraged to do so.
Different programs also have respective scholarship opportunities. If you are, for example, interested in STEM — or Science, Technology, Engineering and Math — you should make sure to explore scholarships specifically for that program, which you can do through the LCCC Foundation Donor Scholarship Application.
For costs that are not covered by scholarships and grants, prospects can qualify for student loans by filling out their FASFA. The relatively low cost at LCCC means that even if you do take out loans, you can graduate with significantly less debt than you would going to a larger institution.
Look, many people feel this process is daunting, but that's OK! You're not alone.
"We have a lot of similar questions all the time for people trying to figure this out," said Alli McCown, LCCC Enrollment Services assistant director. "[Prospective students] just get overwhelmed and inundated with everything. But they should advocate for themselves and fight for this understanding of their financial picture when they're going to college."
The first place to go is LCCC Financial Aid. This page outlines all the basic information and has links for the applications you need to fill out. If you're still feeling lost, there's a whole library of videos that explain financial aid at Financial Aid Help Videos. You can chat with LCCC's Student Hub about financial aid questions. And if you want in-person help, LCCC staff are happy to assist you at the Clay Pathfinder Building at the Cheyenne campus.
There are more opportunities for help with paying for college than you may realize, and LCCC has people ready to help you make the most of your desire to find your path to success.