Campus dining can be key to college success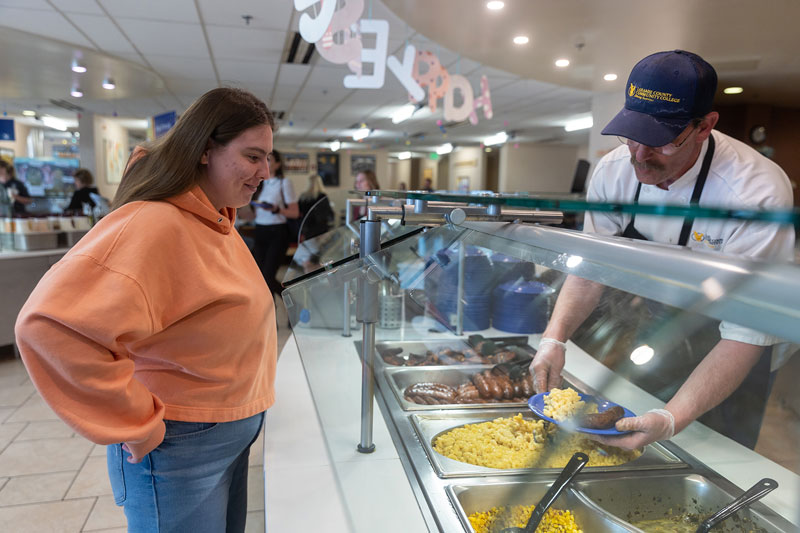 There's a lot to juggle when you're going to college. Academics, clubs, athletics, events, friends, family — it all adds up to taking a lot of focus and energy for students.
In the midst of all that, it is critical that college students find time to eat. What you eat can make a difference, too. It may seem like common sense, but there is research to support this idea.
A 2017 study published in Switzerland's Healthcare by Burrows et al. suggests that diet may be associated with academic achievement, with most studies associating more favorable dietary intake — which in this case meant eating breakfast, regularly having meals and meeting recommendations for fruit intake — with higher academic achievement. The frequency of both meals and snacks was associated with better diet quality, according to a nutrition survey published in 2016 that examined adults' nutrition habits from 2003-2012. A 2008 study published in Nature Reviews Neuroscience concluded that diet and exercise have the potential to alter our brain health and mental function. The authors found that making the right dietary choices is a viable strategy for enhancing cognitive abilities. While the authors of some of these studies acknowledge there is a lack of research on the dietary choices of college-age adults and cognitive function, it should be obvious there's a connection.
With some of the stresses that can come with college, students should be aware of how their diet can affect their mental health, as well. Increasing the intake of vegetables, fruits, fish, nuts, legumes and olive oil and excluding or severely restricting the intake of processed foods such as sausages, juices, soft drinks, and sweets was found to be effective in preventing depression, according to a 2020 study published in the International Journal of Environmental Research and Public Health. The Mayo Clinic reports that eating a breakfast with protein, eating complex carbohydrates, drinking plenty of water, avoiding alcohol and caffeine, as well as eating fruits and vegetables can all play a role in reducing anxiety.
So, when it comes to choosing a college, it's important to consider how you'll be getting food and what kind of food you'll be getting. Having healthy and filling options on campus helps you to stay energized and focused while studying, going to class and having fun.
You might not think of a community college as having great-tasting, healthy food with lots of options. But at Laramie County Community College in Cheyenne, Dining Services Director Shawn Eby said he knows the value of providing a good meal to the campus community.
"I tried really hard to move away from that old mentality of a cafeteria having bland food," Eby said. "It's good to have variety, where students can try something new or change things up, and also enjoy staples we offer daily, like our brick-oven pizza."
Eby has more than 30 years of experience in food service and his staff includes culinary professionals dedicated to providing outstanding dining options for campus.
"I give the sous-chefs the freedom to build and make great food and great menu items," he said. "That's what they went to school for."
The daily items include a meal meant to reflect a home-cooked experience, the deli station, expo station with a variety of changing options such as stir fry, the grill line and, of course, the always popular pizza. The salad bar is filled with fresh vegetables and fruit and the soup station hits the spot on cold days. If you're wondering about your sweet tooth, ice cream, baked goods and more make a well-rounded meal complete. For those looking for vegetarian/vegan and gluten-free options, Eby said they've got you covered with delicious, filling and nutritious meals.
Students living in the residence halls also have options closer to home. The market in Gold Hall gives students more flexibility in their dining offerings.
"If students are rushing between classes, it is easy to head into the Emporium and grab something quickly," said Melissa Nelson, LCCC Residential Living & Learning director. "If they are looking for a snack while studying late, the market in Gold Hall is open 24 hours."
LCCC's residence halls all have kitchen access. Blue Hall and Foundation Hall share a kitchen in the lobby of Blue Hall, complete with fridges, an oven and microwave. Gold Hall has one full kitchen, and each floor has a fridge, oven, two microwaves and a dishwasher, as well as a kitchenette on each floor that has everything the full kitchen has with the exception of the oven.
Nelson said residents have been creative in the past, carving pumpkins and roasting the seeds during Halloween or making breakfast each day with friends before classes.
"It really helps build the community within the hall and helps make connections among students," she said.
Finally, it's understood that some students at LCCC may run into challenging financial situations. As such, the fnbo Food Pantry, located conveniently on campus, provides free food and toiletry items to students. Students can access the pantry two times per week for food, hygiene items and school supplies.
For more information about living on campus and dining services, go to lccc.wy.edu/life/LivingOnCampus. More information about the fnbo Food Pantry is available at lccc.wy.edu/life/foodPantry.